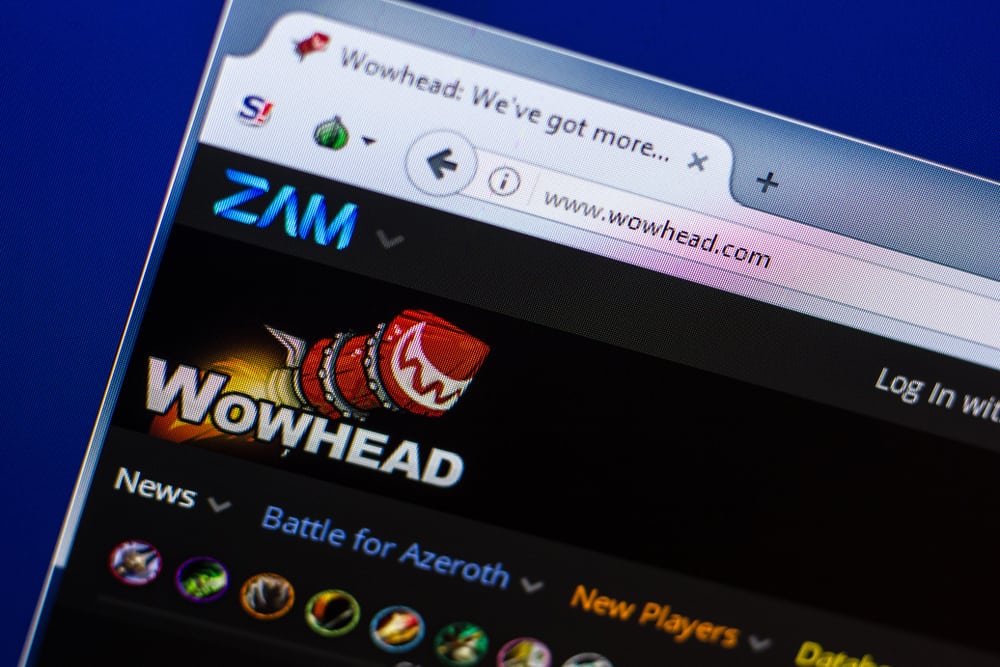 It's no news that Discord is an engaging platform where you can find yourself stuck. Besides playing games and streaming videos, you may get the latest information on Discord through the different communities you find yourself in.
If you play lots of games, you will find Wowhead news useful. Avid users of Discord can testify to its internet forum, comprehensive database, guides, and procedures for the online game World of Warcraft.
If you are new to it, you may wonder how to add Wowhead news to Discord.
To add Wowhead News to Discord:
1. Go to the Wowhead News Webhook page.
2. Register and verify your email address.
3. Head back to the Wowhead news homepage and click "Create News Webhook."
4. You'll be directed to Discord to select your server and channel.
5. Click "Authorize."
Besides adding Wowhead news to your Discord, there are other ways to enjoy the benefits of Wowhead. Read this Wowhead guide to the end to discover all these aspects.
What Is Wowhead?
Wowhead is one of the largest World of Warcraft (WoW) communities that provides users with an internet forum, information database, news, guides, procedures on raids, classics, quests, professions, classes, covenants, and so on.
Wowhead was created in 2006 to help World of Warcraft players with essential information to make their game seamless and enjoyable. This website provides a comprehensive, searchable database for gamers.
You can find valuable user comments, popular tools like Flying Tracker, and lightning-fast data mining dressing room to uncover the latest updates.
In addition, you will find detailed guidelines and procedures written by professional developers and players on topics such as secrets, raids, classes, etc.
Screenshot submissions and guides are provided by reputable influencers, content creators, and streamers in their different niches for Wowhead.
What Is the Connection Between Wowhead and Discord?
Discord is a popular platform for streamers, gamers, and other users. It connects people with the same interests, especially games, together.
Over the years, Discord has become an essential part of the Wowhead platform. Therefore, if you are an admin of different game channels or servers on Discord, Wowhead is a great asset.
One of the things Discord offers World of Warcraft players is the several servers that are dedicated to the game.
On Discord, you will find different types of servers affiliated with Wow. Some include class servers, Guild servers, contributor servers, fan servers, etc.
As mentioned earlier, Wowhead is a site that provides information and news concerning games. Their content team offers the latest news on Wowhead and assists outside creators in the guide writing team.
Besides this, the team also meet, interview, and collaborate with other writers to provide engaging opinion pieces.
Their developer team handles the weekly datamining updates, sets up the database pages, and creates valuable game tools on Wowhead. In essence, Wowhead provides you with tools to enhance your game experience.
As an admin, you would agree that adding Wowhead news to your Discord servers will make things easy for your members. Instead of getting game-related information elsewhere, they can access it from the server.
In other words, whenever Wowhead publishes the latest news for TBC, Classic, Shadowlands, and so on, you will be among the first to get them.
Wowhead can paste a link to the information in your Discord channel. That way, you or your members won't miss critical updates.
Besides this, you may also get updated resources, gear recommendations, instructions, and proven tactics from other members. All you need to do is to connect it to Discord.
Many ask, "How to add Wowhead news to Discord." Keep reading to find out how.
How To Add Wowhead News to Discord?
Setting up Wowhead news on the Discord server will benefit you and other users. The process is one of the easiest.
To add Wowhead news to Discord, follow these steps:
Navigate the Wowhead News Webhook page on your favorite browser.
Tap "Register" at the top right corner of the page.
Register and verify your account.
Choose a username and login to your account.
Head back to the Wowhead News Webhook home page and scroll down to "Add a Webhook."
Tap "Create News Webhook" to be redirected to Discord.
Select the server and channel in which you want to add Wowhead news.
Tap "Authorize" at the bottom.
That's it! You will receive automated news, information, essential comments, and updates from Wowhead about your favorite game.
If you wish, you can stop receiving the news on your channel anytime. Do this by deleting the webhook in your Discord channel.
Conclusion
Wowhead and Discord have one thing in coming – bring gamers together and help them have the best experience.
While Discord provides a common place for gamers, streamers, and other social users, Wowhead helps with essential information, news, and updates on World of Warcraft games.
Connecting Wowhead to your Discord servers will be more beneficial than you can imagine. Thankfully, this guide has given you a simple way to add Wowhead news to Discord and other facts on Wowhead.
FAQs
Is there a Wow Discord server?
Yes. Several Wow Discourse servers are dedicated to providing information to help you enjoy your game better.
What is the function of the Wowhead bot in your Discord?
Wowhead bot enables you to search for tooltips by putting the terms between brackets. It provides the top search result with a tooltip image and a link to the answer page on Wowhead.
How do you create a Webhook on Discord?
Head over to your server and access "Server Settings." Under the "Integrations" tab, select "Create Webhook."