Instagram is a photo and video-sharing platform with 700 million active users. If you have been using Instagram for a while, you must have posted a photo of yourself with a birthday cake. But with all these, your birthday might still be empty or incorrect. This makes you want to change your birthday on Instagram.
In general, changing your birthday on Instagram is easy. What can only be tedious is if you have linked your Facebook with your IG. In this case, you have to make the edit on Facebook. On Instagram, just navigate to your "personal information" settings and edit your birthday.
The first thing you should know about Instagram is that it imports your Facebook birthday if you are yet to set it. You were able to change your birthday easily when Kevin Systrom and Mike Krieger founded it. But since Meta acquired the app and let you link with Facebook, changing the date can be tricky.
This guide will teach you how to change your birthday on IG even when you have linked it with Facebook. Stick with us till the end to get the process!
Step-by-Step Guide on How To Change Your Birthday on Instagram
Instagram has many features that allow you to create a social media presence and engage with people who follow you. One of those features is the ability to change your birthday on Instagram. If you wish, you can come up with a creative idea of ​​how you would like to celebrate your birthday and display it on your profile.
You can do this by choosing an icon from a premade icon or by designing your own. Here are some suggestions on what to do if you want to change your birthday on Instagram.
Step #1: Open Your Instagram App
Suppose you wish to edit your personal information on Instagram, including your birthday. In that case, the first thing to do is open the Instagram app and log in with your details if necessary. If you're unsure of what the app looks like, it has a camera with a white lining imposed on a pink and purple mixed background.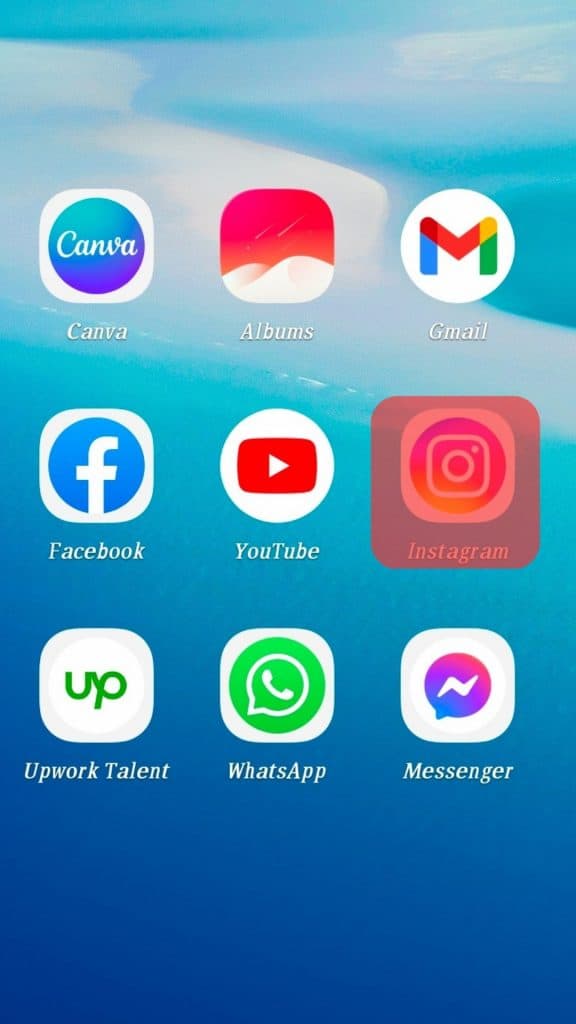 You can sign in with your email, username, or phone number. There is also an option to sign in with your Facebook account if you linked both accounts together. But, you'll have to use the webpage if you want to access your Instagram account on your PC.
Step #2: Access Your Profile Page
After successfully logging in, the next step is to go to your profile page. Click on your profile picture avatar at the bottom right corner of the app. Once you tap on the avatar, it loads up your profile page, and you'll see the pictures and videos you have updated.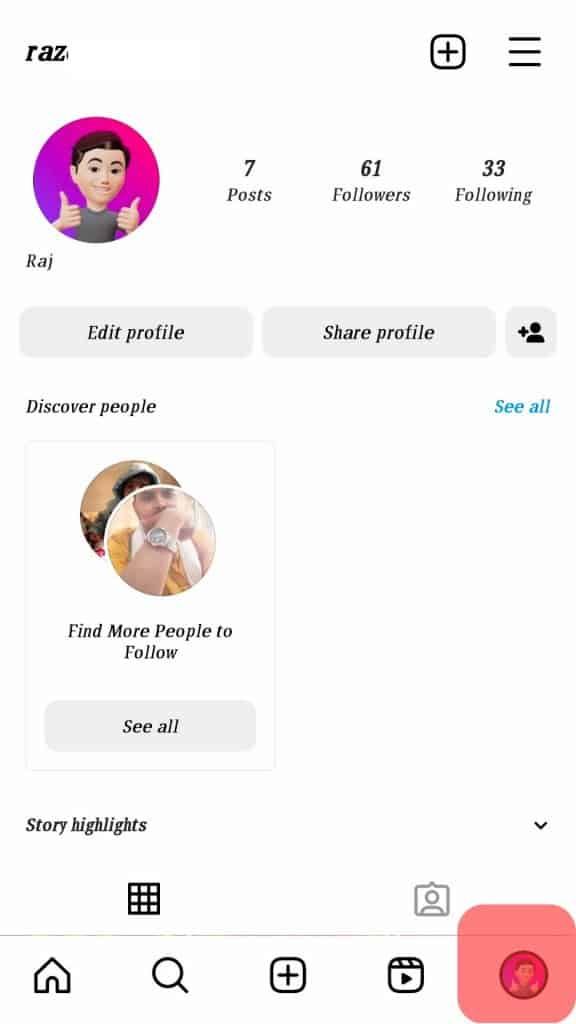 Also, you'll see an edit profile button below your profile bio. You can edit your bio or access your "Personal Information" setting when you click on it.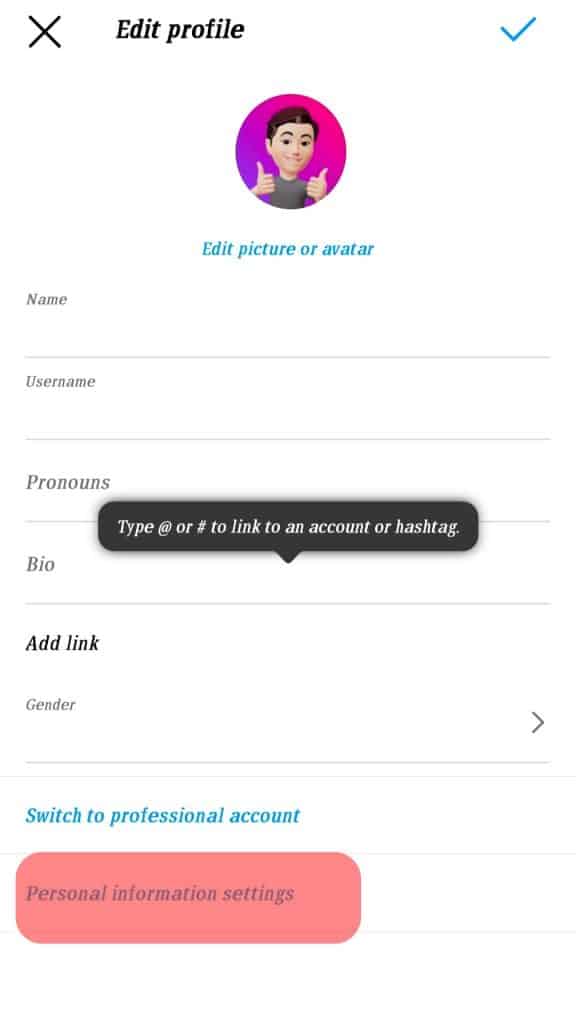 If the option is not available on this page, you can also access your personal information settings by following the next step.
Step #3: Access Your Personal Information Settings
Another way you can access this option if it is unavailable on the edit profile page is through settings.
Tap on the three horizontal lines at the top right corner of your profile page to get the settings option.
You'll see a list of options, then click "Settings".
After that, select and click "Account", and you'll see "Personal information."
Once you click on the personal information, a page will load up showing your info hidden from the public. These include your email address, phone number, gender, and birthday.
Step #4: Edit Your Birthday
Tap on the Birthday option on your personal information settings interface. Once you click on this option, you can edit the date, month, and year. However, if you haven't updated your birthday before but have linked your IG with your Facebook. In that case, your birthday will automatically be updated since it helps IG filter what comes up on feeds.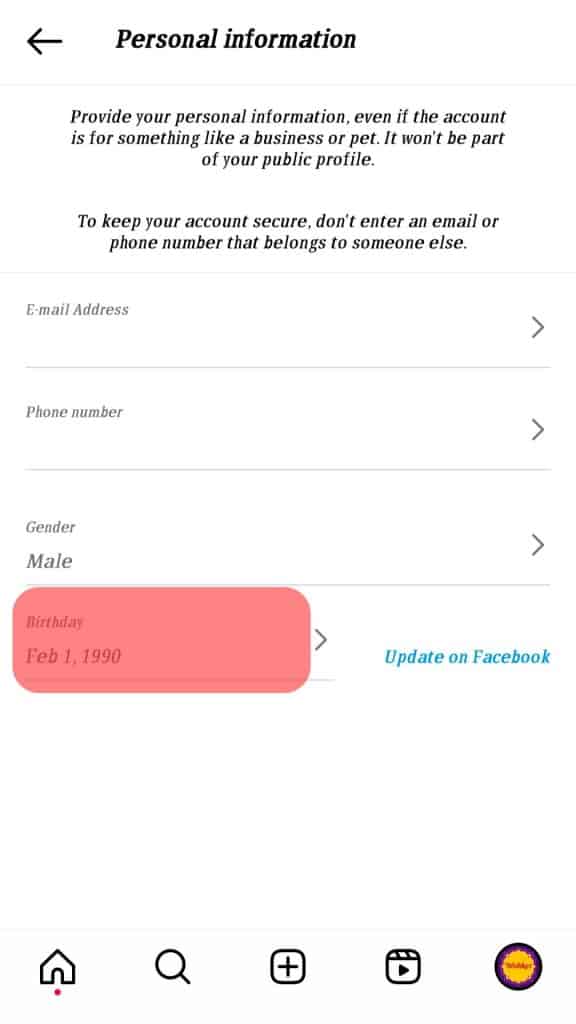 In addition, you may have to change your birthday on Facebook if it is linked to your IG account. To do this, you'll click the "Update on Facebook" button beside your birthday and log in to your account. Once you log in and change your birthday on Facebook, the changes take effect immediately on Instagram.
Conclusion
You may want to change your birthday on Instagram for several reasons. Meta knows this, and that's why it made it possible to carry out the edit. However, you should know that you have a limit to the number of times you can change your birthday. So you must ensure to put in the correct birthday or wait a few more days if you just made an edit.