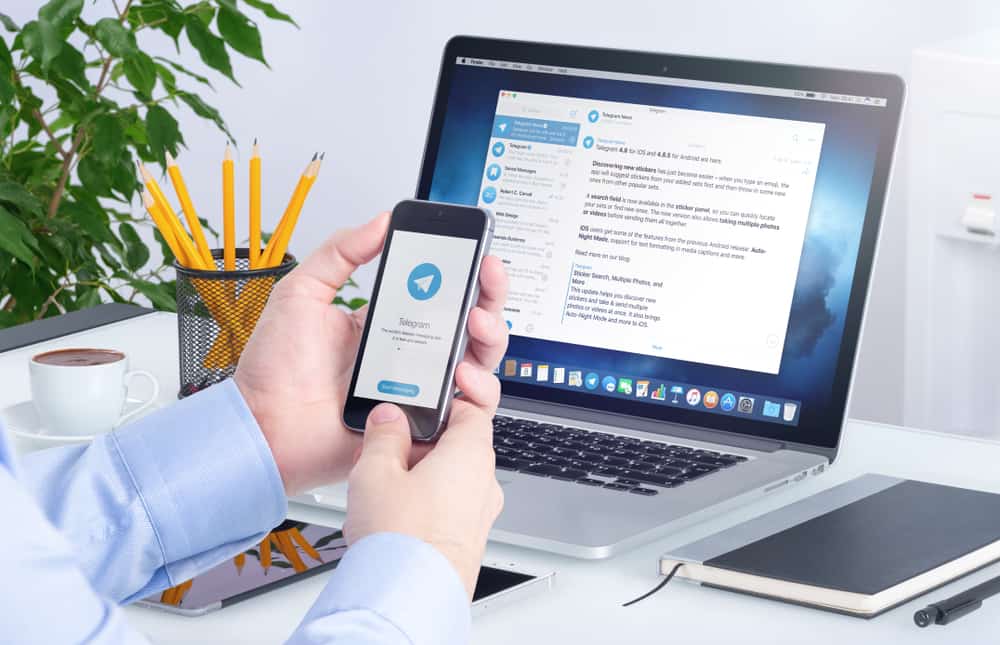 When we talk about Telegram, one distinctive feature that makes it stand out from its nemesis is the Telegram channels.
Additionally, there are unique features like bots, the ability to create larger groups, audio-to-text messages, and many more on Telegram that you cannot find elsewhere.
Telegram channels are like Facebook pages where businesses or people can broadcast their news, promotional material, updates, or any other content related to their business, topics, or themes.
If you want to learn how to create a Telegram channel or join any, we have answers for you.
To create a Telegram channel, tap on the "pencil icon", and select the "New Channel" option. Enter your channel name, description, and type, and copy the channel link to invite people.
Similarly, if you want to join any Telegram channel, there are three ways you can find them. You can find Telegram channels; through a keyword search on Telegram, an online Telegram channel repository, or through a channel invite link sent to you.
Let's explore Telegram channels and how to create them or join any channel.
What Are Telegram Channels?
Telegram channels are one of the distinctive features of Telegram that businesses or people can use to broadcast content related to their business, topic, or theme.
There are many ways that Telegram made waves; one of them was the ability to create larger groups of members, up to 200,000. Then, it raves about it being the most secure platform.
Channels on Telegram are just cherries on top! On your Telegram channels, an unlimited number of people can join or subscribe to you.
You can create two kinds of channels on Telegram; private and public. People can only join private channels through the invite link. On the flip side, public channels are easier to find and join.
Another thing that makes channels different from groups is that only an admin can post content on a channel.
Now, this content can be anything promotional, news, update, or announcement related to the overall theme of the community. No subscriber can communicate with each other on channels, unlike groups.
How To Create a Telegram Channel?
To create a Telegram channel, follow these steps:
Launch the Telegram app on your mobile device.
Tap on the pencil icon in the top right corner.
Tap on the "New Channel" option.
Tap the "Create Channel" button.
Enter the channel name in the space provided, upload a photo, and add a description.
Hit the next button.
Now, select your channel type; public or private.
Copy the invite link if you want to send it to your friends.
Select your Telegram contacts to invite them.
Hit "Next."
You can invite up to 200 members to your Telegram channel. After this, people can find your channel and reach out to you. You can share the channel invite link with others outside Telegram to help them find your channel and add it.
How To Find Telegram Channels?
If you want to find Telegram channels to subscribe to, there are three ways.
Method #1: By Keyword Search on Telegram
It is the easiest to find any channel on Telegram. Simply, tap on the magnifying glass icon on the main page of your Telegram app (iOS users can find the search bar by going to the "Chats" tab).
Enter any keyword related to the channel to get the search results.
From the search result, whatever intrigues you open it, and if it is something you want to join, then hit the "Join" button at the bottom.
Method #2: Telegram Channel Repository Website
The Telegram channel repository website consists of all the channels under different categories on Telegram. You can find channels under plenty of categories — food, entertainment, sports, art, business, etc. 
Search channel under any category that your heart fancies.
Once you find the channel, click the "Subscribe" button to be redirected to the Telegram phone app or desktop client. Here, you can join the channel by a simple tap on the "Join" button.
All channels are public channels in online repositories, as you cannot find private channels this way without their links.
Method #3: Through Invite Link
Any channel admin can share the invite link of their public or private channel with anyone they want. Anyone with this link can join the channel.
All you have to do is to open your channel and navigate to the channel details. From there, find the invite link to share with your friends anywhere you want.
Important Point
You can easily navigate to a public channel by searching it using its usernames. Besides, any member of a public channel can send the invite link to their friends to enable them to join them.
Private channels invite links can only be shared by the admin with others.
Final Thoughts
Telegram channels are something that has never been on any messaging platform before. Telegram channels are like Facebook pages where the admin can share any content related to their business or brand.
Joining any Telegram channel helps you to stay updated with the latest news and update related to your favorite brand, person, or topic you have subscribed to.
Use our guide to create a channel for yourself, or join any channel that tickles your fancy.