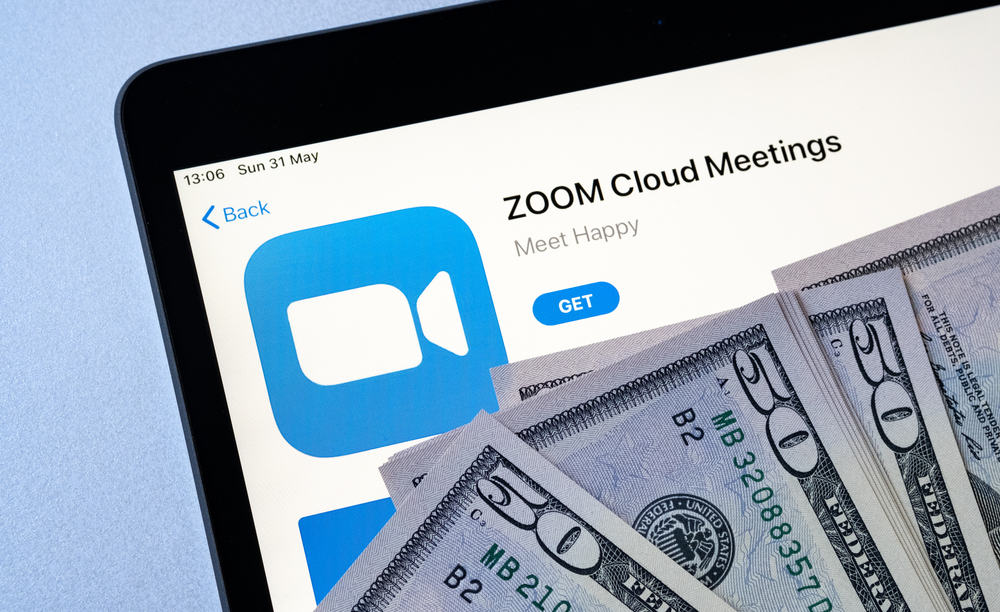 Zoom is the world's most popular video conferencing platform. It has been adopted by business and private users as a primary means of holding meetings conveniently from anywhere worldwide.
The platform is simple to use and intuitive making it a driving force in the remote working trend of many organizations. But how does Zoom make money?
Zoom runs on a freemium model, which provides a wide range of paid room plans for individuals and organizations. They make money through adverts, investments, and providing hardware solutions to organizations.
This will cover the different ways that Zoom makes money. It details the products and services that Zoom offers and the investment and advertisement approach of the video conference platform.
Zoom and Video Conferencing
Zoom was founded in 2011 and has been a central player in the cloud-based conference industry. It is compatible with every device, which makes it easy for people to connect.
It started as a platform for business and the academic community, but during the COVID-19 lockdown, it grew in appeal and became useful for all group gatherings.
Zoom operates in an industry with significant competitors like Skype, Cisco WebEx, and Microsoft Teams but has managed to thrive and remain profitable.
The central selling point for Zoom was the superior quality of its platform and significant lag time compared to other video conference platforms.
Where Does Zoom's Revenue Come From?
In 2020 Zoom generated $622.7 million in revenues, which increased by 300% to $2.65 billion in 2021. There are five significant avenues through which Zoom makes money.
Here are the ways Zoom makes money.
Revenue Source #1: Subscriptions
Subscriptions are Zoom's primary revenue stream, as American citizens and companies make up 68% of the company's revenue. Zoom operates on a freemium model, starting with a free-to-use plan to more premium plans.
They also have a series of payment plans which vary from individual to business. These subscription plans include
Zoom Basic: This free option allows you to host up to 100 participants and communicate via audio, video, and text. With Zoom basic, you can share screens, send private and group messages, etc. This plan has a 40 minutes limit for meetings with more than two persons. Although the 40 minutes restriction is permissible for small-scale meetings, it is not ideal for longer business meetings.
Zoom Pro: this is the meeting set up for smaller teams and offers all the benefits of the free version. Zoom pro hosts the same number of participants as the basic plan; this can be expandable to accommodate up to a thousand people. There is also a 30-hour time limit with the opportunity to stream to social media. With this plan, you also get 1GB of cloud storage.
Zoom Business: This plan is designed to accommodate 300 participants and can be increased to 1,000 persons. With this plan, you get recording transcripts, company branding, and managed domains.
Zoom Enterprise: this is the most extensive plan, which gives all the benefits of the previous plans, including the ability to host 500 participants, unlimited cloud storage, and recording transcripts.
Revenue Source #2: Hardware Solutions
Few people are aware that Zoom offers more than software products. They offer installation support for company conference rooms that easily integrate with their software suite.
They partner with top manufacturers to provide telephones, tablets, speakers, whiteboards, etc.
These customers pay a monthly subscription to Zoom for the service's sourcing, installation, and maintenance.
These devices can cost hundreds of dollars to rent per month, and Zoom shares this revenue with the hardware device manufacturers.
Revenue Source #3: Add-On Services
Zoom offers a series of add-on services besides the standard meeting rooms and subscription plans. These services capitalized on Zoom's robust SaaS platform to provide a wide range of extra services.
There are three primary add-on services which include:
Zoom Rooms and Workspaces: This is a virtual workspace for organizations that run a hybrid office environment. These rooms enhance collaboration for remote workers through high-resolution videos, calendar integrations, etc. Zoom workspaces can accommodate up to 1,000 video participants and can be used for a webinar of 10,00 viewers. This plan costs $49 a month per license. You can opt for the annual platform, which comes with a discount.
Zoom Phone: This is a cloud-calling service where users make calls without video or airtime. It offers the traditional features of the Zoom app, and remote and hybrid organizations use it for secure HD voice calls. Zoom phone comes with additional features like intelligent call routing, voice mail, and call recording. It also integrates seamlessly with Microsoft Office, salesforce, and google workspace. This plan costs $8 monthly per user.
Zoom Video Webinars: This is another way Zoom makes revenue. Zoom webinars are a view-only service where only the organizers can share their screen, video, and audio while the attendants listen. The attendants can only communicate with the organizers through chats, question-and-answer slots, and polls. Two variants of this service include Zoom Webinars and Zoom Events.
Zoom webinars cost $79 per license, accommodate up to 10,000 participants, and offer unlimited sessions of up to 30 hours each. With this plan, you can export the list of attendees, and you can integrate automated marketing and live stream through different platforms. Users can also monetize their webinars by enabling paid registration.
Zoom Events goes for $99 monthly per license and offers all the benefits of the previous plans. This platform provides more analytics and allows you to hold multiple sessions.
Zoom offers special packages to education, finance, healthcare, and government institutions besides the above-listed meeting rooms and add-on services.
These packages are customized to the organization's needs and can sometimes integrate Slack, Salesforce, and Trello.
Revenue Source #4: Advertisements
Advertisements make up a small portion of Zoom's total revenue, but they do it to monetize their customers. These adverts are not always obvious and are displayed only to users on the free basic plan.
The adverts appear shortly after the meeting commences and can change with time.
This feature was introduced late in 2021 and works on a per-impression basis.
This means that Zoom gets paid for every user that sees the advert, and with millions of active free users, Zoom makes a substantial percentage from adverts.
Revenue Source #5: Investments
Zoom has invested in over 20 startup companies since April 2021. They unveiled an investment fund of about $100 million, which they use to purchase major stakes in promising startups.
This ensures that they get revenue from the profit of these companies and can sell their shares when the company becomes profitable.
Another reason Zoom invests in these companies is to have products that enhance the ecosystem around their primary product and service.
Over the last few years, Zoom has reconsidered its customer market to include enterprises of all sizes, healthcare providers, and anyone who needs video conferencing solutions.
This decision has helped Zoom expand its user base and increase its revenue.
In Conclusion
Between 2017 and 2021, Zoom's revenue has grown by over five times, making it a major player in its industry. This financial success is due to superior user experience, an impressive freemium model, and smart business decisions.
The methods are listed above if you want to know how Zoom makes money and remains the most preferred video conference platform.
FAQs
What do I do when Zoom closes after 40 minutes?
If your meeting times out on Zoom, ask all participants to join again using the same link. This will only work if you hold the meeting using your Personal Meeting ID.