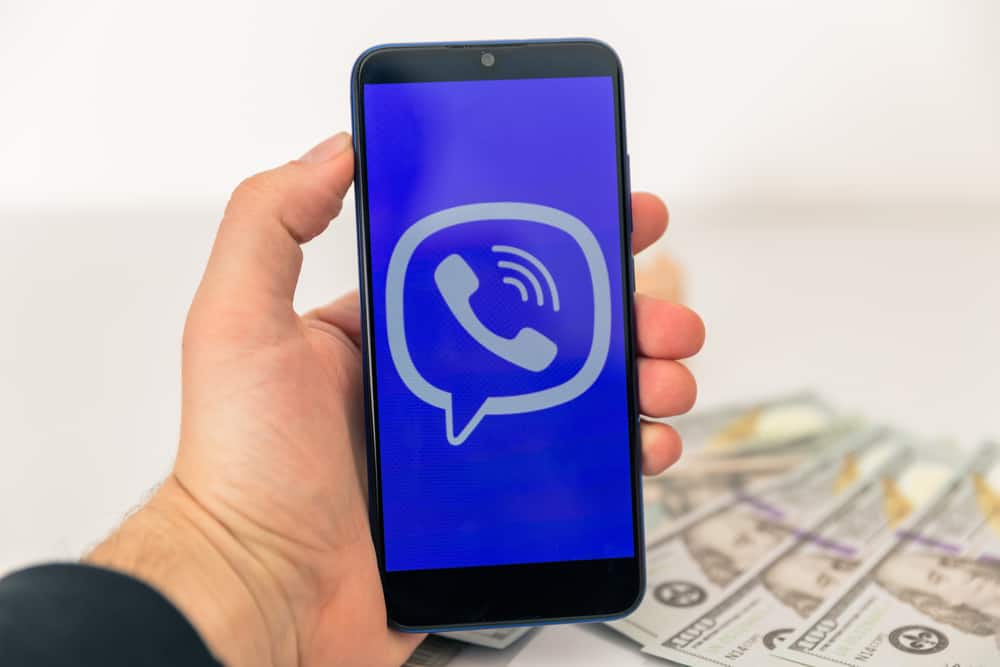 You're probably familiar with the Viber app – it's a popular messaging and VoIP service with over 1 billion registered users.
What you may not know is how the company behind Viber makes money. 
Generally, Viber generates income from the sale of stickers, fees associated with the business account, subscription fees for international calls (Viber Out), and in-app advertisements sponsored by Viber partners.
In this blog post, we will explore the different revenue streams for Viber and how the company is able to generate such high profits. From in-app purchases to advertising, read on to learn more about how Viber makes money.
What Is Viber and How Does It Work?
Viber is a messenger app that allows users to send text, voice, and video messages to one another for free. The app also lets users make calls to landlines and mobile phones at low rates.
It is available on various platforms, including iOS, Android, Windows Phone, BlackBerry, and more.
With over 1 billion users worldwide, Viber is doing something right.
The company has built a loyal user base by offering a free and easy-to-use messaging app that happens to be packed with features like group chat, HD voice and video Calling, and more. 
And while sticker sales and Viber Out subscriptions are essential sources of revenue for the company, advertising will likely become an increasingly important part of the Viber business model in the future as the company looks to monetize its large user base.
Who Uses Viber?
Viber is used by over 1 billion people worldwide. That's a lot of users!
The app is popular in many countries, including Russia, Ukraine, Turkey, Iran, Brazil, and India.
People of all ages use Viber, but it is popular with young adults. Over 60% of Viber users are between 18 and 34.
How Did Viber Start?
Viber was founded in 2010 by four Israeli entrepreneurs, including CEO Talmon Marco. The company's initial investment came from Russian-Israeli entrepreneur Yuri Milner. Viber launched its app in December 2010.
The app was initially designed as a way for users to make free calls over the internet. However, it quickly became popular as a messaging app, allowing users to send text, photos, and videos for free.
In February 2014, Viber was acquired by Japanese e-commerce giant Rakuten for $900 million. Rakuten has since invested heavily in Viber, helping it to expand its user base and add new features to the app.
Viber has over 1 billion users worldwide and is available in approximately 200 countries. The app offers a variety of features beyond messaging, including video calling, voice calls, games, stickers, and more.
How Does Viber Make Money?
Viber makes money in a variety of ways. Let's have a look at them below;
Revenue Source #1: Sale of Stickers
Viber's primary source of revenue is the sale of stickers. Stickers are a vital part of the Viber experience; users can purchase them directly from within the app.
In addition to stickers, Viber also offers in-app purchases for various other content, including games, themes, and ringtones.
Revenue Source #2: Viber Out Subscriptions
Viber also offers a premium subscription service called "Viber Out" that lets users make calls to landlines and mobile phones at lower rates than traditional calling plans.
The kind of phone number and the country where the user's call is heading to determine the cost of a Viber Out call.
Viber Out starts at $5.99 a month. Consumers can also buy separate packages if they want to make a limited number of calls.
Viber Out has a cancelation policy that is similar to that of any current subscription. Viber gives consumers a set number of credits for its single packages.
Surprisingly, Viber is the only one providing such a service compared to several of its top rivals, such as WhatsApp, Signal, or Telegram.
Revenue Source #3: Ads
Viber also generates revenue through its advertising platform. Advertisers can place ads on the home screen of the app as well as within conversation threads.
Viber has secured some high-profile advertisers, such as Coca-Cola and Nissan.
Your IP location, age, the device being used, message activity, gender, and a few other data factors are used by Viber to show those ads.
However, users can prevent Viber from using their age and gender for such customized advertisements.
Revenue Source #4: Business Accounts
Finally, Viber makes money by charging fees for its corporate accounts. These accounts, known as Viber for Business, let businesses communicate with clients and respond to any unresolved questions.
Examples include customer service, giving delivery updates, promoting new items, and advertising products and services within the chat.
Viber's chatbots or human moderators can control conversations. Even the brand partner itself may develop these chatbots internally. The number of messages sent determines the fees a business partner must pay.
Unfortunately, Viber doesn't make its cost structure available to the public.
Viber generates revenue by charging users for premium features such as Viber Out. It also has a few advertising partners, generating revenue through in-app ads.
Conclusion
In brief, we can see that Viber makes money in several ways.
By selling stickers, charging for calls to landlines and mobile phone users, and collecting data that it sells to advertisers, Viber can generate a significant amount of revenue.
While some of its methods may be controversial, there is no doubt that Viber is a profitable company.
FAQs
Which country uses Viber the most?
The Viber app is used by users in almost 200 different countries. However, Ukraine appears to have the highest usage rates out of all nations.
How does Viber for business work?
Businesses can message customers via their phone numbers by creating a Viber Business Messages account. Large organizations typically use it to deliver many transactional messages.