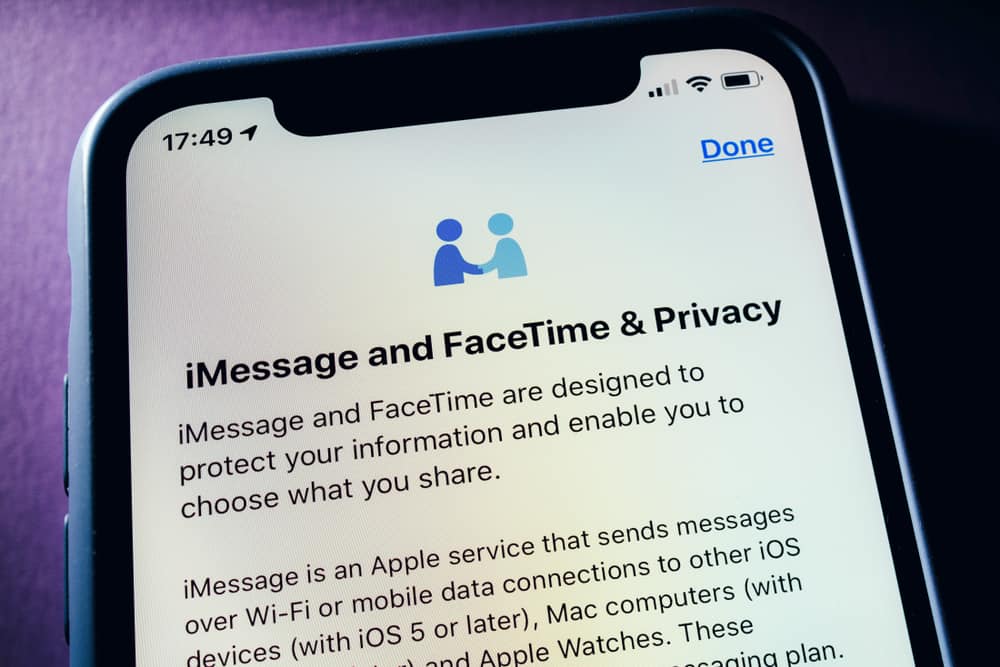 When communicating with your fellow Apple user, you can consider using iMessage.
Unlike SMS, iMessage uses an internet connection to send messages, and the sender and receiver must have iMessage enabled to enjoy using iMessage.
However, you can turn it off when you don't need iMessage.
So, why would someone turn off iMessage?
You can turn it off when you don't have an active internet connection or don't want iMessage to exhaust your remaining data. Still, if most of your friends don't use Apple, it's no point having iMessage enabled. Still, if your Apple users have disabled their iMessage, your messages will take longer to get delivered. Hence, you can turn off iMessage and use SMS instead to get an instant response.
We will understand what iMessage is and how to turn it off on your device. Moreover, we will discuss different reasons that make someone decide to turn off iMessage.
What Is iMessage?
Apple is a giant tech company releasing new features to give its users reasons to stick to the brand.
One of the amazing features introduced by Apple is iMessage. Normally, when you want to message someone, the obvious option is to use SMS.
However, Apple users enjoy a better solution. iMessage is a messaging alternative for SMS that uses the internet instead of the carrier charges to send a message.
However, iMessage must be enabled before you use it. Again, you can only use it when texting another Apple user. When you try to iMessage an Android user, your message will be sent as an SMS.
Still, when the person you send your iMessage to is offline, it will be stored on the server until the person returns online, provided they don't exceed the defined time.
When you open the messages app on your iPhone, you will note that iMessages are sent with a blue text bubble compared to SMS, which is sent with a green bubble. That's how to differentiate an SMS from an iMessage.
How To Turn Off iMessage
You can turn it off when you don't want to use iMessage. You should note that to be effective; you must turn off iMessage on all your Apple devices where you've enabled it.
For instance, if you've enabled iMessage on iPhone and Mac, turn off iMessage on both devices. Otherwise, your iMessage will still be sent to the active device.
Once you turn off iMessage, your friends can send you iMessages, but they won't get delivered as you've disabled iMessage on your end.
The steps below help in turning off iMessage:
Open the Settings app from your home screen.
Find and tap the option for "Messages."
Lastly, toggle off the switch next to the "iMessage" option.
That's it. You've successfully managed to turn off your iMessage.
Why Would Someone Turn Off iMessage?
We've seen the steps to follow when you want to turn off iMessage and mentioned what happens when you decide to turn off iMessage.
Our focus is to understand why someone may turn off iMessage.
Here are some of the reasons.
Reason #1: To Save on Data
As mentioned, iMessage relies on an active internet connection to send and receive iMessage.
So, you may consider turning it off when you notice iMessage is draining your data or when you don't have enough data to use with iMessage.
Moreover, when you have issues with your network and don't want to experience a case of failed iMessages, you may turn it off and use SMS instead.
Reason #2: Most Friends Use Android
Unfortunately, iMessage is only available for Apple users.
Therefore, if you have many Android friends, you can't communicate with them using iMessage.
This case calls for you to turn off iMessage and use SMS to communicate effectively with your friends.
Reason #3: To Achieve Instant Messaging
When using iMessage, it may be ineffective when you want to get instant replies.
It could be that your Apple friends are offline and can't wait for them to return online to get your message.
In such a case, you can turn iMessage off and contact them using SMS. Still, SMS is faster than iMessage.
The recipient can be in an area with a weak internet connection, hindering receiving your iMessages. However, if you text them via SMS, they will get your message instantly.
Conclusion
Someone who doesn't want to spend their data or is looking for a quick reply or their friends use Android may decide to turn off iMessage.
We've seen what iMessage is, how it works, how to turn it off, and the reasons for turning it off.