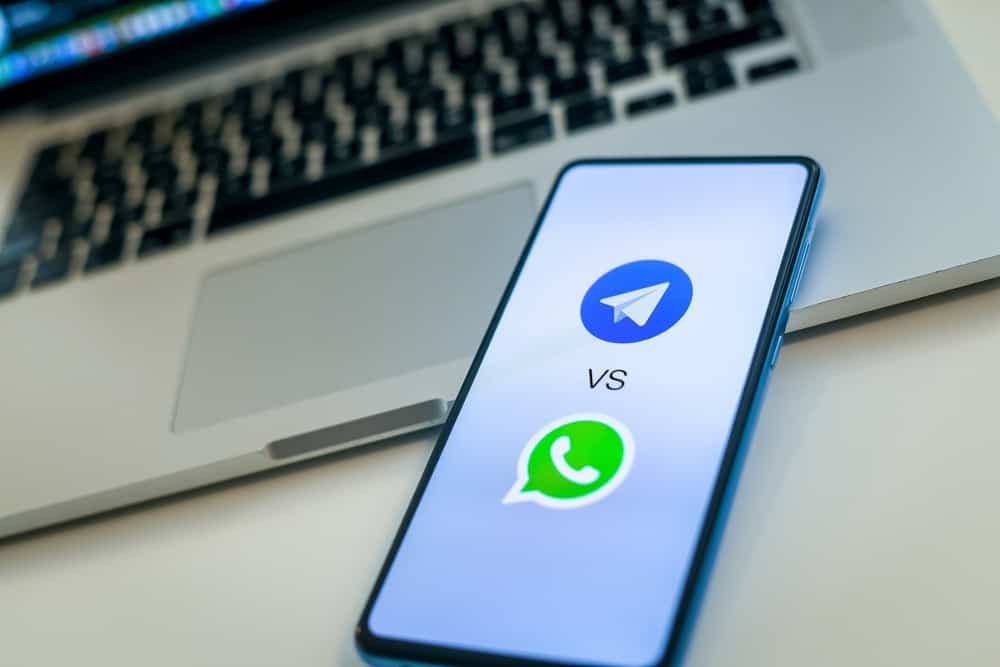 In 2021, WhatsApp announced its new privacy policies stating it would share its users' data with other Facebook companies.
Most users weren't pleased with the news because they use WhatsApp for personal reasons.
When WhatsApp failed to yield a reasonable compromise, some opted for other platforms like Telegram.
But what other reasons are behind people leaving WhatsApp for Telegram?
Some of the outstanding reasons why people are leaving WhatsApp to join Telegram include the following:
– Better security for consumer data
– Unlimited cloud storage
– Sending large documents or media files
– Bigger groups
Telegram keeps getting bigger by the day, and rightfully so. If you are wondering why many people opt for the platform instead of apps such as WhatsApp, this post contains the necessary answers.
Reasons Why People Are Leaving WhatsApp for Telegram
While WhatsApp is arguably one of the largest social media sites, it has recently lost some of its followers to Telegram.
Here are some of the reasons why.
Reason #1: You Don't Have To Share Your Phone Number for Someone To Contact You
You can only contact someone on WhatsApp if you have their phone number. However, this isn't always ideal, especially if you don't know the other person well or just like to keep your number private.
Telegram, on the other hand, allows you to communicate with someone without them having to know your phone number. You only need to create and share a user name with them.
This feature is also quite beneficial when it comes to joining large groups considering not everyone in the group can see your number if you choose for them not to.
Reason #2: Unlimited Cloud Storage
One of the most attractive features of Telegram is that every user gets unlimited cloud storage. Therefore, you don't have to worry about backing up your data or infringing on your phone's storage or other cloud storage plans.
However, the same cannot be said for WhatsApp. First, all your WhatsApp chat backups count towards your Google Drive cloud storage, giving you 15GB of free storage.
Anything from that, you must pay for the backups to be completed. This is unless you have an iOS device because then you will have an extra 5GB dedicated to your WhatsApp data.
Reason #3: Accessibility
While it's not advisable for safety purposes, you can link your Telegram account to as many devices as possible. All you need to do is log in using your phone number and password.
This way, if you are constantly changing devices or own multiple devices, you are assured that your Telegram account is always up to date on whatever device you want to use at any given time.
However, you can only link your WhatsApp account to four devices. While this may seem like a reasonable number, the process of doing so is more complex.
For starters, you need to have both devices you are trying to link at the same place, as you need to scan a set QR code.
Reason #4: Automatic Backup
It's pretty inconvenient when you lose a device and ultimately lose all your WhatsApp data because you either forgot to back up manually or didn't have enough space to enable the backup.
Keeping that in mind, another aspect where Telegram wins is that all your chats are automatically backed up to the cloud.
Therefore, whenever you lose a device, you are assured that you will have access to all your data as soon as you log in to your account.
Reason #5: Massive Group Chats
Telegram allows its users to create a group with a whooping 200,000 users.
Coupled with the fact that it's relatively easy for someone to find and join a public Telegram group, users with the same interest can form interactive communities.
As for WhatsApp, the maximum number of people who can join a group as we speak is 1024 participants. However, they have recently announced a new feature that allows different groups to form a community.
But even then, the community can only have 5,000 participants. To make the matter even worse, users claim that only 2,000 participants can join a community, to which WhatsApp responded that the issue is being resolved.
Reason #6: Allows to Send Large Files
Since the inception of Telegram, users can send files as large as 2GB, which is incredible, considering some movies aren't even that large.
Also, the platform supports a wide variety of app formats, meaning you will hardly-if ever, get the dreadful "File format not supported" error code.
On the other hand, WhatsApp only allows users to send files as small as 16 MB. Therefore, if you want to send a long video or several photos, you will be forced to send in batches which is inconvenient.
Additionally, the chances of your media format not being among those supported by the platform is relatively higher than Telegram.
Reason #7: You Can Schedule Messages
One of the most underrated features of Telegram is that you can schedule messages. Therefore, if you have a public channel, you can easily organize your posts for the week and forget about the hassle of posting often.
However, to do the same on WhatsApp, you must download an inconvenient and unsafe third-party app, considering your message will most likely not be end-to-end encrypted.
Conclusion
WhatsApp is undoubtedly a fan favorite considering it has over 2 billion monthly users.
However, some apps, such as Telegram, are quickly gaining popularity because they have more attractive features.
For that reason, if you are thinking of making the jump or are wondering why many people are opting for Telegram and ditching WhatsApp, the post above contains the majority of the answers you can use to help make your decision.