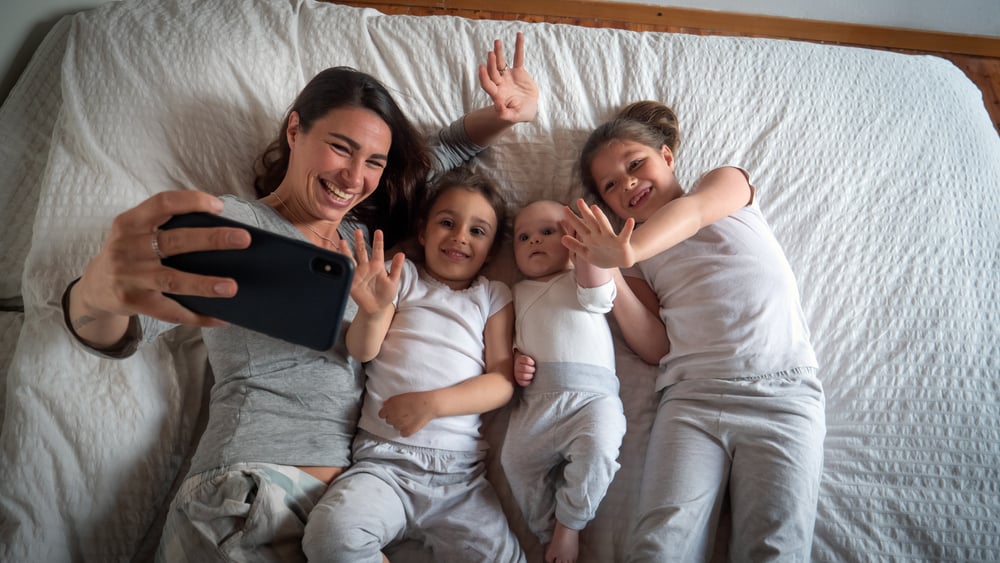 Who doesn't enjoy sleepovers at a friend's house?
Everybody loves sleepovers and slumber parties, playing and talking the entire night and not sleeping for a moment. Sleepovers create memories and moments that you cherish even in your adult life.
One thing that the COVID-19 pandemic taught was that you could perform everything from real life on digital platforms. Like every other thing, sleepovers also transitioned to video conferencing platforms.
If you want an online sleepover with a friend or arrange a virtual sleepover for your kid, we can give you activities ideas for your sleepover on FaceTime.
These are the things you can enjoy with your friends on an online sleepover on FaceTime:
– Play video and online games or classic games like Charade, Pictionary, or Trivia.
– Watch movies, series, videos, or other shows.
– Conduct art and craft activities like re-creating something.
– Try cooking and baking to learn each other's recipes.
– Tell spooky, funny, or all sorts of stories. Discuss books you read like in book clubs.
– Crank up your favorite music, party, and dance night away.
There is never a dull moment during sleepovers. If you cannot be around your friends or family, you can do a virtual sleepover on FaceTime. Keep reading our article to learn what you can do during your virtual sleepovers on FaceTime.
FaceTime Sleepovers Activities Ideas for Guaranteed Fun
One thing that the pandemic of COVID-19 taught us was that you do not need to be physically in the same location to conduct your business, collaborate with your teams or hang out with friends.
With the platforms like Zoom, Slack, Microsoft Teams, and FaceTime, many things we did not imagine could happen online happened on these platforms.
From hosting meetings with clients, teams, or departments, conducting online classes, to even sleepovers and weddings — all happened virtually.
If you plan to host a virtual sleepover for your friends on FaceTime and are clueless about what you can do during that, we can give ideas to make your virtual sleepovers the "thing" or norm of your group to conduct them more often.
Did You Know?
FaceTime allows users to add up to 32 people on group video calls. So, on your virtual sleepovers, you can have up to 32 friends.
Idea #1: Play Games
Every sleepover is incomplete without games. You have a whole night to your name, so why not let your spirits glimmer with the fierce competition? 
There are plenty of games you can play on a virtual sleepover. The classic sleepover game is Charade, which you can play virtually.
All you need to do is create two teams and use some random words generator or tool to get words or phrases based on any theme (people, place, thing, song, movie, or anything).
Now, one member has to enact it for others to guess the expression. The one who acts cannot say or mutter the word. Teammates have to guess from the enactment.
The team with the highest scores obviously wins.
Additionally, you can try playing your favorite online games like Minecraft, Call of Duty, Fortnite, or whatever. Make sure you guys have loads of fun.
Moreover, you guys can even play karaoke online through karaoke apps.
Tip #1
You can also play Pictionary, MadLibs, and trivia games on virtual sleepovers.
Idea #2: Watch Movies or TV Shows
No sleepover is complete without a movie night. We all love re-watching some old classic flick (Harry Potter forever) with our friends on sleepovers to rejoice in those moments.
The good thing is that you can enjoy movies together on iTunes with the "SharePlay" feature. Many streaming services support this feature, like Apple TV, HBO, and Hulu, to name a few.
Alternatively, you can all simultaneously play the show on your TVs to enjoy it together.
You can opt for other services like Zoom or even Discord to watch movies together via screen share features.
Idea #3: Arts & Craft or Cooking & Baking
You all can create something artistic together during your virtual sleepovers. Draw whatever your heart desires and put it on the canvas.
Alternatively, you can get inspiration from anything online, and everybody recreates their own versions.
Additionally, you can have a cooking or baking session to enjoy these activities with friends or to learn or teach some fun recipes to each other.
What you cook or bake, you can get delivered to each other's home with contactless delivery.
If you enjoy makeup, you can play any YouTube video to recreate some makeup look and take many Instagram pictures.
Tip #3
You can do some science experiments together for fun.
Idea #4: Tell Stories
Sleepovers are always incomplete without spooky stories. You can lie down to share your story and listen to others.
You can also download one from the internet to enjoy with your friends.
Similarly, you can share funny stories and even jokes with your friends.
If you all love books, assign each other some books to read before the sleepover to discuss during the sleepover, kind of like what happens in book clubs.
Idea #5: Party & Dance All Night on Your Favorite Music
Crank up the music and dance to it with your friends.
You can go with some wild ideas like a dress-up party, where each participant has to dress to impress. The one with the best costumes could win something.
Alternatively, you can create a theme; every participant has to dress up as per that theme, and even songs should be around the theme. 
For example, if your theme is BTS (k-pop group), your entire playlist should have their songs. Be sure to decorate your rooms as if some real party is going on to add the oomph.
Some Pointers
Some pointers for your FaceTime sleepovers include the following:
Keep your sleepovers short with fewer participants for better collaborations.
The sleepover host should plan the activities ahead and give the memo to everyone to create enthusiasm over what lies ahead.
Make your sleepover revolve around some theme to keep things synchronized.
Try having matching snacks to feel closer to each other despite the distance.
Conclusion
Virtual sleepovers are worth it or not depending on one factor, is it possible to be with your friends physically? If yes, then there is no need to have a virtual sleepover.
Despite technology making things easier, some things cannot be replaced.
Virtual weddings, sleepovers, parties, or whatnot, were all created as an answer to the utmost social distancing need during the pandemic. These cannot replace the physical waking world.
Still, if you want to conduct a sleepover on FaceTime with your friends, you can try our ideas to amp up your sleepovers and have an incredible night with your friends.