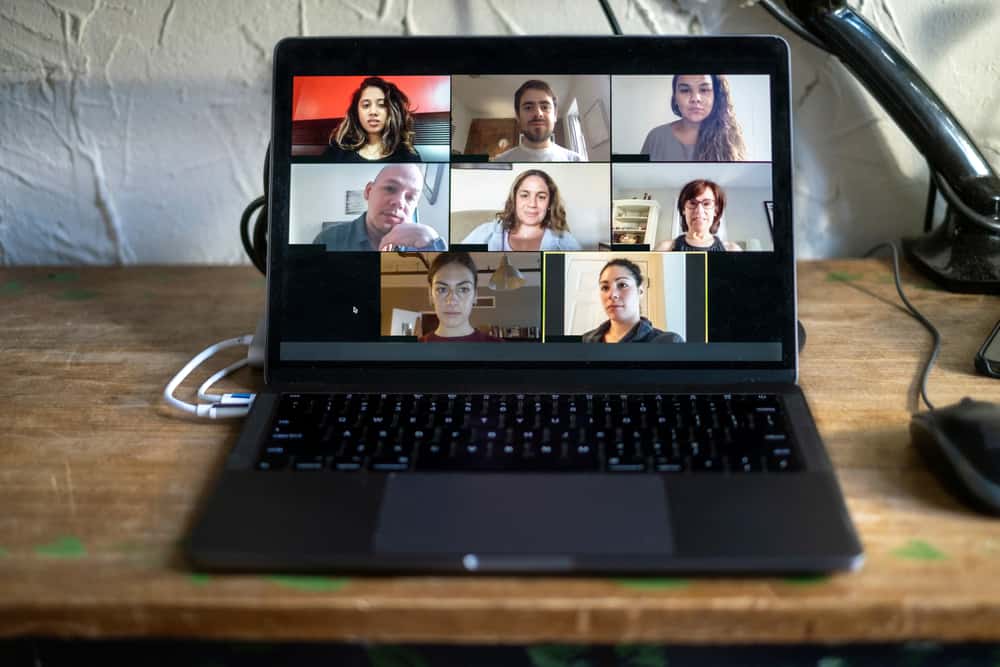 Zoom is a video conferencing and online meeting platform that provides real-time communication and collaboration services to users over the internet.
The app has become more famous because of the increased need for remote work and learning.
Are you bothered about which device is best for your Zoom meetings? Keep reading!
Different devices are compatible with Zoom. The best devices you can use for your Zoom meetings are your desktop computers, laptops, smartphones, and tablets.
In this article, you'll learn about the most suitable devices for your meetings and their functionalities.
Five Best Devices for Zoom Meetings 
The suitable device for Zoom depends on your specific needs and preferences. Here are a few options to consider.
Option #1: Desktop Computers – Best Choice for a Long Time on Call
If you prefer a larger screen, a desktop computer with a webcam, microphone, and speakers can be a great option. All-in-one computers, like the iMac, are famous for Zoom video conferencing. 
Desktop computers are considered suitable for Zoom because they typically offer better performance, larger screen sizes, and a more stable internet connection than laptops or mobile devices. 
This makes them an ideal choice for engaging in high-quality video conferencing, especially regarding video calls with a large number of participants or calls requiring high-quality audio and video.
The uniqueness of this device includes the following: 
Great Hardware: They typically have more powerful hardware, such as more processing power and graphics capabilities, which allow for smoother and more reliable video playback. 
Larger Screen: The larger screen makes it easier to see and engage with other participants, especially in group settings.
Internet Connectivity: Many desktop computers are connected to a wired Ethernet network, which provides a more stable and higher-speed internet connection than Wi-Fi, which can be more susceptible to interference and bandwidth limitations. This helps ensure a more reliable and higher-quality Zoom experience.
Option #2: Laptops – Most Convenient 
A laptop with a built-in camera, microphone, and speakers can provide a seamless video conferencing experience on Zoom. Some popular options include MacBooks, Windows laptops, and Chromebooks.
Here are some of the reasons why laptops are a good choice for Zoom meetings:
Portability: Most laptops are lightweight and easy to carry, making them an excellent option for you to attend Zoom meetings from different locations.
Good Camera Quality: Most modern laptops come equipped with high-quality built-in cameras capable of providing clear and sharp images, making it easier for participants to see each other during the meeting.
Large Display: Laptops typically have large displays, which provide a more immersive video conferencing experience than smaller devices such as smartphones.
Good Audio Quality: Many laptops have built-in microphones and speakers that provide good audio quality, with this, participants get to hear each other clearly during meetings.
Multiple Connectivity Options: Laptops can connect to Wi-Fi or cellular networks, allowing you to join a virtual meeting anywhere.
Compatibility with Zoom: Zoom is compatible with many operating systems, including Windows, macOS, and Linux.
Option #3: Smartphones – Most Portable 
If you're on the go and need to join a Zoom call, a smartphone with a good camera and microphone can be handy. The iPhone and Samsung Galaxy S series are popular choices for this purpose. 
Smartphones are suitable because they offer features that make virtual communication easy and convenient. Some of these features include:
Portability: They are small and lightweight, making them easy to carry around. This allows you to participate in a Zoom call from almost anywhere.
High-Quality Cameras: Most smartphones have high-quality cameras that provide clear and sharp video for your Zoom call.
Built-in Microphone: Smartphones have a built-in microphone that provides good audio quality for your Zoom call.
Internet Connectivity: Most smartphones can connect to the internet through Wi-Fi or cellular data, allowing you to participate in a Zoom call everywhere you go.
Touchscreen: The touchscreen makes it easy to access and use the Zoom app and other apps and features on the device.
Large Screen: Many smartphones have large screens that provide a good viewing experience, although not as large as some other devices.
Option #4: Tablets – Best Choice for On-the-Go 
Tablets like the iPad or Microsoft Surface Pro can be used for Zoom video conferencing because they provide a portable, versatile, and convenient solution for video conferencing.
Tablets have the following qualities:
High-Quality Images: Tablets are often equipped with front-facing cameras that provide a high-quality image for video calls which is ideal for remote work and teleconferencing.
Large Display: Many tablets have large displays that provide a clear and easy-to-use interface for Zoom, making it simple to see others on the call and navigate the app's features.
Presence of Stylus: Some tablets can be equipped with a stylus to help annotate and draw on documents or presentations during a call. 
Option #5: Webcams – Best Alternative Choice
If your computer or laptop has no built-in camera, you can use an external webcam for video conferencing on Zoom. The Logitech C920 and the Razer Kiyo are popular options.
It's important to note that the quality of your video conferencing experience will also depend on factors such as internet speed, network stability, and the lighting in your environment.
Webcams are suitable for Zoom, and other video conferencing platforms, for several reasons:
Convenience: They are designed to be used with computers, so you can easily connect and use them for video calls without having to set up any additional equipment.
Image Quality: Most webcams offer good image quality. They also typically have built-in cameras and microphones, which can improve your video and audio quality.
Flexibility: Webcams can be positioned in various ways to suit your needs, so you can adjust the angle to show your face clearly, or focus on a specific object or whiteboard.
Portability: Many webcams are small and lightweight, so you can easily take them anywhere to use.
Conclusion
Ultimately, the best device for Zoom will depend on your specific needs and budget.
Consider what type of device you already own, how much you're willing to spend, and what features are most important to you, such as camera quality, microphone quality, and portability.