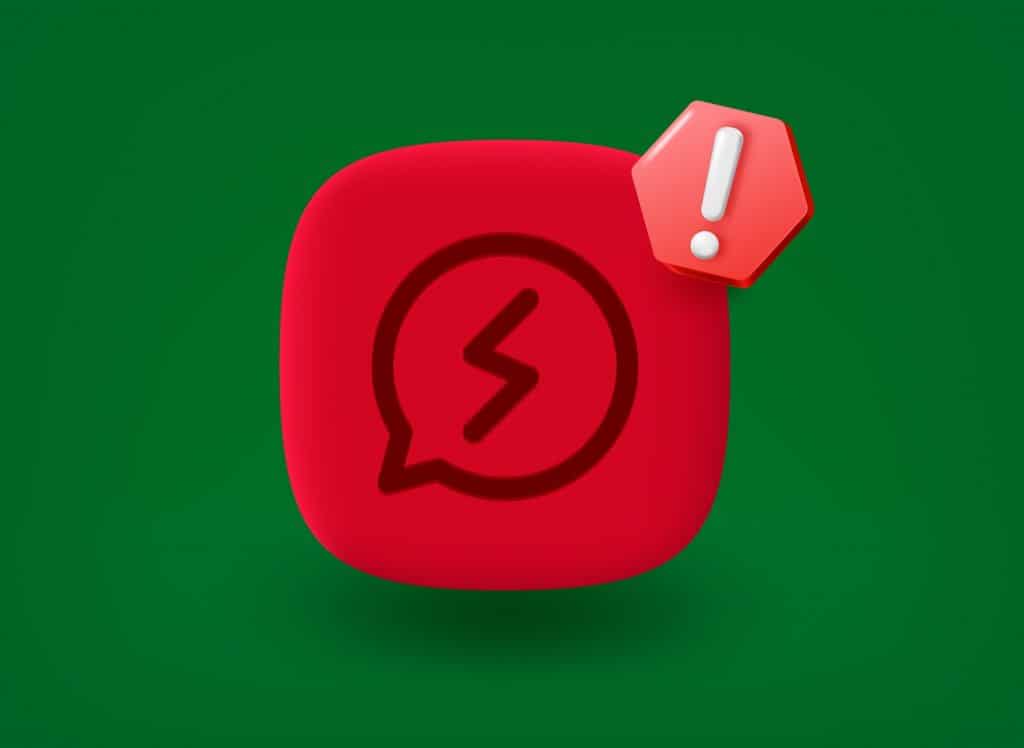 Facebook Messenger is one of the favorite instant messengers among internet users. The app has several features that determine your message's status when you chat.
These features are represented by icons and tell users if their message has been sent, received, or delivered.
Most of these icons are circles with a few variations. One distinct icon you notice at the far right of your messages is the red exclamation mark. So, what does a red exclamation mark mean on Messenger?
When the red exclamation mark appears next to your text on Messenger, the message wasn't sent to the recipient due to an unavailable or unstable network.
Knowing the steps to take when you see a red exclamation mark on Messenger is essential. That way, you can send your text to your friends on time.
Keep reading this guide as we show you the meaning of a red exclamation on Messenger and how to avoid it.
What Does a Red Exclamation Mark Mean on Messenger?
Facebook Messenger is an effective tool for communicating with your friends on Facebook without logging in. As expected, it has many features and functions that make the conversation go smoothly. 
One of the most common icons on Messenger is the gray circle. This symbol gives you more information about your texts on social Messenger.
Most chat icons appear like a circle, but one chat icon is distinct. It is called the red exclamation mark. You might have encountered this mark beside your text at one point or the other. What does this mark stand for, and why?
Generally, an exclamation mark calls the reader's attention to something. When it has a red color, it becomes more critical.
Messenger's red exclamation mark means your message couldn't be sent or delivered. What causes this, and how can you resolve it?
The cause of red exclamation mark on Messenger could be caused by an unreliable network connection or the unavailability of a strong network connection. You don't need to worry much as there is a way to fix this problem.
How To Resolve a Red Exclamation Mark on Messenger?
Below are the most common fixes for the red exclamation mark on Messenger.
Fix #1: Check Your Internet Connection
A poor network internet connection is the top reason for a red exclamation mark near your text. If it keeps appearing, check your internet connection.
Do you still have sufficient mobile data? Is your Wi-FI connected? If the answer to this is yes? Resend your message.
Fix #2: Turn Your Data or Wi-Fi Off and On
Another option to fix the red exclamation mark is to turn off your data or Wi-Fi and turn it back on. To do that:
Swipe down from the top of your screen.
Toggle off the Wi-Fi or mobile data option.
Turn the Wi-Fi or mobile data option on again.
If you use a computer, select the Wi-Fi icon in the menu bar, click on it again to turn it off, and turn it on immediately. Then, open Messenger and resend your text.
Fix #3: Contact the Recipient on Another Platform
If the red exclamation mark appears beside your texts, consider messaging the person on another app. This solution may only work if you have your friend's details on another social platform.
If you don't, you have to be patient till your friend realizes the problem from their side and fixes it.
If you send them a message on another app that goes through, the issue is with your Messenger. Additionally, you may try messaging another friend; if it gives you the same result, you might be having trouble with your phone.
Fix #4: Reinstall Facebook Messenger
Another option to remove the exclamation mark on Messenger is to delete the app and reinstall it.
On an iOS Device
To reinstall Facebook Messenger on your iOS device, follow these steps:
Find the Messenger icon on your home screen.
Long-press the Messenger icon and press the "x" at the top-left side of the icon.
Select "Delete App."
Open the App Store on your iOS device.
Tap the search icon in the bottom right corner.
Search for "Messenger."
Tap "Get" or tap the cloud icon and follow the on-screen instructions.
On an Android Device
To reinstall Facebook Messenger on an Android device, follow these steps:
Open the Settings app on your Android device.
Scroll down and select "Applications."
Tap "Apps" or "Application Manager".
Select "Messenger."
Tap the "Uninstall" button.
Tap "OK" to confirm.
Launch the Play Store on your phone. 
Type "Facebook Messenger" on the search bar at the top.
Tap the Messenger app icon.
Tap the "Install" button.
Conclusion
Facebook Messenger helps you keep in touch with your friends and family outside the social site. The app uses several icons beside texts indicating different meanings about your text.
One of these symbols is the red exclamation mark. It tells you that your message couldn't be sent to the receiver. 
This issue may be due to a poor internet connection. Everything to help you fix the problem of red exclamation marks has been discussed in this article.