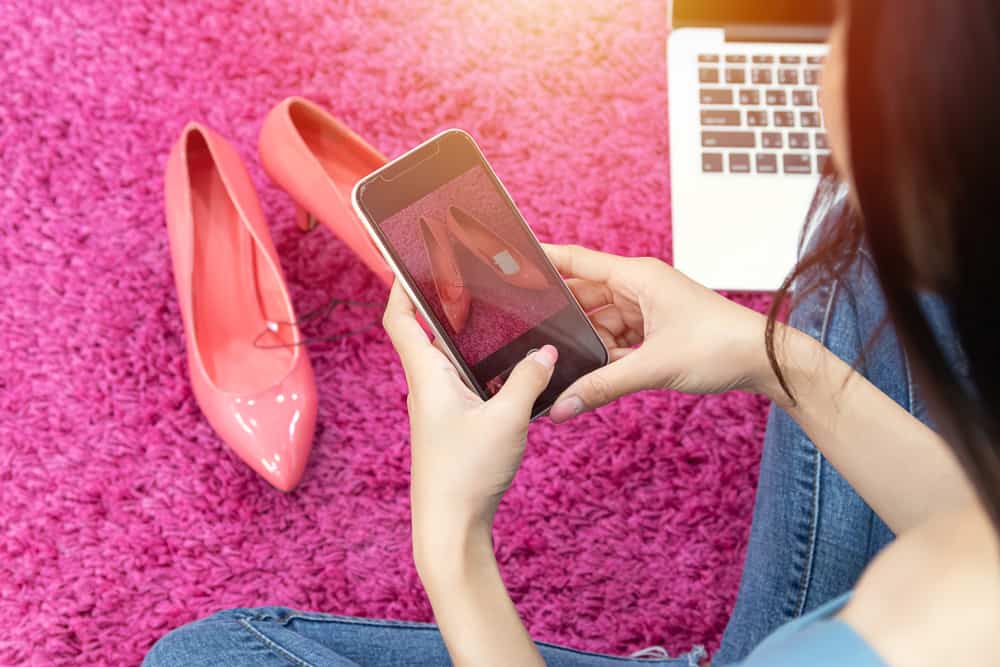 Instagram is the home of everything aesthetic, whether you're running an individual or business account. So naturally, you want everything to be picture perfect, which applies to every picture post, from your face to clothes and accessories. The angle has to be correct, the exposure perfect, and the background not too distracting.
Several factors apply to taking good photos of shoes for your Instagram page. From the camera you use to the filter you apply, a single mistake can make the picture poor. Hence, you want to ensure you have an excellent-quality camera, good lighting and exposure, and a neutral background. All of these will give you the best shoe photos for Instagram.
This article details how you can apply these factors to take pictures of shoes for your Instagram.
Footwear Photography on Instagram
The best product photography can be seen on Instagram, with several aesthetically-pleasing photos across different items. For many businesses, the quality of the images found on their pages drives engagement and business growth. This also applies to companies and individuals in footwear.
You might be running a shoe business on the platform where you need to take the most attractive shoe photos. But it might also be that you run an individual account as a shoe lover or influencer where the quality of your shoe photos dramatically matters. After all, an image is the beginning of a successful trade or personality in this digital world.
If you fall into any of the above categories, you need these tips on taking good photos for your Instagram. And the first step to taking shoe pictures for Instagram is styling your shoe for product photography.
Position Your Shoes for Product Photography
The first thing to take note of in taking shoe photos for your Instagram is how you place the shoe for a photo. First, put them in a flattering position that highlights the attractive details of the shoe.
Next, bring out the shoe's actual shape that makes your viewers fantasize about themselves wearing that shoe. Finally, you can move on to the next step after getting that position.
Get a Good Camera
Fortunately, we have several smartphones that can take quality pictures to the standard of a DSLR camera. If you're using an Apple device, you might not need more than that to take a photo of your shoes. There are also a few Android devices that can match this standard, but if you can, get an actual DSLR camera. This will particularly come in handy for businesses selling shoes.
If you're using a phone camera, taking the photo might take longer. This is because every phone typically has a camera app that can launch and be set to a particular mode for capturing. First, however, you must know how to operate a camera if you have a DSLR camera at your disposal. This will include knowing how to get the image in focus, controlling light exposure, and picking the right angle.
Pick the Right Angle for Your Photo
You can explore several angles to get the perfect shoe picture on Instagram. Remember, the aim is to make your shoe look flattering, so you want to get the best angle that brings out the attractiveness of your shoe. Try aerial angles, have someone pop a squat with the shoe, get someone to hold the shoe out, try up-close & personal, use mirrors, and many other perspectives.
If you want to stand out from the other businesses or individual accounts, you should leverage these angles. They'll help you grow your account and establish you as an authority in the shoe scene.
Lighting
The wonders good lighting does to your photos cannot be over-emphasized. You can use natural lighting (the sun), ring lights, and other artificial light sources for your shoes. They'll make your photos come out better, clearer, and more aesthetic.
The Background
The background you take your photo against makes all the difference. Depending on the color of the shoe, you want to ensure the color contrast of it against the background isn't so jarring. As a result, you're advised to use neutral or plain backgrounds. Avoid a cluttered or busy background not to distract your viewers. You want the focus to be on your shoes and not on whatever is happening in the background.
The frame in which your shoe appears should be kept simple too. Backgrounds to use: white, grey, nude, off-white, and sometimes blue. However, not all shoes necessarily need a plain background. At the right time and place, a colorful or busy background can do a lot of your shoe pictures.
Crop and Edit
Cropping and editing your photos are also practices you should be familiar with for Instagram pictures. These will help keep your photos aligned and your profile page clean. Inconsistency in how you align your photos can be a big turn-off for whoever is going through your shoe pictures on Instagram.
As a result, you should have a cropping template that applies to all your photos. Pick an aspect ratio you want your photos to abide by, and stick to it. Also, when editing, avoid overusing filters not to render the quality of your image poor. Remember, viewers might hope to get a shoe like that, and you won't want to deceive them with filters.
Post Your Photo and Use Hashtags
Once you're done with the above-listed steps, you can continue posting your photo and using hashtags. Presumably, the image will be saved in your phone's gallery, and you'll only need to select it when you launch the Instagram app.
Before posting, you'll be asked to write a caption, and this is where you can use hashtags to improve the visibility of your posts.
Conclusion
Consistency is the key to building an Instagram page and establishing authority over an item, product, or accessory. You want to keep posting and engaging your followers as much as possible. With these, you should get the best results for your shoe photos!