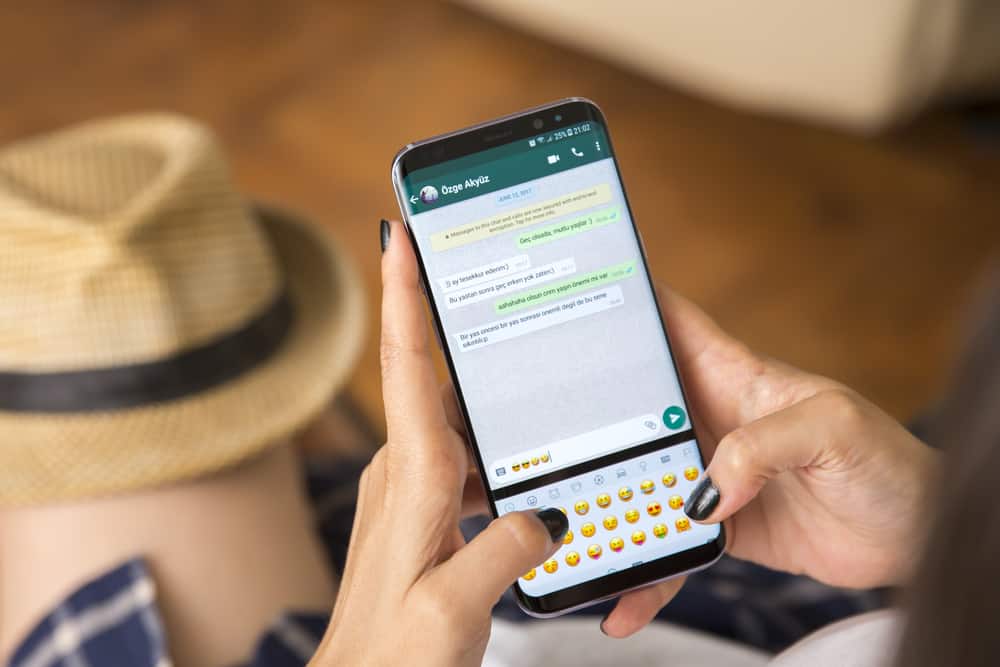 You can now react to your friends' texts with a tiny static heart or a big animated heart on WhatsApp.
But you'll have to locate the heart and press the "Send" button for them to see the heart.
So, how does one do that?
There is a small heart on the WhatsApp reaction menu. However, the heart is tiny and static. You can also send a big animated heart to a friend. You'll have to click the emoji button on your keyboard to locate the beating heart among the multiple emoticons on your emoji menu. You also have the option to send red, green, yellow, purple, blue, black, brown, pink, or white hearts.
Reactions make chats fun and intimate. Hearts express different things as you talk to your friends. Continue reading the guide to learn more about WhatsApp hearts and how to send them.
Sending a Heart on WhatsApp
You'll need to update your WhatsApp before sending a heart via the platform. The update lets you access more heart features.
You can update it via App Store or Google Play Store. Once updated, follow the procedure below to send a heart to someone via WhatsApp.
Mobile App
Follow these steps:
Launch the WhatsApp app on your mobile device.
Open a conversation.
Press the emoji icon at the bottom left.
You'll see an emoji menu on your screen. Scroll towards the right until you see emoji hearts.
Select a heart you'd wish to send to a friend. 
Hit the send button.
WhatsApp Web
You can also send a heart via WhatsApp web. Send it as follows:
Access WhatsApp Web via your browser.
Select a chat.
Click the emoji icon at the bottom left.
Tap the "#" icon to access the WhatsApp hearts. You can also use the search bar.
Pick a heart you want to send.
Press "Enter" or click the arrow icon to send the message.
You may have seen a bunch of hearts on the emoji menu. They have different meanings. Therefore, let's find out what the hearts mean before hitting the send button.
Hearts on WhatsApp
There are many types of hearts on WhatsApp. Some are big, while others are tiny.
These hearts have different meanings:
A big animated red heart lets one express love. It's the definitive expression of a true love heart.
An orange heart communicates the love between friends. When someone sends it, they want to tell you they love you. There is a but to the love. They don't want to go beyond the friendship boundary.
A yellow heart expresses cordial love.
A green heart shows one's closeness to nature. People often use it when talking about their diets and lifestyles.
A white heart often stands for peace. One may also use it as an expression of kindness to someone.
Purple hearts often fly all over WhatsApp private chats and groups on special days like Mother's Day. The heart represents affection or care.
You may see a blue heart when someone wishes to tell you they have confidence in you. It also indicates loyalty in a friendship. 
A black heart may appear when someone wishes to react to grim humor. It's also an expression of grief. 
A brown heart mostly appears in conversations about the environment. People often use it to express their love for nature.
A red heart with an exclamation point shows that you like someone. So, you may see it as you converse with a loved one via WhatsApp.
Revolving hearts represent the growing or on shared between two individuals. The hearts may come up if someone wants to court you.
A beating heart may come up if someone is deeply in love with you.
Wrapping Up
WhatsApp lets you react differently to messages sent to you via the platform.
For instance, you can express laughter through the "haha" or anger through an emoji WhatsApp chat.
The hearts are there to tell your friends how you feel about them or a text they sent you.
Send them a big red heart to express love. Use a white one to show kindness to someone.
There is always a heart for different occasions or scenarios. 
FAQs
Are all the WhatsApp animated?
The different colored big hearts are animated. The small heart on the WhatsApp reaction tray is not animated. All the tiny hearts are static.