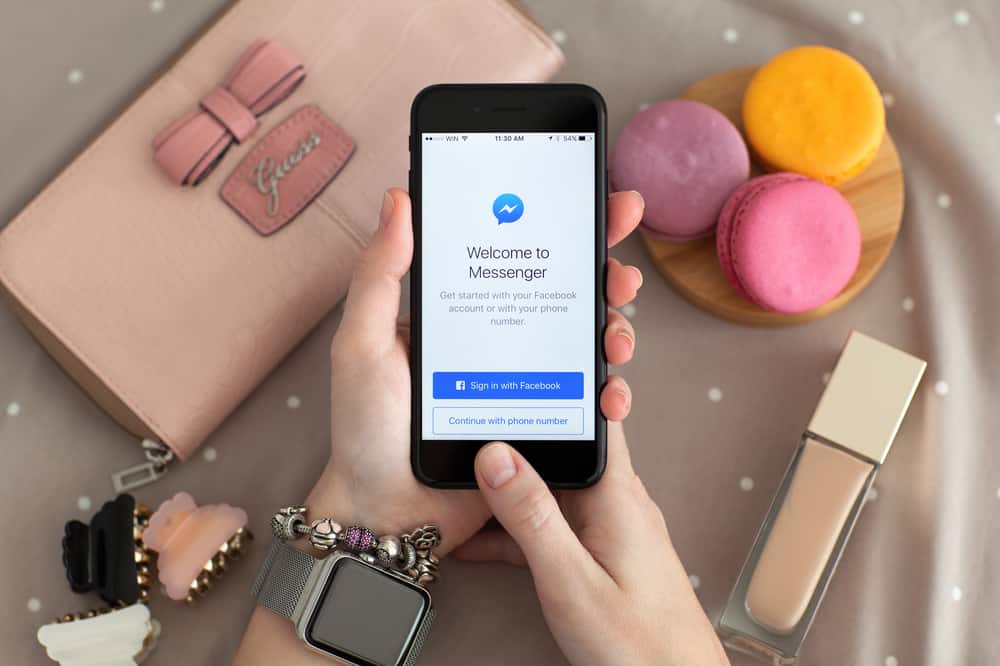 Messenger is the instant messaging app by Meta. It is a great way to keep in contact with friends and family through texts, voice, and video messages.
However, if you have a partner who seems engrossed in their Messenger app too often, how do you know who she is talking to on the app?
Check her contacts and see who is always online or offline when she is. You can also guess their password or use a keylogger or spyware app.
There are different ways to find out who she is talking to on Messenger. This article explains how encrypted messages work on Messenger and how to know who your partner is talking to on the app.
Tracking Messenger Conversations
Messenger has a strict user policy that limits the kind of information that it can share with third-party websites. It also has an encryption setting that protects your conversations from unauthorized access.
This means that unless a user gives you access to their Messenger app, you cannot know who they are talking to.
However, if you suspect your partner is cheating or your child is involved in suspicious activities online, there are other channels to get the information you need.
Here is how to check who someone is talking to on Messenger.
Method #1: Check Their Online Contacts
This is a straightforward method that involves tracking which of their contacts are online at the same time as they are. When a user is online, a green dot will appear on their profile which goes gray when they are offline.
This process requires patience as you will need to go to her profile to know which contact is online when she is and offline when she leaves the Messenger app.
Although this is not the most effective way of getting who your contact is speaking with on Messenger, it helps you to narrow the options. With this information, you can follow through with the other recommended methods.
Method #2: Guess Their Password
This is another approach to tracking your partner's Messenger activities. It involves using psychology to get the target to reveal their password without knowing.
The most important component of this method is knowing their correct usernames or passwords.
Guessing passwords may seem hard, but that should be easy since you know your target. Most social media users have weak passwords and use the same password for multiple accounts.
Most users also use easy-to-remember personal details such as birthdays, anniversaries, and pet or parents' names as passwords.
Method #3: Use a Keylogger
Keyloggers are programs that record every stroke a user makes on their device. This is a more effective way to monitor users' behavior on an app.
It is a more complicated method, but monitoring software can help you obtain the user's passwords. Keyloggers keep track of every key pressed by the user and deliver a breakdown to your device.
Many keyloggers are available today, such as Ardamax, Elite Keylogger, Spyrix, Refog monitor, etc. Some are free while others are purchased; however, they follow the same process.
Here is how to use a keylogger:
Purchase the keylogger of your choice
Install it on the target's device
Log into the keylogger's control panel
You will get a full report of the target's activities in the control panel. Some keyloggers require you to gain access to the target's phone, while others don't.
Method #4: Parental Control Apps
Using parental control apps is another way to monitor your target's activities on Messenger. It monitors and allows you to impose certain decisions from a remote device.
Parental control allows you to delete or block certain contacts from your friend list.
Method #5: Use a Spy App
A spy app is a comprehensive surveillance tool that gives you access to a wide variety of information about your target.
With the right surveillance tools, you can track and record text messages, phone calls, locations, and activities on social media, including Messenger. Some spy apps even allow you to access the camera and microphone of the target's device.
There are many spy apps available, and they offer different features that you may need. Some spy apps specialize in revealing users' activities on specific apps such as Facebook Messenger. These apps can be installed on both mobile devices and laptops.
Here are some of the best spy apps for Facebook Messenger:
uMobix
This popular Facebook spy app is easy to use and has a wide range of features. It can track calls, locations, and social media activities. It also incorporates keylogger features that record every keystroke on the target's device.
FlexiSPY
With FlexiSPY, you can track the target's email and text messages. You can even view deleted messages, which helps determine how long the target has engaged in suspicious conversations.
It also has advanced features like call interception and ambient recording.
Hoverwatch
With Hoverwatch, you can track the website that the target visited and take screenshots at specified intervals. You will also get an analysis of how long they spend on each app and what was said.
In Conclusion
Messenger is a great place to stay in touch with old friends and family while making new ones. This is also a threat because your partner might begin conversing with someone you do not know or approve of.
Not to worry. There are ways to know who your partner is talking to on the Messenger app. This article discusses the techniques and tools you can use to achieve this.
FAQs
Is it illegal to use a keylogger?
Yes. It is illegal to use a keylogger in many countries around the world. It is also a violation of many websites' terms of service. This can also have serious legal consequences if reported.