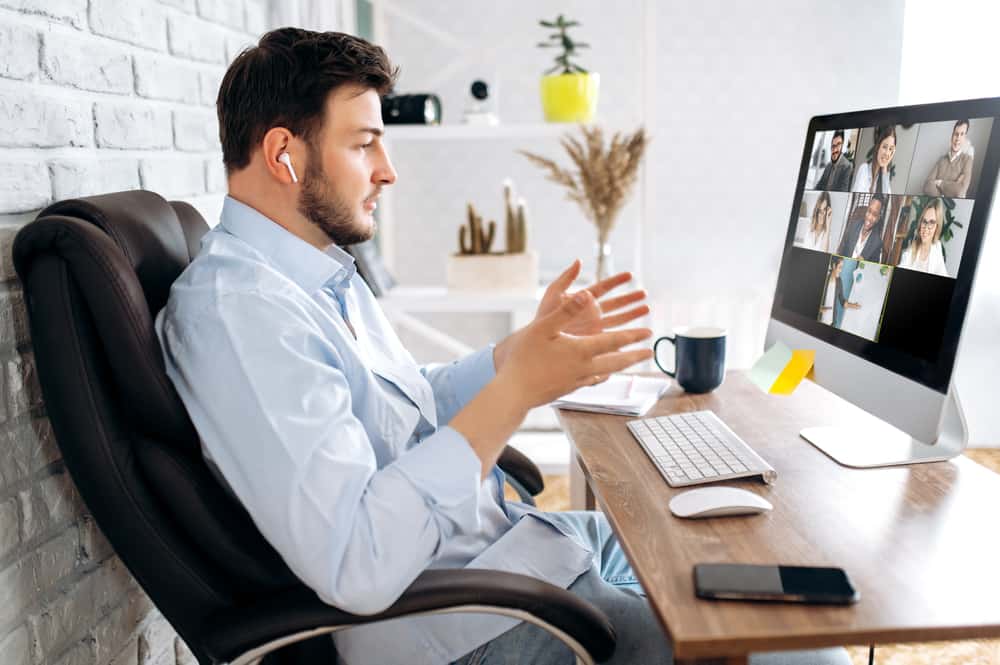 Zoom is the leading video conferencing and online platform where businesses and individuals meet. It allows for different virtual meetings, webinars, and video chats and is supported globally.
Zoom offers different features, such as screen sharing and video sharing. Video sharing can be frustrating if your partners cannot view your face clearly. So, how can you fix lighting issues on Zoom?
Launch the Zoom desktop app, click on the settings icon, and select 'Video.' Navigate to 'My Video' and tick the box for 'Adjust for low light.' Select the 'Manual' option and adjust the slider to increase the brightness of your video feed.
This article will detail how to fix the lighting for your zoom call by changing your Zoom video settings and using the right light source.
Video Sharing on Zoom
Video sharing is the Zoom feature that allows you to share your live feed with other meeting members. This is usually done by clicking on the 'Start Video' option.
This allows Zoom to access your device's webcam or mobile front camera. The meeting host can decide who gets to share their screen, audio, and video.
How To Fix Lighting on Zoom?
There are different reasons for having dark and unclear video quality. This may result from your position, light source, or Zoom settings.
Having insufficient or wrongly placed lights will distract your viewers from what you are saying. This will affect the effectiveness of your presentation.
Here are ways to fix your lighting on Zoom.
Method #1: Zoom Video Settings PC
Zoom has built-in features that help to fix insufficient lighting in your environment. This setting can compensate for the poor lighting in your surroundings and brighten up your video feed.
Here is how to adjust the Zoom settings for low light:
Launch the Zoom desktop app.
Click on the settings icon in the top right corner.
Select 'Video' from the left navigation.
Navigate to the 'My Video' section.
Tick the box for 'Adjust for low light.'
Select 'Manual' from the dropdown menu.
Adjust the slider to your satisfaction
Once you have done this, Zoom will automatically regulate itself to a brighter mode, making your face more visible. This setting will remain the same for subsequent calls and will not change until you restore it to the default setting.
Method #2: Sit in Front of a Light Source
There are two types of light sources when sharing video in a Zoom meeting. You can either use a natural light source or an artificial light source. You do not want to sit backing the light source as this backlit effect will distract your viewers.
Sitting in front of a natural light source ensures that your face is well-illuminated and no dark shadows are obscuring your face.
Sitting in front of a natural light source keeps your viewers' focus on your face and not on your background. Natural light is best for Zoom meetings as it is easily accessible and gives better lighting to your face.
There are benefits to using an artificial light source if you can control it. There are many options to use when it comes to artificial lighting, especially if your meeting is held at nighttime. You must be careful when picking a natural light source, as the shape, size, and location can affect your appearance.
You can use a desk lamp, ring light, or other forms of indoor light. Ring lights are specifically designed for video conferencing and streaming as it evenly lights your face the way natural light would.
Desk lamps tend to be too direct and harsh, which can give your face an overly bright look. You can also increase your screen brightness, increasing the light cast on your face.
Method #3: Place Webcam at Face Level
Placing your webcam at a lower level to your face gives a distorted view of your face. This will give the effect of your viewers peering up at you.
It is best to place your webcam at face level, giving adequate lighting to your face.
Method #4: Update to the Latest Version of Zoom
Every Zoom app update has little improvement in the video-capturing settings. The developers release bug fixes and performance improvements with every update.
This can be an improvement in HD quality videos, new video compression technology, or better bandwidth management.
Although these updates are not immediately noticeable, they improve the quality and brightness of your video feed.
Method #5: Use a Stable Internet Source
An unstable internet connection can determine how clear your video feed is. When your internet fluctuates, to maintain connection, the quality of your video reduces to compensate for the poor bandwidth.
This video quality might remain dark, grainy, or contain glitches. To avoid this, ensure that your Wi-Fi source is stable.
In Conclusion
Zoom is a great online meeting platform. It is easy to use and understand and provides a wide range of features for users.
You can see your team members while holding deliberations, which helps achieve effective communication. The quality of lighting can hamper this clear view in a Zoom call.
Not to worry. This article breaks down different methods you can use to achieve effective lighting in your Zoom meetings. All the methods are explained in this article.
FAQs
Can I adjust the video lighting on the Zoom mobile app?
No. The setting for adjusting video brightness is only available on the Zoom PC app.