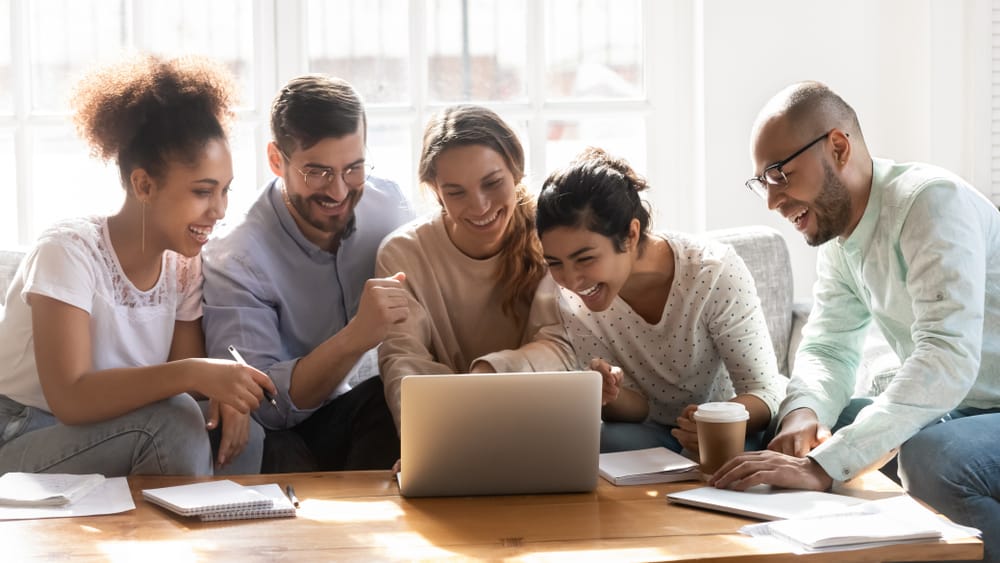 Zoom is one of the leading virtual meeting and conferencing apps.
It has excellent features, is easy to use, and is convenient for multiple uses, including hanging out with friends and family.
Even though people primarily use Zoom for virtual meetings, it's quickly becoming a watch-party favorite. A watch party is a gathering of friends or family to stream a specific event virtually.
Watch parties are an excellent way to spend quality time together without meeting in person. This type of hangout works well if you and your friends live or work in different locations and have been trying to find a fun activity together.
So, how can you do a watch party on Zoom?
Doing a Zoom watch party is relatively easy if you have the correct information. The first is to propose the watch party to your friends. If you settle on streaming a movie, suggest a few, then go with the one with the most votes.
After settling on the day's event, the next step is to set the date and time. Pick a day when everyone is available and comfortable. After, figure out the technical aspects of the day. Some of the technical aspects to consider include who will host the Zoom party, how long the movie is, and the rules of the event.
Read on to learn more about doing a Zoom watch party and how to make it successful.
Steps for Hosting a Successful Zoom Watch Party
Zoom watch parties are an excellent way to catch up and have fun while enjoying your favorite sport or movie with friends and family.
If you're hosting a Zoom watch party for the first time, consider these few pointers to ensure you and your friends have a great time.
Step #1: Agree on the Event of the Day
A successful Zoom watch party is one where everyone looks forward to the day and believes they'll have a good time.
Part of ensuring your friends enjoy themselves is picking an event everyone on your invitation list relates to.
For example, if you're a sports fan, suggest a Zoom watch party where you and your friends stream the most anticipated match together. If your friends are also football fans, they likely will all be on board with the idea.
Besides football or sports, movies are also popular Zoom watch party events.
If you decide to stream a movie together, it's best to offer your invitees various options, then go with the option with the most votes.
Remember, the event is the day's primary activity. Agreeing on it beforehand ensures you have an excellent time.
Step #2: Pick the Date and Time
After agreeing on the event, the next step is to settle on a time and date.
Remember you want everyone on your list to be fully involved in the party.
To achieve this is best to select a date when everyone is available.
For movies, a weekend night can be an excellent option.
Step #3: Ensure Your Zoom App and PC are Working Correctly
Several technical aspects go into successfully hosting a Zoom watch party.
An excellent example is a Zoom subscription. Remember, the free Zoom version has a 40-minute limit on meetings.
If your event lasts longer than 40 minutes, you must restart the session after interruption. To avoid this, it's best to have a paid Zoom subscription because they have longer time limits.
Another essential factor to consider is the stability of your equipment. As the Zoom watch party host, your PC, charger, and app must perform optimally to avoid distractions during the watch party.
Step #4: Send Reminders
Like other Zoom activities, your invitees must have a reminder of the watch party so they are prepared and on time.
A Zoom meeting invitation link can serve as a good reminder.
To share the invitation link, you'll need first to create the meeting using the steps below:
Open the Zoom app on your PC.
Click on "Schedule."
Select a date and time for your meeting.
Click "Save."
After, share the link with your invitees using the steps below:
Open the Zoom app.
Click the three dots next to the meeting you scheduled.
Select "Copy Invitation."
Share the invitation with your invitees via email or a convenient messaging app.
Step #5: Host the Zoom Watch Party
On the day of the watch party, ensure your Zoom and PC are working correctly.
After, your friends will join the meeting you had initially set up then you can proceed with the steps below:
Open the event you wish to stream. For example, if you're streaming a Netflix movie, open the movie on one page.
Launch the Zoom app.
Begin the meeting you had initially set up.
Wait a few minutes for all your invitees to join the meeting.
Click the green "Share Screen" button at the bottom of your screen.
Tick the "Share sound" option.
Click on the arrow icon next to the "Share sound" option.
Select "Stereo (High-fidelity)."
Check the box next to "Optimize for video clip."
Click on the window with the event.
Click "Share."
Summary
When done correctly, hosting a Zoom watch party can be a fun and interactive experience.
The first thing to remember about doing a Zoom watch party is to involve your friends in selecting the event, time, and date.
Afterward, update your Zoom app, check that your PC is working well, then create and share a link to the meeting as a reminder of the Zoo watch party.