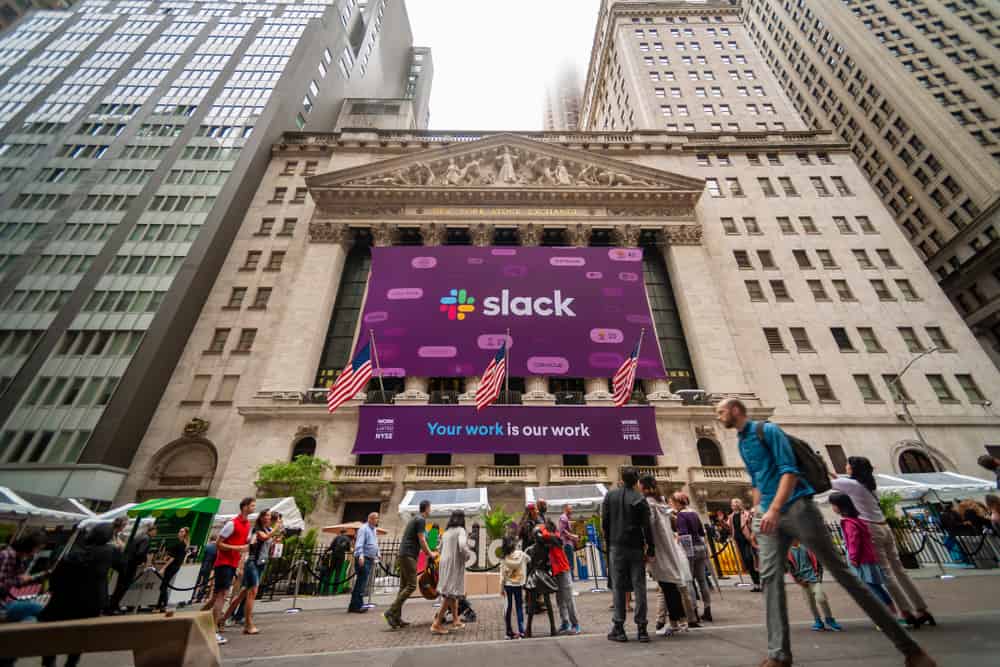 Slack is a messaging platform that helps organizations communicate effectively by replacing text messaging and emailing with instant chat software. This software enables teams and departments to interact and collaborate, whether in-office, remotely, or in the field.
The best thing about Slack is it accommodates all types of users, including individual entrepreneurs, small and medium businesses, freelancers, and multinational organizations.
It's flexible, affordable, and has several useful features ideal for different classes of users. Slack has a free package and is not ad-supported. If you've used this software before, you may wonder how it makes money.
The truth is Slack makes money from its subscription plans. This organization follows a freemium business model where it offers the free subscription plan first then customers can upgrade to other premium and enterprise plans to access exclusive features. According to Slack, they have over 150,000 companies using and paying for its Pro and Business+ monthly plans, which are sufficient to sustain and run the company.
Read on to learn about Slack's uses, features, and whether its business model is sustainable in the long term.
Overview of Slack
As the introduction notes, Slack helps an organization communicate effectively through cohesive and integrated chat communication. The software's main focus is to help companies organize communication into channels so they can track information and projects within a central location.
The software also retains information in channels so anyone in the team can refer to it in the future. You also don't have to worry about losing track as the information will be available even if a team member leaves the channel or archives the conversation.
Besides instant messaging, Slack has other useful features like custom commands and shortcuts, audio and video calls, and system integration capability. Custom commands mean you can pre-set specific keys on your keyboard to open particular features within the Slack system.
Audio and video calls are essential features for any work management software like Slack. They help managers and team leaders collaborate and hold one-on-one meetings with their teams. These features are also convenient because you don't have to switch to a different video-conferencing app to hold virtual meetings.
Finally, Slack users can integrate bots with the software to customize features and improve user experience. Examples of bots you can add to Slack include the Slackbot to help with reminders and note taking and Diggbot to share interesting news and websites with specific channels. The good news is that if you don't like any of the available bots, you create one suitable for your needs.
Next, we'll cover Slack's business model and its sustainability in the long term.
How Slack Makes Money?
Slack has three subscription plans: Free, Pro, and Business+. The company's main revenue comes from Pro and Business+ subscriptions. Individual entrepreneurs and small businesses use the free plan to understand the software's working model.
Free plan users can access features like 10,000 recent messages, custom integrations, one-on-audio and video calls, and standard customer care support if they experience issues with the software.
Slack recently upgraded the free package features to include audio and video clip sharing between users and allow full access to your message history for the previous three months.
As the business grows, entrepreneurs and small organizations turn to paid customers as their businesses demand access to better organization, communication, and project management features.
Slack Pro and Business+ users have steadily risen over recent years, meaning the company has slashed its loss margin by a significant portion. As of 2021, Slack had over 150,000 paying customers, and most organizations actively used the platform.
There are several advantages of using Slack's Pro or Business+ plans. The first is that companies get access to additional features like the team's content, unlimited integrations to encourage better collaboration and on-time communication, video calls with screen sharing, and priority customer support. All these exclusive features will help businesses organize their work, streamline communication and seal any loopholes leading to work delays.
Besides features available on the Pro plan, Business+ users have additional incentives like unlimited workspaces, enhanced security, e-recovery for any lost data and offline backup, access to shared channels for workspaces, and designated customer success teams.
Some of Slack's target customers for the Pro and Business+ packages include emerging businesses, entrepreneurs, and multinational corporations.
Is Slack's Business Model Sustainable?
As we've established, Slack's user population has steadily risen. In 2017 the software had approximately 37,000 paying subscribers compared to 150,000 in 2021. Their customer base has tripled in less than five years. If the company retains its marketing and customer support strategies, its popularity will increase and, consequently, revenue.
Slack's objective to provide a flexible and collaborative work environment for organizations is an excellent model. Many people, even first-time entrepreneurs, want to maximize revenue using simple and effective work management tools like Slack.
Even though most of Slack's revenue goes into advertising, marketing, and sales, the company's recent performance is a good prediction of its future. Slack's upgrade of the free plan's features to include message history viewing, voice and video calls, and screen sharing is also an excellent way to encourage new users.
In most cases, it's easier to encourage free plan users to upgrade to paid plans to access additional features than to acquire new paid customers. If Slack retains this model, it's likely to break even in the next few years.
Summary
Slack utilizes a business model with free and payable subscription plans for its users. Free plan users can access basic features and are therefore suitable for small organizations, individuals, and freelancers.
As their businesses grow, free plan users switch to one of the payable Slack plans, including Pro and Business+. Slack makes revenue from these paid plans, which currently have approximately 150,000 users.