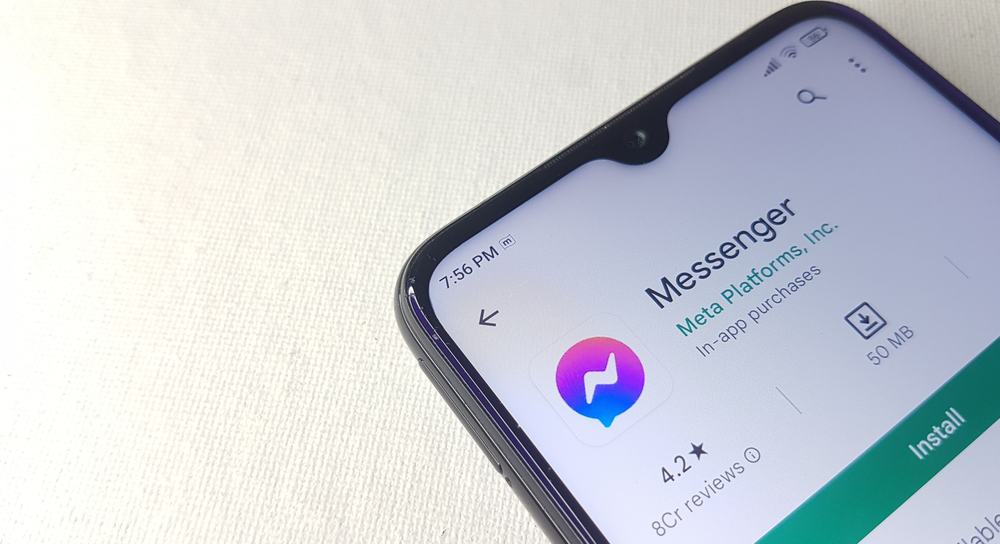 Has your Facebook Messenger ever refused to load images, videos, GIFs, or other multimedia files you receive with a statement like "error loading media"?
Does this error make it impossible for you to view photos and videos sent to you on Messenger?
Are you desperate to learn a workaround for this error?
If the answer to all these questions is yes, you are definitely in the right place. We will break down all the possible fixes to this dilemma.
You can try these fixes to get rid of the "error loading media" error:
– Restart the app.
– Switch to a stable connection.
– Turn off the data saver mode (For Android).
– Check the Messenger server status.
– Clear the cache.
– Update the app or switch to Messenger Lite.
Let's explore the possible fixes for the "error loading media" issue on Messenger to prevent this error from taking away all the fun from your time spent on Messenger.
The Dilemma of "Error Loading Media" on Messenger
The messaging platform of Facebook, Messenger, has been around for many years as the built-in feature of Facebook until Facebook decided to launch its stand-alone apps for both iOS and Android.
Facebook (now Meta) took things a level up when it decided to get its hands on the world's biggest messaging platform WhatsApp. Now, Meta is the proud owner of both most popular messaging platforms.
Suppose you prefer Messenger to communicate with friends and family like the other 988 million monthly active users. In that case, you must have shared and received multimedia files such as images, videos, GIFs, and other files with others.
If you have, you might have encountered this error stating "error loading media," preventing loading any file you receive on Messenger.
Now, if you have and are looking for ways to troubleshoot and fix this error, let's discuss some fixes to this error.
We will start with quick hacks to make our way for more elaborate fixes.
Fix #1: Restart the App
It is the most prominent and natural solution to nearly all problems we face online.
Simply close the app properly, even shutting it from the background. Then try relaunching the app to resolve any glitches causing this error.
If the issue is minor, the error will go away after this little app reboot.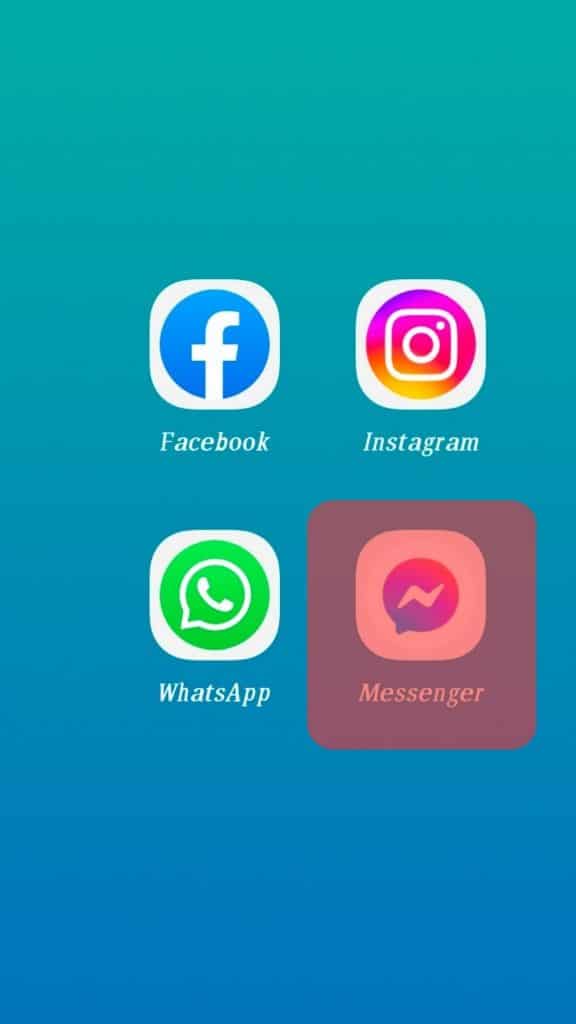 You can also shut the app and restart your device. Similarly, Android users can force close the app.
Fix #2: Switch to a Stable Connection
Sometimes the media received might not load due to an unstable or poor internet connection.
So, rule out this probable reason before heading to other fixes.
You can check your internet connection strength from Fast.com or any other website.

You can also switch to mobile data if the Wi-Fi connection is a bit wonky.
Turn on/off airplane mode on your device to refresh your internet connection. After a few minutes, check on Messenger to see if things got better.
Fix #3: Turn Off the Data Saver Mode (for Android)
If you use the Android version of Messenger, it is always better to rule this out.
Data Saver mode, if turned on, can prevent Messenger from downloading any media.
Follow these steps to turn off the data saver:
Launch the Messenger app on your Android device.
Tap on the hamburger menu icon in the top left corner.
Under "Preferences," find "Data Saver" and turn the toggle off.
Fix #4: Check the Messenger Server Status
Go to Downdetector and check if the server is working well and not down.
Here you will also get to know if others are experiencing this exact issue.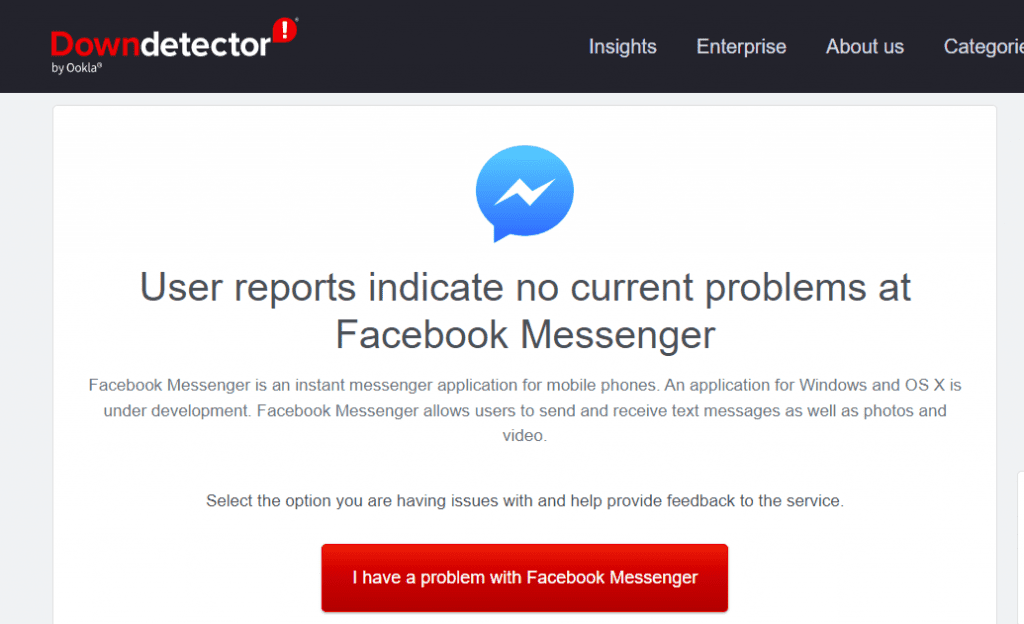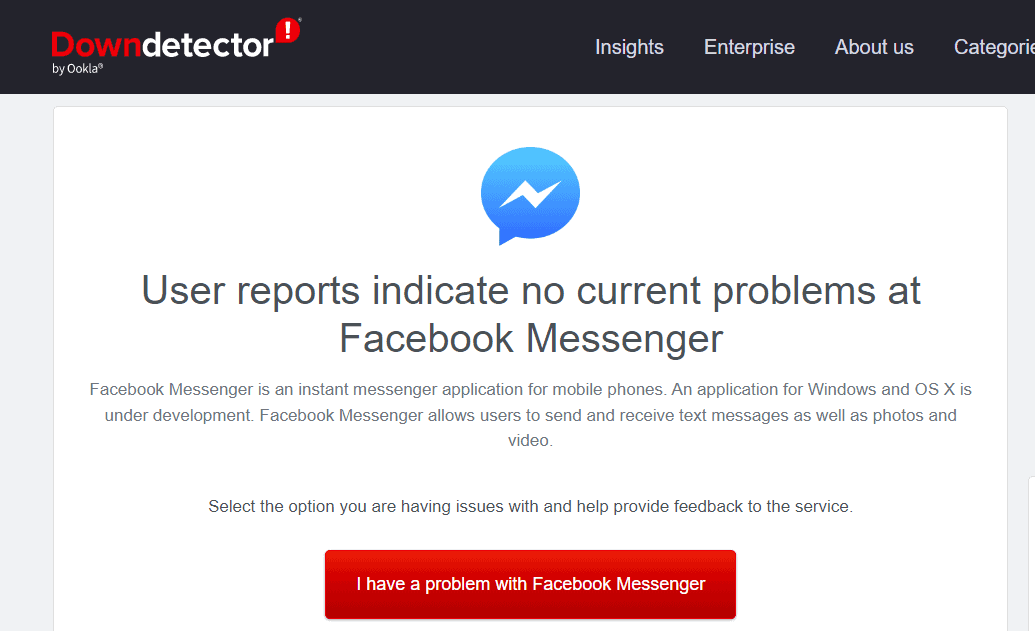 If the server is down, you need to let Facebook fix this issue on its own. Once things get sorted by Facebook, you will stop seeing this error messing you around.
Fix #5: Clear the Cache
Every app on your mobile keeps data in temporary files called cache to enable the app to load quickly every time you try to launch it.
Sometimes when this data gets corrupt, it can cause various errors to pop up, affecting the app's performance.
So, if your Messenger does not load any media files and gives an error, it is wise to clear the cache.
For Android:
Go to the device Settings app.
Select "Apps" or "Applications and Permissions."
Tap on "Apps" or "App manager."
Select "Messenger."
Tap on "Storage" or "Internal storage."
Tap on "Clear cache."
Alternatively, you can uninstall and re-install the Messenger app on iPhone or Android to automatically clear the cache.
Also, try clearing the cache of the Facebook app by uninstalling and re-installing it, as both these apps are interrelated. After reinstallation, reboot your device as well.
Fix #6: Update the Messenger App
Sometimes when the newer version of the app is available, the older one can experience glitches and bugs. These are avoidable if you update the app.
Go to the Play Store or App Store to see if the update is available. Update the app and see if the error vanishes.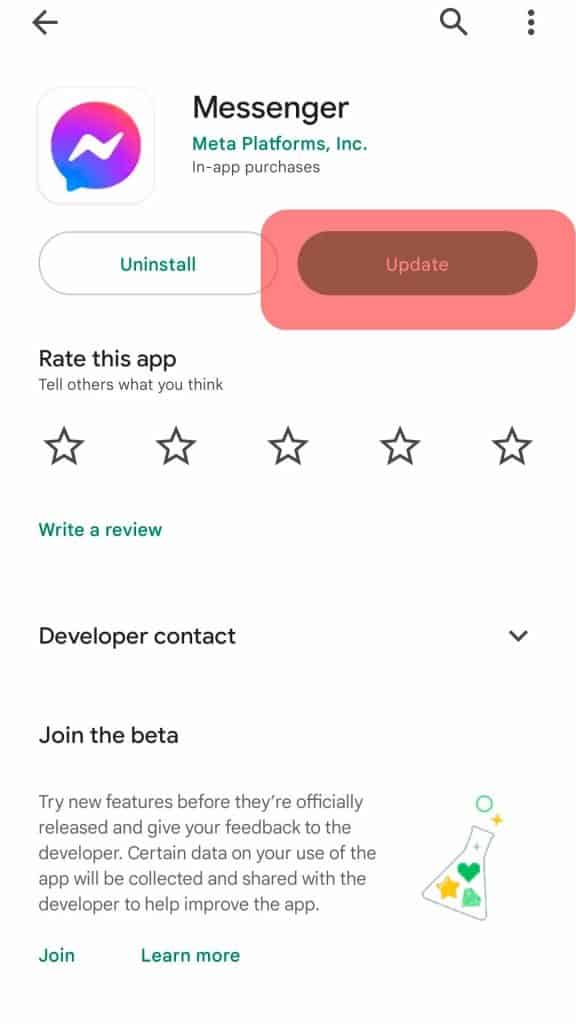 Fix #7: Switch to Messenger Lite
Messenger Lite is a stripped-down version of Messenger that takes less storage and is less distracting.
If media files do not load in your usual Messenger, you can try Messenger Lite, which can even work on a slow internet connection and support basic Messenger features.
You will most likely not experience this issue using Messenger Lite.
Messenger Lite is not available in App Store for iOS devices.
The Round-Up
If Facebook Messenger does not load multimedia files, restart the app, and your device, check your internet connection and turn off data save to see if the error disappears. 
Additionally, you can try clearing the cache, updating the app, or switching to Messenger Lite to see if the matter resolves.
Try these fixes and let us know if you can load multimedia files on Messenger.