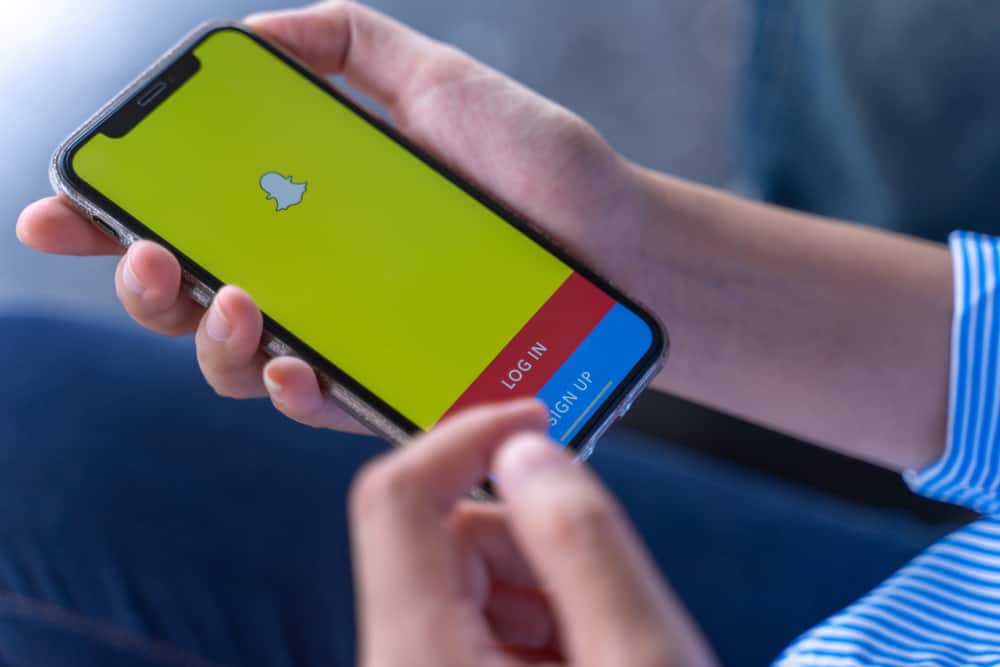 Snapchat has become a social media sensation. The most popular feature of Snapchat is its filters, doodles, and bitmojis. People get to see themselves in disparate avatars every day. There's no mood or situation on which there's no Snapchat filter. Such cool filters are on this app. So, how can you lose to darkness in your room? Well, there's a moon icon on Snapchat.
The "Moon" icon is used to enhance dark scenes. Yes, you heard it right. The moon on Snapchat helps you sharpen and brighten up the photos taken in the dark on Snapchat. In short, the moon is a low-light mode. It can assist you in editing the images without doing anything. Just find the moon in your app and tap on the screen to get it!
When the light is low, flash might be of no help. The moon feature can get you some fantastic snaps without hurting your eyes. You may think that you know everything about Snapchat. Still, there are a few things that you need to know.
Do you want to learn what the moon is for on Snapchat and how to get it? If yes, scroll down to get your hands on this awesome moon!
What Does Moon Mean On Snapchat?
Taking good pictures has been an extreme sport since day one. The task gets more difficult when you're enclosed in a dark room. When there's no good light, a flashlight can be your first choice. What if flash blinds you momentarily and you can't focus?
Snapchat has saved you from this hassle. How? They have included the "moon" in their picture-taking menu. Now, you can quickly turn the moon mode on to get clarity and brightness in your pictures.
Do not rely on this low-light mode too much. It is not evident that it will activate every time. In some cases, it might not detect the dark scene at the time. Hence, you can miss the shot. At critical moments, always choose flashlights.
How To Get Moon on Snapchat
You may have seen the moon on your Snapchat. It has been lingering on your screen for so long. Still, you don't know what the moon is for on Snapchat? Well, we've created a step-by-step guide to help you find and apply the low-light mode – "moon".
Here you go!
Step #1: Launch the Snapchat App on Your Device
The first step is to open your phone. Launch the Snapchat App on your phone. Have you not downloaded the app yet? Well, here are the links you can follow to get it at Apple App Store or Google Play Store. After that, head into Snapchat!
Step #2: Find the Moon Light Effect on Snapchat
After accessing the app, jump over to the menu. Click on the "plus icon" at the right side and center of the screen. You get a dialog box opened. Scroll down and find the "Moon" icon.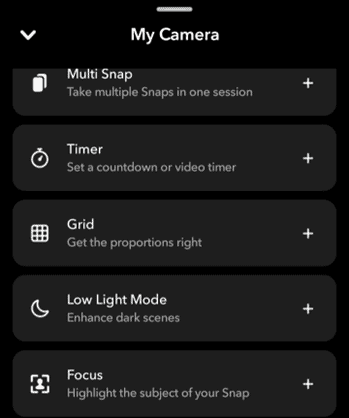 Step #3: Direct the Camera to Dark Area
Now that you know where to find the moon on Snapchat. Remember that and return to the camera. Point your camera toward a dark part of your room. Else, you can cover the camera with your hand.
Step #4: Click Over the Moon and Tap on the Screen
Head back to the "Moon" after setting the direction. Click over the low-light mode. Return to the camera screen. Tap on the screen again and capture a picture. You'll see how clear and enhanced your picture will look as compared to a normal image in darkness.
The moon on Snapchat has been awarded to iOS users since the beginning. However, Android users got to use the enhancer in 2017.
Conclusion
We hope that you have found the answer to what the moon is for on Snapchat. Now, you can also go to Snapchat and take pictures in a dark room. No need to fear as you already have low-light mode at your service.
You can simply access the moon now and click perfect pictures. Go ahead and follow our instructions now to enable the dark mode for seamless results. Though, it lacks when it comes to activating the moon. Still, you better give it a try!