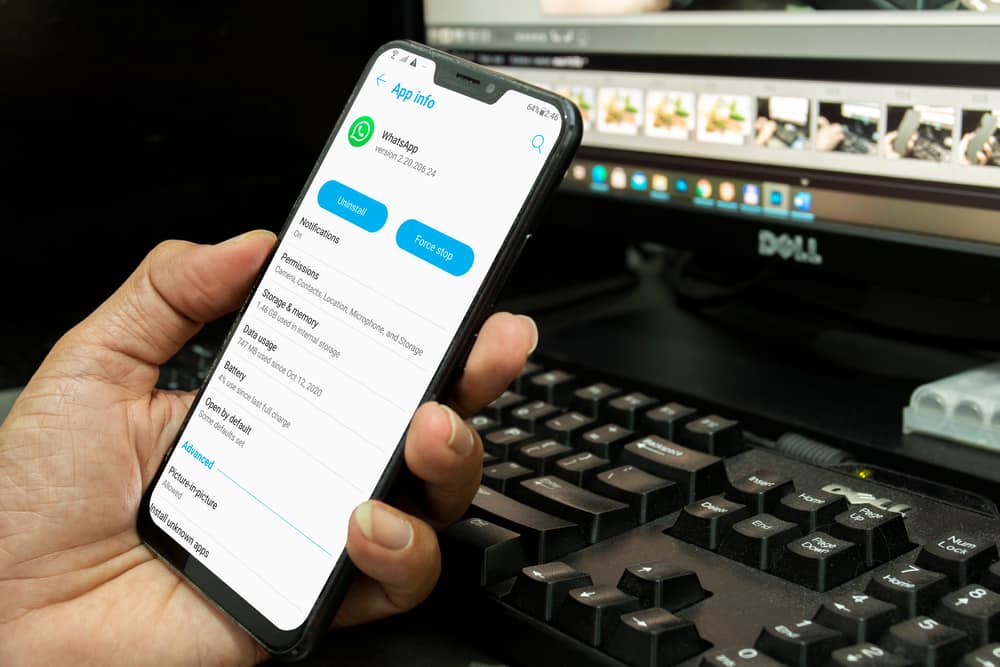 WhatsApp is the most popular messaging app. The app came when people needed to communicate in real-time to connect more. All it needs from you is the mobile number of your friends and family. And voila, you can have unlimited conversations.
Despite the fun you have chatting with people on WhatsApp, your app may experience some issues. In that case, some people choose to force stop WhatsApp. If you are contemplating this option, you may ask yourself, "what does force stop do to WhatsApp?"
When you force stop WhatsApp, the app will stop running in the background, and you will stop receiving messages on it. This is because the app is no longer active on your phone until you reopen it.
Force stop is the go-to option for many users of WhatsApp. When can you use it, and what are its benefits?
Learn the answers to these questions in this guide. That way, you can return to your exciting conversation as soon as possible.
The Role of WhatsApp
WhatsApp is a top-rated messaging app with over 2 billion users. It has a unique green color that excites users when they see the app on their phones. A buzz from the messaging app may mean a new conversation or an important message from a friend.
You may join groups to communicate with large people. Besides, with the new WhatsApp community, you can send broadcast messages to unlimited people simultaneously.
Although the app's audience may have reduced when the management changed its privacy policy, many people still find WhatsApp worthy.
Regardless of how secure WhatsApp may have promised its users, the app isn't immune to misbehaving. Like many apps, WhatsApp can act erratically, hang, or stop acting as it should.
If you were having a meaningful conversation, you might want to return to it on time. Therefore, one important option is to force stop WhatsApp. What is force stop, and what is its role on devices?
What Is Force Stop?
Applications sometimes appear flawless due to their benefits, but they sometimes act up or behave erratically. This is exactly where force stop comes in. The term "Force stop" is often used when a particular app stops performing effectively.
Force stop allows you to restart the app without deleting the saved data from your device. However, unsaved data may be removed within the app. The option forces the app to stop running and starts running again as soon as you launch it.
Force-stopping an app often resolves a misbehaving app. However, depending on the app and what you were doing before it stopped working effectively, it is best to reconsider before you press that button. Otherwise, you may lose your unsaved data in the app.
What Does Force Stop Do to WhatsApp?
Generally, "Force Stop" prevents apps from running in the background. But what it does to each app differs. In the case of WhatsApp, Force stop prevents you from receiving any message, update, or notification from the app.
The force-stop troubleshooting option clears the app's cache memory. That means it erases some internal codes of the app that have accumulated over time, which can slow down its work.
With such an action, your device has no memory of it, and you can freshly start the app by reopening it.
If you are worried about losing some data, you need not. Force-stopping WhatsApp doesn't mean your app will be deleted. All your shared content, conversations, chat lists, and friends remain on the app. Also, when you log in back, you will receive all messages sent and missed calls.
However, you may not see some data. For instance, if WhatsApp misbehaves while trying to send a message, you may lose such information if you reopen the app. Force-stopping WhatsApp is the perfect excuse to stay off the app without explaining yourself to people. How do you force stop WhatsApp, then?
How To Force Stop WhatsApp
To force stop WhatsApp is relatively easy when compared to other apps. Follow the step-by-step guide below:
Search for the "Settings" app on the device.
Scroll through the list and select "Apps," "Applications," "Application Manager," or "Applications and Permissions," depending on your device.
Tap "App info" or "App manager" to see a list of the applications on your phone.
Scroll the list or search for WhatsApp. When found, tap to open it.
Select the "Force stop" option.
Note that this "Force Stop" feature is available only on Android devices.
Conclusion
Applications on your phone may misbehave from time to time. WhatsApp is one of those apps that may stop working effectively. As such, many people choose to force it to stop it.
Force stop is also an option if you take a break from WhatsApp. This guide has shown you what force stop does to WhatsApp and how you can use it.