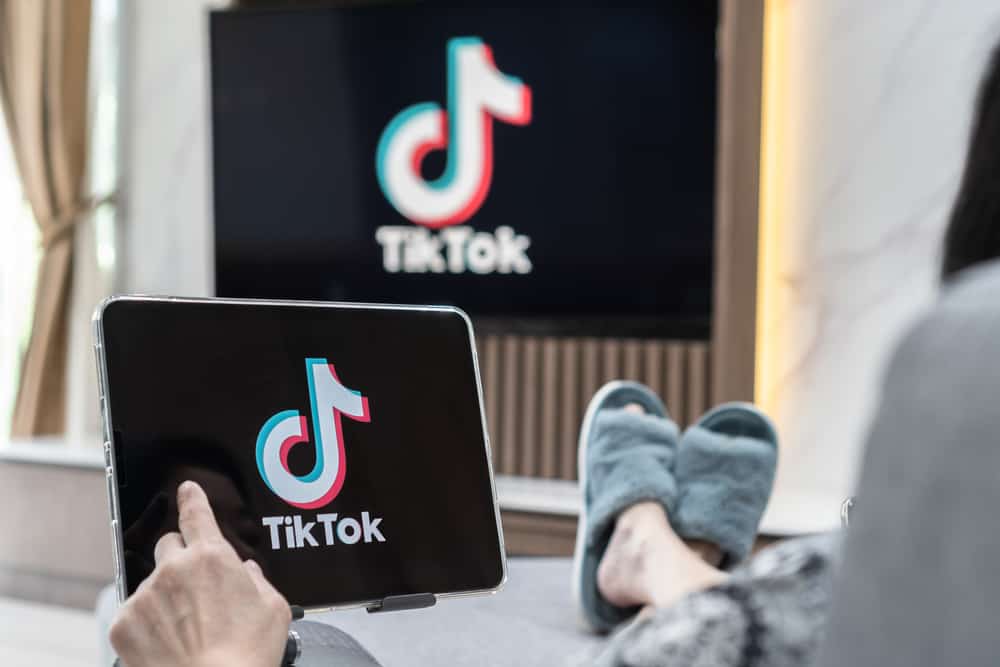 The social media giant TikTok has announced that its content will be available on TV. Now, you can enjoy its highly recognizable video formats in the comfort of your living room. This article will tell you several ways to get it up and running on your TV.
For most of us, TikTok no longer needs an introduction. It has taken the social media space by storm, so undoubtedly a lot of us out there would be quite familiar with how it works. Having TikTok on your TV is similar to having it on your phone.
To enjoy TikTok on your TV, you'd need to go to the app store of your TV and download and install it. If that doesn't work for you, screen mirroring apps or casting devices could be of help. Casting devices and apps like Chromecast and AirBeam will cast the video playing on your phone to the TV.
After that, it's pretty much straight to laughing at funny videos or taking notes from a TikTok financial guru. But don't worry if you need a bit more introduction and guidance, our article will show you how. 
The most popular way to use TikTok so far has been through our phones, but all of that has changed very recently. The TikTok TV App is available on Amazon Fire TV (the US and  Canada), Google TV, Android TV operating systems, and Samsung and LG Smart TVs. 
We've listed a couple of different methods to get you started, depending on the TV's model and year. There's also a method of using Chromecast or AirBeam if you perhaps have an older TV that does not support the app.
Method #1: TikTok on Your Google TV or Other Android OS TV
Go to the Google Play app.
Look for TikTok and click to install.
Once installation is complete, go ahead and open the app. At this point, you can either log in or click on "watch now."
The "watch now" button allows you to enjoy content without creating an account or logging into TikTok.
Method #2: TikTok on Your Samsung Smart TV
If you're an owner of a Samsung Smart TV older than the 2018 model display, unfortunately, this method won't work for you. Although, we have other solutions that might help. If you have a more recent model than 2018, follow the instructions below.
Start by going to your Samsung App store. 
Look for TikTok and install it.
Once this is finished, the app is ready for you to use. You can either log in or click on "watch now" to see the content without an account.
Method #3: TikTok on Your LG Smart TV
There are also limitations on LG TV models that are compatible with the TikTok app. Unfortunately, the app is not available on older models that are older than 2018 and lower than a webOS 4. If your model is compatible, you can follow the instructions below.
Go to your LG Content app. 
Look for TikTok, install it, and it will be ready for use. 
You can log in with your account or click on "watch now" to see the content without an account.
Method #4: TikTok on Your Amazon Fire TV
In the meantime, TikTok on Amazon Fire TV is supported in the US and Canada only. 
You'll need to navigate to the Amazon Appstore.
Look for TikTok and download the app. 
After this, it is ready for use. Similarly, you can log in or "watch now" to enjoy without having an account. 
Are the above methods not suitable for you? Perhaps, Google Chromecast will be handy.
Method #5: TikTok on TV Through Google Chromecast From Your Phone/Tablet
First of all, what is a Chromecast? It is a device that you can connect to your TV, allowing content streaming from your phone, tablet, or computer to the big screen. 
So this could well be the solution that can bring up your TikTok videos from your phone to the bigger TV screen. You will need the Chromecast device and an HDMI port on your TV to connect them up. After connecting the two, the setup for the Chromecast itself is pretty straightforward. 
You will need to download the Google Home app; if you are casting from a computer, you won't need the Google Home app. After this, you simply go to the Google Chromecast website and follow the instructions. Once your Chromecast is set up, you can use it to enjoy TikTok on your TV.
Get your mobile phone or tablet and make sure that it is connected to the same WiFi network as your Chromecast. 
Go to the Bluetooth and Devices menu.
Go to the Cast option. This will vary between devices so that it might look slightly different on your phone. 
The Cast section shows the Chromecast devices that are set up and connected. Choose your Chromecast device from the list of available devices.
Enable permissions to mirror your device screen.
Launch TikTok on your phone or tablet and enjoy it on the big screen.
Method #6: TikTok on TV Through Google Chromecast From Your Computer
Get your computer and make sure it is connected to the same WiFi network as your Chromecast. 
Open Google Chrome and click on the three dots in the top right corner. 
Click on the "Cast" option.
Your Chromecast device is listed as an option; click on it to connect.
Your computer screen is now mirrored on the TV.
Go to the TikTok website and enjoy.
Method #7: TikTok on TV Through AirBeamTV App
For iOS phones/tablets and macOS users out there, the AirBeamTV app could be the solution for you. This would be a broadly similar process to using a Chromecast.
Download the AirBeamTV app from the Apple store on your/tablet/computer.
Make sure your TV and device are using the same WiFi network.
Open the AirBeamTV app; it will show available devices. Choose and connect to your TV.
After this is done, click on "Start mirroring."
Launch the TikTok app on your device, which will also be shown on your TV through screen mirroring.
Conclusion
Those are the ways that you can enjoy TikTok on the big screen. Simply by using the supported integrated app or using casting devices or apps.
Hopefully, the mentioned methods will help get TikTok videos up in your living room for your whole family to enjoy.