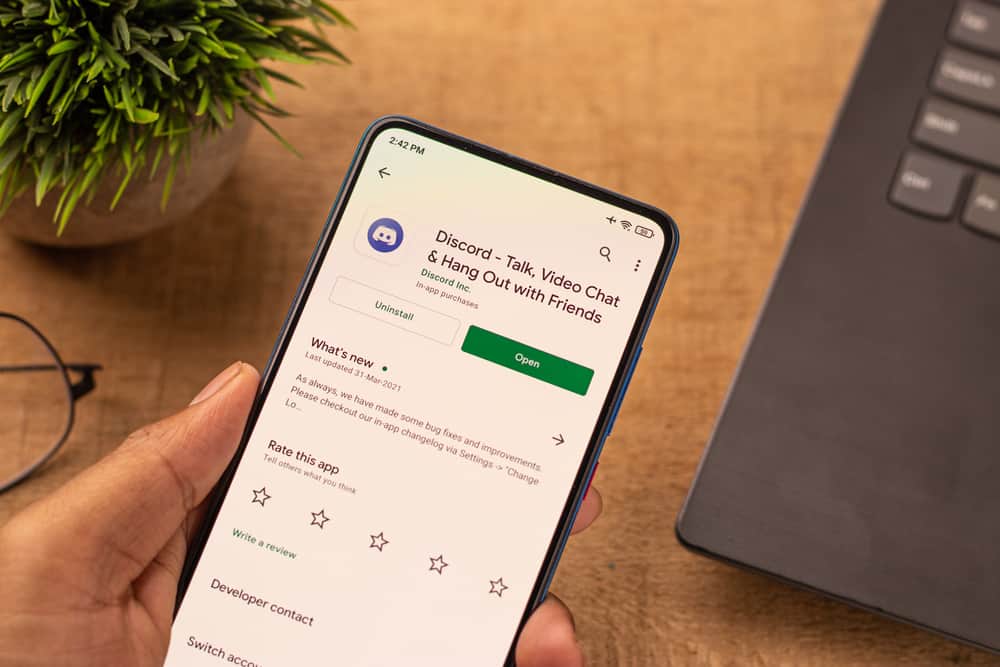 If you're looking for a unique platform with a community approach and several chat and video features, Discord is the app for you.
Discord has long been an online gamer's favorite. It has recently grown to accommodate different users and communities, including people who want to hang out with friends and family.
This app has several outstanding features unavailable on other apps, including in-voice chat capability, screen sharing, and third-party streaming.
If you're familiar with and enjoy Discord, you likely already know the importance of updating your app regularly. App updates introduce new features, fix bugs and improve the app's performance.
Using an iPhone, you can update your Discord app in a few simple moves. Read on to find out.
Launch the App Store on your iPhone. Enter "Discord" on the search bar and hit the search button. You'll see an "Update" button next to the app; tap on it. Finally, wait for the update to complete and open Discord on your iPhone to see if there are different features or changes.
Read to the end to learn more about the importance of updating your Discord app regularly and how to update Discord on your iPhone.
Overview of Updating Discord on iPhone
Even the most popular apps require updates, and Discord is no different.
Let's discuss why updates are critical and why you should update your Discord app regularly.
Reason #1: To Fix Bugs
While developers work tirelessly to ensure the Discord app runs seamlessly, some problems are only apparent after multiple uses.
This means that users highlight some issues they encounter with the app because they use it frequently. This highlights prompts the developers to analyze the problems, fix them, and release the solution as an update.
Generally, updates fix some of the issues you may have encountered when using the app.
Reason #2: Adding New Features
App updates can sometimes contain new features. Remember, apps need to meet the current requirements of their users.
Companies also focus on trends and competition to stay ahead of competitors by providing the most value for their users.
If a company wishes to meet a need or has an idea about a feature that would improve user experience, it will do product testing and then release the final version through an update.
Updating your Discord regularly will ensure you have all the new and exclusive features Discord offers.
Reason #3: Remove Unusable or Obsolete Features
Like bugs or malware, developers don't always get it right the first time. This means they sometimes have to remove features with negative reviews or those interfering with the app's performance.
Your recent Discord update could be the latest version of the app without all the obsolete or interruptive apps you don't enjoy.
Companies also release updates to improve app visibility, maintain their reputation and keep up with product reviews.
Next, we'll cover various ways to update Discord on the iPhone.
Step-by-Step Guide To Update Discord on iPhone
To update Discord on iPhone, you'll need to have initially installed it; otherwise, you'll be downloading the app.
Method #1: Through Installed Apps
Here are steps to update Discord:
Launch the App Store on your iPhone.
Tap the profile icon at the top-right edge of the screen.
You'll see a list of installed apps.
Scroll down the list until you get to Discord.
Next to the Discord app will be an "Update" button; tap on It.
Wait for the update to complete.
Open Discord to see if it's working well or if they're new features.
Method #2: Using the Search Feature
Alternatively, follow these steps:
Launch App Store on your iPhone.
Tap the "Search" tab at the bottom.
Enter "Discord" into the search bar and hit the search button.
Tap the "Update" button next to Discord.
Wait for the update to complete.
Open Discord to see if it's working well or if they're new features.
If you encounter any issues during the update, check Discord's status page or official social media accounts to verify if there's a downtime.
If not, your internet connection could be weak. Disconnect the router and wait a few minutes before reconnecting. After, restart the update process and see if it works.
Summary
Updating Discord on iPhone is relatively easy.
Updates are necessary for the smooth operation of any app, including Discord.
Developers typically use an update to fix any major bug or security issues and to release new features.
Some also use updates as a PR and marketing move by staying on top of a product review or removing obsolete features in the app's previous version.