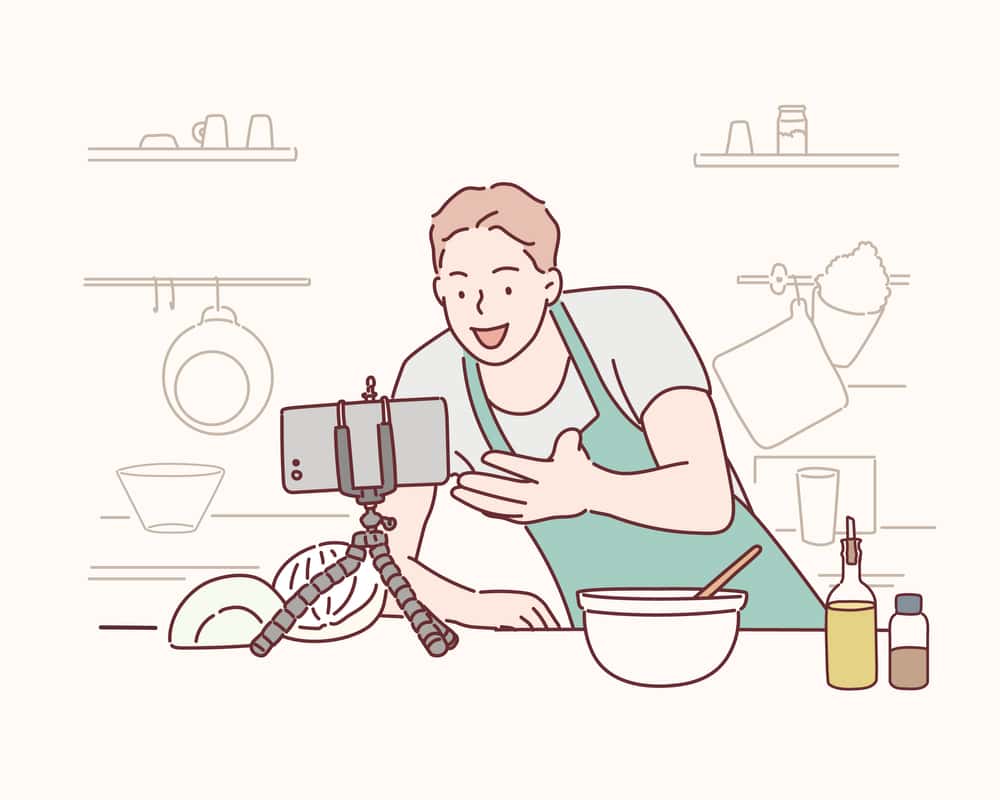 Gone are the days when one had to find the perfect cookbook for the family feast.
The final turnout was not always satisfactory without a proper demonstration, even with a complete recipe. Then came cooking channels that made things a little easier.
Once YouTube became a thing, everyone, including professionals and amateur chefs, moved to YouTube to show their culinary skills.
If you want to set off your YouTube journey by showcasing your culinary skills to the world and know you have the best recipes, create a YouTube channel to show it to the world.
How? Let us break down how to start a cooking channel on YouTube.
These are the steps to start a cooking channel on YouTube:
1. Research – to understand your target audience and define your niche.
2. Gather equipment (camera, lighting, tripod, microphone, etc.) and plan aesthetics. 
3. Gather cooking supplies (utensils, stove, oven, ingredients).
4. Start filming the video & edit it post-production.
5. Promote your channel.
Whether you have grandma's old recipes or learned newer ones from your experience working in Michelin-star restaurants, you can share all that with billions of people on YouTube. Let's walk you through exactly what you need to begin your cooking channel on YouTube.
Step #1: Research – Understand the Target Audience and Define Your Niche
If you are an avid reader of our blogs, you must know how much we stress on identifying and understanding your target audience. It is the basic step, and most people who ignore it fail to achieve success in their YouTube journey.
You know your intent: you want to create a cooking channel for your audience, now you must define your audience. You need to understand your audience's demographics, geographical location, and behavioral characteristics.
For example, if your target audience is young people, e.g., students, your recipes should be budget-friendly and be easily created with fewer steps. If it is for older people, then avoid a lot of fusion.
Also, identify your niche. You can create many recipes and cuisines, but you must only create what your target audience wants to see. If your target audience is Indian, they will be less likely to enjoy Greek food recipes.
Besides, make sure to do extensive research. Watch as many cooking channels as possible to understand how your competitors work, identify content gaps, and create your work with this analysis.
All this planning can only help you to move forward and create impeccable content for your audience.
Fun Fact
Gordon Ramsey has the biggest YouTube cooking channel, with over 19 million subscribers.
Step #2: Gather the Equipment and Plan the Aesthetics
Once you know what you want, it is time to gather the right equipment and supplies.
You need a good quality camera, microphone, tripod, lighting, and editing program for your food video production.
Once that is sorted, you must work on the aesthetics of the studio where you cook. Your background, tools, gadgets, and every nuance must reflect your brand personality.
Make sure to create a catchy channel name and logo. Also, design your studios that reflect your logo and the story.
Step #3: Get the Cooking Supplies
This is a cooking show, so you need cooking supplies. These include stove, oven, utensils, cutlery, and ingredients for each dish.
Make sure to plan your recipe and then gather all the ingredients and tools needed.
Arrange your ingredients and utensils for easy access to avoid panic during production.
Step #4: Start Filming
The first part of the filming is the introduction part. Here, you can record the introduction at the beginning or end of the video.
For an introduction, try to be as nonchalant and cheerful as possible. You can also create a script and follow that script for minimal errors.
The next important part is the ingredients part. Here, you can use the still images of the ingredients or insert the whole ingredients in the description for viewers to follow.
After that, you can record each step individually. Similarly, you can explain each step to your audience by looking at the camera and teaching your tips and tricks as you go about it.
Try to keep your audience engaged with good humor and skills.
Also, make sure the final dish presentation is mindblowing. Your final product must look appealing for people to drool.
Get shots from multiple angles to prevent monotony and also because the audience does not want to see everything from one angle.
After the production, it is time to edit the video. You can use any editor that you are comfortable working with.
Step #5: Promote Your Channel
Once you have uploaded the video, it is time to promote your channel via any means you can think of.
You can promote it on other social media networks. Similarly, you can ask other creators to promote for you on their channels. Moreover, you can also collaborate with other creators.
Another way around this is to use SEO optimization techniques with the right keywords in your description, tags, and titles for enhanced visibility.
Moreover, you can work on your thumbnails to attract more audience to your content.
You can host giveaways and make your audience promote your channel by giving them incentives.
Bonus Tips
Here are some bonus tips:
Be consistent with your content.
Try to be more relaxed and natural.
Listen to the audience feedback and change your content accordingly.
Your final product must look appealing.
Monetize your channel to generate income from it.
Conclusion
Starting a cooking channel is not difficult, but working on it and grabbing your audience to show your true culinary passion takes time.
Follow our steps to create a cooking channel that not only reflects your culinary skills but also reflects your personality and character.
Just remember, to be successful on YouTube, you require consistency, authenticity, and responsiveness to audience feedback.
So, it is for you to finally roll up your sleeves, set your cameras rolling, and begin your culinary journey to YouTube stardom!