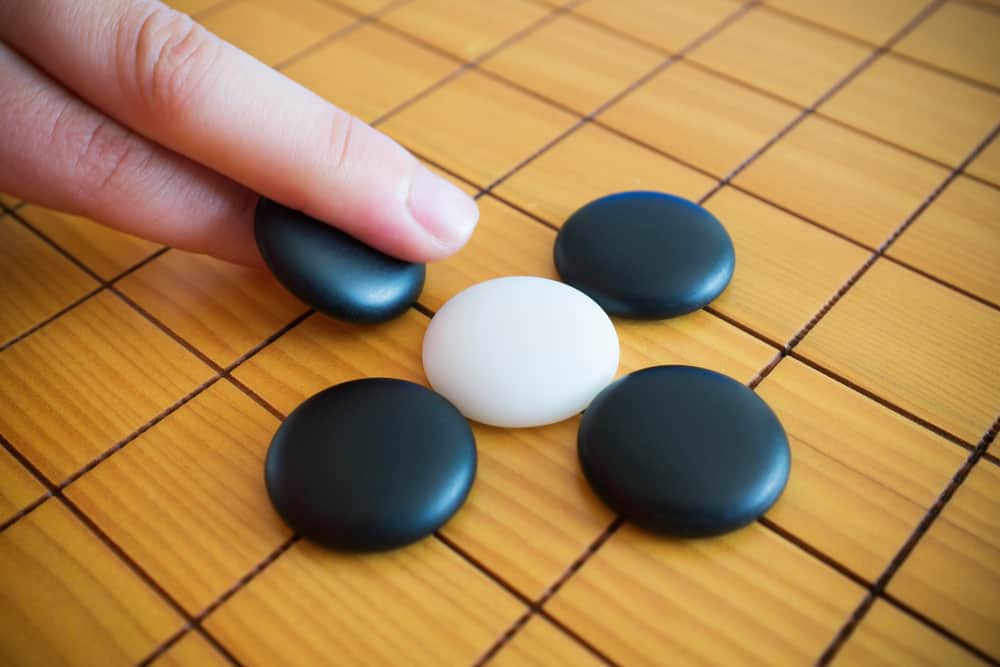 You no longer have to wait for game night to play your favorite game. Now Apple users can play games with their friends or family on iMessage.
Gomoku is perfect for you if you are looking for an exciting game to kill some time, as it's easy to play. But how to play Gomoku on iMessage?
The main objective of Gomoku is to place five stones consecutively on the board. Put your stone on the intersection to play and hit the "Send" button at the bottom. The first player who places five stones in a row horizontally, vertically, or diagonally wins the game. 
You do not even have to wait for your friend to be online at the same time as you. Make your move, and your friend can get to the game when free. This means that you don't have to play it in one go.
Each one of you can make your move when you get the time. You will receive your opponent's turn as a message in your conversation thread. Playing board games has never been this convenient. 
This blog post will reveal how to install and play Gomoku with your friends. 
How To Install Gomoku on iMessage?
Gomoku cannot be installed as an application. You can only download Gomoku from within the iMessage app.
Here is how you can do that: 
Open the iMessage app on your iOS device.
Open your friend's chat with whom you want to play.
Tap on the App Store icon at the bottom.
Tap the search button in the top right corner.
Type "GamePigeon" in the search bar.
Press the "Get" button and follow the on-screen instructions to install.
Tap on the GamePigeon icon in the chat.
From the list of games, tap on "Gomoku" to launch it. 
How To Invite Your Friends on Gomoku?
Once installed, the next step would be to invite your friend. 
Go to the friend's chat with whom you want to play the game. Make sure they have downloaded the GamePigeon app as well.
Tap the "GamePigeon" icon to open the list of games you have installed.
Tap on the "Gomoku" icon to open it. 
Then, tap the send button to invite your friend to the game. 
If they accept the request, they will get to play the first move.
A small strategy to increase your chances of winning at Gomoku is to ask your opponent to send you the game request. This is because the first player has more odds of winning than the second. 
Now that you have installed the game, let's see how you can play it. 
How To Play Gomoku?
The Gomoku game has a 12 by 12 checkerboard and is played with a set of black and white pieces. The pieces are placed on the grid intersection.
The player who gets the black pieces will take the first turn. If you send a game invite to someone and they accept the challenge, they automatically get to take the first turn.
You must move your piece and place it on a grid intersection when it is your turn. Then tap on "Send."
Once you have tapped "Send," you cannot change your position. However, you can change the position multiple times before hitting the send button.
The end goal is to place five of your pieces in a row. It could be horizontal, vertical, or diagonal. Whoever does this first wins the game of Gomoku. 
So you have to also make sure that you are playing strategically. Hinder the opponent from getting their five pieces in a row first.
How to Win at Gomoku?
Here are a few simple tips to win Gomoku:
Strategize your moves. Think a few moves ahead and plot your move accordingly.
Block your opponent's pieces from forming a row of five.
Ask your friend to send the game request.
Study the opponent's moves and patterns. This way, you can attack them when they are at their weakest.
Lastly, it is only with practice that you can become an expert at a game.
Are There Gomoku Cheats Available?
You can't cheat on Gomoku because you have to play it live.
You must have lots of practice and strategies to block the opponent to win.
With the right mindset, you won't need a cheat sheet.
Conclusion
Gomoku is the perfect way to pass the time or connect with friends if you want to play something that is not mindless. It is an abstract strategy game that will keep you hooked.
Gomoku is Interesting enough to engage you but not so complicated that it starts to feel like work.
The best part is that you will not have to schedule it into your busy lives. You can play Gomoku anytime, anywhere.
Sounds fun, right? 
Download Gomoku and start playing today!