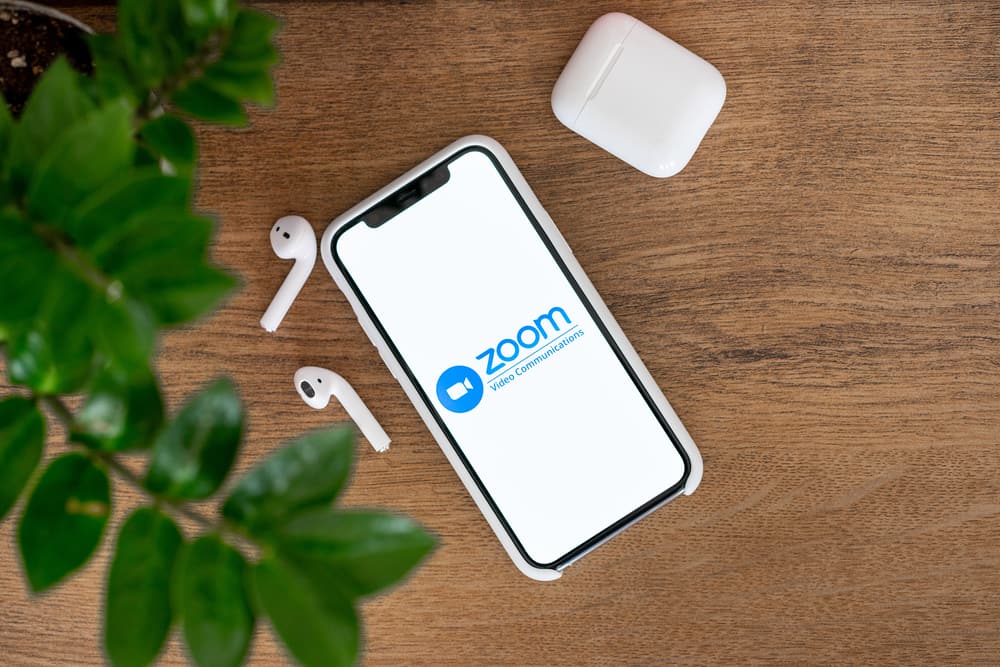 If you're like many people, you probably use Zoom for work or school. And if you use AirPods, you may have noticed that the audio volume is often too loud.
This can be highly disruptive, especially if you're in a meeting or trying to concentrate. So, how can you lower AirPods volume on Zoom?
First, open the Zoom app on your iPhone or iPad to adjust your volume on AirPods while on a Zoom call. When you see the gear icon, click on it. Then, scroll down and tap "Audio." After that, tap "Advanced." Following that, tap "AirPods" under "Receive audio from." Finally, drag the "Speaker" slider to the left to lower the volume.
This article will show you a few different ways to do it. With just some steps, you can ensure that your AirPods are always at a comfortable volume level – even when you're on Zoom.
How To Use AirPods With Zoom?
Zoom is a widely used video conferencing tool perfect for work and personal use. And with the release of the new AirPods, you can now use them with Zoom to make your calls even more convenient.
To use your AirPods with Zoom, you'll need to ensure that they are paired with your iPhone or iPad (Or any device, for that matter). Now through the following steps, you'll be able to use AirPods with Zoom:
Open the Zoom application and sign in.
Select the AirPods from the list of available audio devices.
Start or join a Zoom meeting.
Your AirPods will now be used for audio during the Zoom meeting.
Troubleshooting AirPods and Zoom Connection
If you're still unable to listen through your AirPods, you'll first need to connect your AirPods to your Zoom account. This can be done by selecting your Zoom settings and the "Audio" tab. From here, you will need to select "AirPods" from the "Speaker" (and "Microphone") drop-down menu. Once you've done this, you can use your AirPods with Zoom without any issues.
If you're having trouble connecting your AirPods to Zoom, you can also try restarting your computer. This should help resolve any connection issues you may be having.
How To Lower the Audio Output of Your AirPods Over Zoom Calls?
If you've ever been on a Zoom call where someone is using AirPods, you know how frustrating it can be when their audio is too loud. Thankfully, there's a way to fix this problem.
With a few simple steps, you can lower the audio output of your AirPods over Zoom calls, making it easier to hear everyone on the call.
However, to lower the AirPods volume over Zoom calls, you first need to ensure that your AirPods are correctly connected to the device you're attending Zoom calls on. After you've done that, here's how to move ahead:
Open the Zoom app on your computer and sign in.
Make sure you're on a call with someone. 
From the bottom taskbar that appears, click on the up arrow icon that appears right beside the audio icon. (Or, if not on any call, click on the gear Icon for settings right after logging in.)
From the list that appears, you need to click on the last option, "Audio."
Adjust the volume of your AirPods "Speaker" by dragging the slider. 
Why Should You Audio Check Before Joining a Zoom Call?
Audio check is a feature that enables you to confirm that the other person on the call is connected correctly and has the audio quality needed for a good conversation.
You can avoid potential issues with your call by checking the audio and having a better experience overall.
Here are some benefits of the audio check before joining a Zoom call:
You can avoid potential issues with your call. If someone on the call isn't properly connected or has poor audio quality, it can cause problems for you and the person you're speaking with. You can avoid potential issues and have a better overall experience by checking the audio before joining.
It can save time. Checking audio can save you time because it will ensure your call goes smoothly. Without checking the audio, there's a risk that your conversation could be interrupted or hindered due to poor connection or sound quality.
There are many reasons why checking audio before joining a Zoom call is essential – these benefits alone should be enough to convince you to do so!
Contact Apple Support for Further Assistance
If you need further assistance with your Apple device, you can contact Apple Support for further assistance. You can find the support contact information for your particular country or region on the Apple website. Sometimes, you can reach out to a local Apple retailer for assistance.
Conclusion
If you're one of the people constantly annoyed by how AirPods sound when on Zoom call, this article helped you.
In it, we've outlined a few steps to lower the audio volume on your iPhone or iPad when using AirPods with Zoom. Hopefully, this helped alleviate some of the frustration many users have felt.