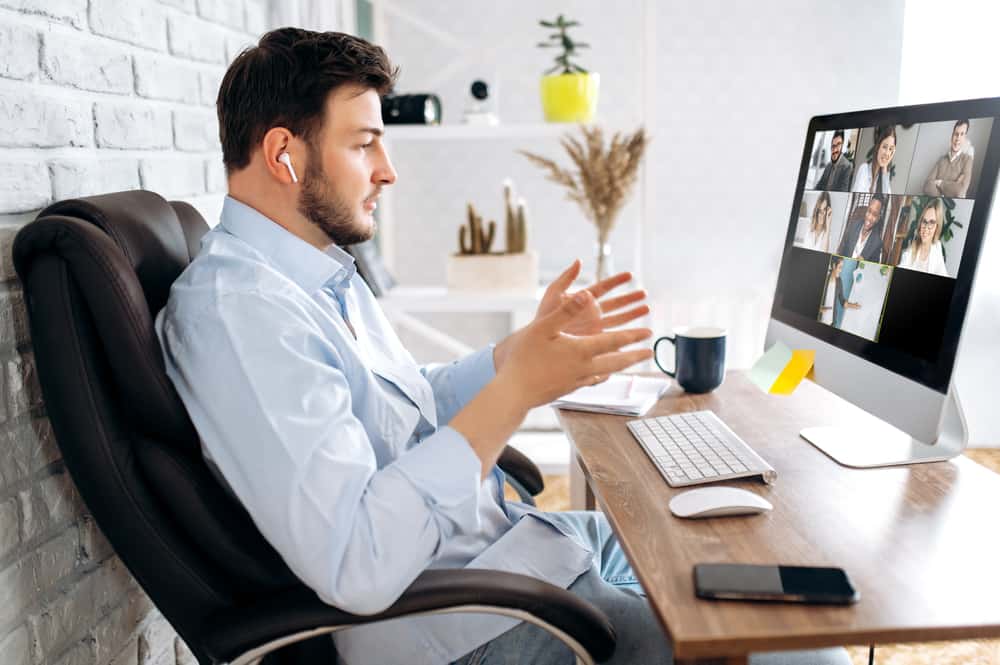 Zoom has become the primary way large corporations and individuals hold meetings. The platform is easy to use and allows people to hold meetings, interviews, and conferences worldwide.
This makes it an ideal place to meet other people and make meaningful connections. So how do you introduce yourself in a Zoom meeting?
Greet the group enthusiastically as you state your name, location, and professional role. Communicate a few things about your personality and what you hope to learn from the meeting.
This breaks down the best way to introduce yourself in a Zoom meeting and how to make a great first impression on a Zoom call.
Introduction in Zoom Meeting
Introducing yourself to a new group can put you under pressure. It might be the first step to making an excellent first impression if done well. How you introduce yourself in a corporate meeting will vary from an interview.
These criteria vary if you are a keynote speaker at a virtual conference or having a regular meeting with friends.
Regardless of what meeting you are preparing for. Here are vital rules to follow when introducing yourself in a Zoom meeting.
Step #1: Greet the Audience With Enthusiasm
The first words you say may determine how the audience perceives you. Open with an enthusiastic salutation. This communicates to the group that you are open and likable.
Recognize the presence of important personalities before progressing.
Step #2: Express Excitement for the Opportunity
Let them know how excited you are to be at the meeting. If it is an interview, communicate how excited you are to be given the opportunity.
This lets the audience know that you take them seriously.
Step #3: Share Your Name, Location, and Role
Communicate your name as clearly as possible. This ensures that nobody mispronounces it as the meeting progresses, and they can attach your name to the voice without looking at their screens.
If necessary, state your location and your job description. For an interview, state the role you are applying for and what you currently do.
Step #4: State a Few Things About Your Personality
Let people know what you enjoy doing. This makes your audience feel like they know you and may relate more with you.
Step #5: State What You're Hoping To Learn
This step indicates that you came prepared with expectations. It shows the group that you are present with an attentive mind and most likely writing materials.
You can also communicate this as a keynote speaker, as it tells the audience that they have something to offer you.
Tips for Introducing Yourself in Zoom Meetings
The criteria for a good introduction vary from virtual to physical meetings. Saying the right things is only a component of your introduction. Many other characteristics make up an excellent first impression.
Here are tips to follow to give an excellent first impression on a Zoom call:
Tip #1: Turn On Your Camera
The best types of conversations are the ones we make face-to-face. This is not any different for virtual meetings, so it is best to turn on your camera. Introducing yourself without showing your face makes you seem impersonal.
It can also indicate to the group that you do not value them to give your full attention. Click on the 'Share Video' button to turn on your camera.
Tip #2: Prepare Your Introduction
The best way to speak freely without mistakes is to prepare thoroughly for your introduction. Write out what you want to say, how you want to say it, and possible questions you may have.
Although you know what you wish to say before a meeting, you may feel pressure during the Zoom meeting, which may affect your delivery.
Tip #3: Sit in Front of a Light Source
Before you commence any important Zoom meeting, test your camera to see how you look. This helps you to determine the angle to place your camera and where the light source is.
Facing the light source ensures that your face is well-lit and you do not appear as a silhouette.
Your light source may be natural, like a window, or artificial, like a ring light. Doing this minimizes the embarrassment of adjusting your position while the whole group waits on you.
Tip #4: Body Language Matters
Body language matters in a Zoom call as much as it does in physical meetings. When you put on your camera, you should be seated professionally in a way that portrays you in the best light.
You do not want to appear slouched over or look distracted or eating. Instead, you want to look attentive with a smile on your face during the introduction.
Your body language also affects the tone of your voice, and your audience can sense it.
Tip #5: Keep It Brief
Your introduction should stick to the most important and professional aspects of your person. Avoiding sharing overtly personal information or unnecessary details about yourself.
Your introduction should be between 2 to 3 minutes. The trick is to sell yourself quickly by first giving the most important and relevant information.
Tip #6: Dress Appropriately
Your outfit is as important in virtual meetings as in physical meetings. You want to be dressed in a smart and appropriate outfit.
The best outfit portrays you as a professional in your field and does not cause a distraction to the people listening to you. Avoid bright glowing colors or tiny stripes that blur into each other.
Tip #7: Ensure Your Username Is Your Name
A significant mistake people make is joining a Zoom meeting without assigning appropriate names to their devices. This leaves room for confusion, where participants find it hard to recognize who is speaking.
Therefore, before you join a meeting, ensure that your device is named appropriately for the meeting.
Also, ensure that your username on Zoom matches your actual name. This minimizes any confusion.
In Conclusion
Zoom is the primary platform for holding virtual meetings and conducting interviews. Introducing yourself on a Zoom call may seem different from a physical meeting, but some rules still apply.
This article explains the best way to introduce yourself and communicate with a new group of people. These tips apply to different kinds of meetings.
FAQs
How do I ask a question in a Zoom meeting?
The best way to comment or ask a question in a Zoom meeting is to raise your hand. Click on the 'Raise Hand' button and wait for the host to call on you to speak.