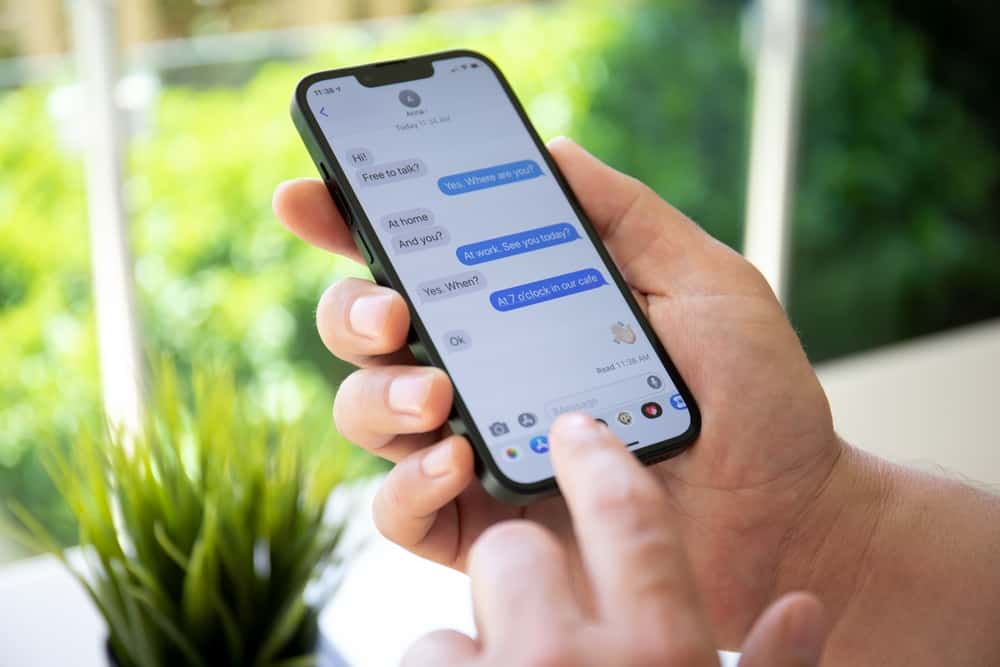 Privacy is critical, and nobody likes it when their privacy has been violated.
Many social media platforms have tried coming up with security measures to ensure their users' information is secure.
Such applications have implemented security measures like security patterns, ensuring they cannot access the app if a person does not have it.
But for iMessage, such measures are lacking, risking information getting into the wrong hands.
It is normal to find people borrowing phones, and when that happens, you don't want a message you were waiting for to be read by another party. You can hide messages on your iPhone by hiding the notification alert. If a person does not see a notification alert, they will not peak into your iMessages. You can also hide iMessage conversations by deleting a person's contact and filtering messages from unsaved contacts.
The article has highlighted the need to hide iMessage conversations and the three best ways to achieve your aim. Let's start!
Why Should You Hide iMessage Conversations?
Hiding iMessage conversations does not mean you are a criminal or cheater.
iMessage is unlike WhatsApp, which will provide you with a screen lock you must open when the chats section opens.
Because of the lack of such a security measure in iMessage, it is important to find alternatives to keep your messages safe.
Moreover, nowadays, you may find that a person wants to borrow your phone for a short while, and because you are colleagues, you cannot disagree with them.
It is good to implement a security measure to prevent people from reading your chats when they have your phone.
When your iMessage conversations are hidden, you won't worry about leaving your phone with a person; when you have confidential messages, you don't want other people to access them.
3 Best Ways How to Hide iMessage Conversations
iMessage has not offered users security mechanisms like a lock screen or patterns they can implement in the application.
But that doesn't mean you can't hide your conversations and prevent them from being accessed.
This section has introduced three ways to hide your iMessage conversations.
Method #1: Hide iMessage Conversation by Deleting the Contact
When there is a specific conversation you don't want people to access, you can hide it by deleting the saved contact and filtering the message to unsaved contacts.
This method is suitable when you don't want to hide the entire iMessage conversations.
Open your iPhone.
Launch the Contacts app.
Find the contact whose messages you want to hide.
Click on "Edit" at the top of the contact screen.
Navigate downwards, click the "Delete Contact" option, and confirm by clicking "Delete contact" again.
Find "Messages" from Settings.
Scroll down and enable the "Filter Unknown Senders" from the "Message Filtering" section.
Once you delete a contact, you will realize messages from a person removed from your contact list will not be listed in the iMessage app.
The message will be stored under "Unknown Senders", and you can access the unknown senders by clicking on "Filters" on the iMessage app, then selecting "Unknown Senders".
Method #2: Hide the iMessage Notification Alert
Another method you can use when you don't want people to access your iMessage conversations is hiding the notification alert. When people see the notification alert, they can tap on it and open messages easily.
But, when the notification alert is hidden, you can also group iMessage and store it in a different place from all your apps, making it hard for people to locate your messages.
The following steps will enable you to hide the iMessage notification alert.
Launch the Settings application.
Click on "Notifications".
Tap the "Show Previews" option, then select "Never".
Alternatively, enable the "When Locked" option to limit notifications when your iPhone is not locked.
Stop notifications from iMessage by opening it from Settings.
Navigate to the "Allow Notifications" button, and disable it.
Once you disable notifications from iMessage, all messages you receive will not be displayed.
Therefore, if you fail to open the iMessage application, you will never know you received messages.
Method #3: Use Third-Party Tools to Hide iMessage Conversations
You can use many third-party applications to hide conversations on iMessage, because Apple has not offered such a feature. But to use the tools, your iPhone must be jailbroken. Such tools include CoverMe, HiddenConvos, and Wickr Me.
The steps of using the tools are simple because you need the following.
Install a third-party tool like HiddenConvos.
Open Messages while the new app is open.
Click the "Hide" button.
You can unhide a message by pressing "Edit" and choosing "Unhide All".
Conclusion
Hiding iMessage conversations is a good measure when you don't want someone to view your messages.
If a person asks for your phone, you can give them after ensuring all applications, including iMessage, cannot be accessed, ensuring your privacy is not compromised.
If you want to hide iMessage conversations, read this guide for three ways!