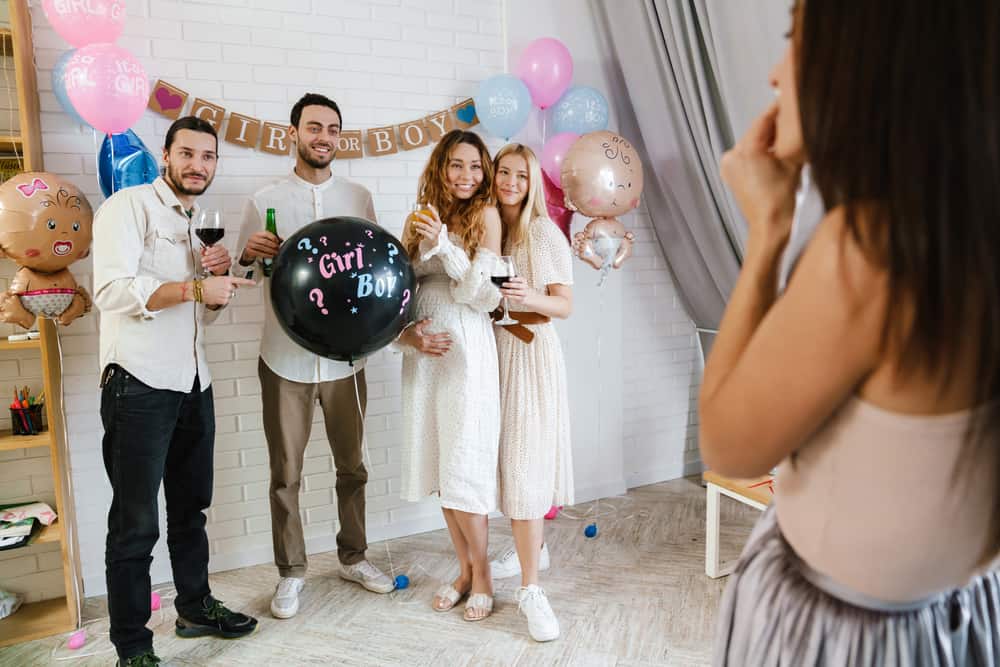 Virtual gender reveals are getting more common these days.
Even though the worst period of the pandemic is over, many still take to Zoom to do a gender reveal.
If you're expecting and wish to convey this information, including revealing the gender, how can you go about it?
You can do a Zoom gender reveal by getting your friends and family on a Zoom call. Have them guess your baby's name or reveal the gender by making them spell out a phrase or solve a puzzle so they can't easily tell a girl from a boy in the blanks. Use a posterboard for this to make it more fun.
In this article, you will learn how to do a Zoom gender reveal and make it fun for you and your loved ones.
Organizing a Virtual Gender Reveal
Most people are excited about organizing a gender reveal. For those unfamiliar with the term, a gender reveal is an event where you announce the gender of your baby to friends and family.
In-person gender reveals have become part of Western culture and are incredibly popular.
However, social distancing has prevented many from in-person gender reveals. Even though the pandemic is practically behind us, opting for a virtual gender reveal on Zoom can be the best way to go about it.
Moreover, doing a gender reveal on Zoom also ensures every member of the family living in your city or elsewhere can get in on the fun.
Your friends who may be out of town on business or vacation can also log into the platform and participate in the event.
Zoom Alternatives for Virtual Gender Reveal
Asides from Zoom, you can also use Skype or FaceTime to run your long-distance, or virtual gender reveal.
How To Prepare for a Zoom Virtual Gender Reveal?
Here are some steps to prepare for a Zoom virtual gender reveal.
Step #1: Ask for Convenient Dates
Virtual events may include every guest, irrespective of their location. To ensure a maximum turnout, ask your loved ones for convenient dates.
You may try to choose a date very close to the gender reveal appointment ultrasound.
Step #2: Send Out Invitations With Special Date/Time
Next, send out invites with a special time and date, and tag them with an RSVP option.
This makes it easier to know the precise number of people you should expect on the virtual gender reveal on Zoom.
Step #3: Set Up a Virtual Platform
You will need a chat software of virtual platform to use for your gender reveal event. Videochats can take place via Skype, Facebook Messenger, and Facebook Rooms.
But the most convenient platform to use for your gender reveal is Zoom. Zoom is an easy-to-use program that most people have access to.
A virtual gender reveal party is about ensuring everyone experiences the fun. If a few people can't join you on Zoom, you can do more than a single gender reveal party using any other platform.
Step #4: Send Reminders
On D-day, send a reminder SMS to every guest about the upcoming gender reveal event.
This is to ensure as many people as you invited are present when the time comes for the virtual event to hold.
Fun Ways To Announce the Gender of Your Baby
Since the gender reveal is taking place via Zoom, you're free to think up several ideas or ways it can be done.
Virtual gender reveal is not all that different from in-person gender reveal. The only difference is that you will be doing it on camera with more people in attendance on Zoom.
Make sure you set up the Zoom meeting in a well-lit room so every attendee can see you and whatever activity you've planned for the event.
You may choose a themed background while permitting attendees to send emoji reaction animations to make the virtual event more fun and interactive.
Here are some ideas to consider for your gender reveal on Zoom.
Idea #1: Gender Reveal Balloon
This is one of the most popular forms of gender reveal that can still be done virtually. Fill a dark-colored, inflated balloon with blue or pink confetti.
While video chatting with attendees of the Zoom call, you can pop the dark-colored balloon, and everyone will see the colors of the confetti.
Idea #2: Unlock the Gender Reveal Code
This is an interesting and fun game that everyone on the Zoom call will enjoy.
This game is played using the type of worksheets you played with as a kid in which you unscramble words and take a letter from every word to find the secret word or code.
The letters will have to spell out baby boy, girl, baby girl, boy, etc. If you've already picked out your baby's name, you may use the letters that spell out the baby's name.
Idea #3: Gender Reveal Cake
This works very well for in-person gender reveals and is one of the most thrilling options. However, this can be replicated virtually on Zoom even though the attendees on the call may not be able to enjoy the cake.
But the guests can watch in anticipation as you cut the gender reveal cake to reveal your baby's gender.
You may consider sending treats in the mail to every Zoom call attendee to appreciate their presence at your virtual gender reveal.
Conclusion
Expecting a new addition to the family can be exciting.
There are several ways to share this exciting and fun time with your loved ones, irrespective of distance.
The best way is to get everyone on a Zoom call and use any of the ideas suggested above for the gender reveal.