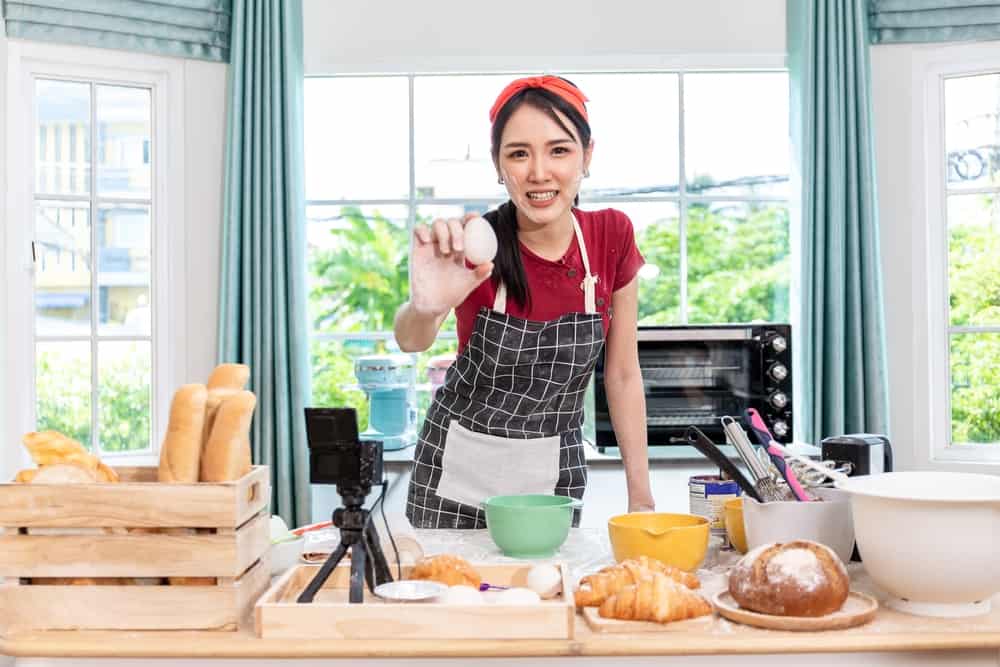 Hosting a cooking class on Zoom is a great way to connect with people and teach them something new. Whether you're a professional chef looking to share your skills with the world, or just someone who loves to cook, online Zoom classes will be fun.
This way, you can share your passion with people who share the same love for cooking. But how to do a cooking class on Zoom?
You'll need to do a few things to set up your Zoom cooking class. First, you'll need to choose a recipe or dish you want to teach your students. Once your recipe is selected, you'll need to gather all the ingredients and supplies you'll need for the class. Make sure to have everything organized and within reach before the course begins. Next, create a new meeting and invite your students.
This article will show you how to host a Zoom cooking class. Learn how easy it is to reach multiple people and teach them how to cook various cuisines. 
What Are the Benefits of Zoom Cooking Classes?
A zoom cooking class is a cooking class in which the instructor demonstrates how to cook a dish, and then the class cooks the dish together. This type of cooking class is a great way to learn or teach how to cook a dish from start to finish. 
Additionally, Zoom cooking classes allow you to ask questions and get tips from the instructor. Hence, it's an interactive form of teaching. 
There are several benefits to taking Zoom cooking classes. 
Benefit #1: Learn more in less time
The most obvious benefit is that you may learn a lot in a relatively short period.
With Zoom cooking classes, you can get all the information you need to make great-tasting and healthy meals in one place.
Benefit #2: Share Tips and Feedback
Another benefit of Zoom cooking classes is that you can cook alongside others. There's a lot you may learn online from the cooking community.
This can be a great way to deliver and get tips and advice you can use at home. You may also ask questions and get feedback on your cooking lessons.
Benefit #3: Fun Cooking Session
Finally, Zoom cooking classes can be a lot of fun. They are a fantastic way to meet new people and learn new recipes.
You can also learn about different cooking techniques and styles from others on Zoom.
Setting Up for Zoom Cooking Class
Hosting a Zoom cooking class is really easy! All you need is a computer with a webcam and internet connection and a desire to cook and learn!
To start, you'll need to create a Zoom account. I'll walk you through the basics of setting up your class:
Go to the zoom website and click on the "Sign Up Free" button. 
Add your birth date for verification. 
You'll need to provide basic information, including your name and email address.
Once you have created your account, you'll be taken to the Zoom home page.
Click on the "Meetings" tab.
Click the "Schedule a Meeting" button. It'll take you to a page where you can enter all of the information for your class.
Creating a Cooking Class
First, you'll need to choose a date and time for your class. Be sure to pick a time that works for everyone in the class. Next, you'll need to choose a meeting name. This is the name that will show up in the class participants' calendars.
Then, you'll need to select the Zoom meeting ID. This is a unique ID that is used to join your class.
The final step is to enter some information about your class. You'll need to describe the course and hit the "Save" button. Now you just need to invite the participants.
Once the time comes, hit the "Start" button to start the class.
How To Market a Zoom Cooking Class?
There are many ways to market a Zoom cooking class. One way is to post about the course on social media. You can post a picture of the dish you will be cooking and a link to the class. Ask your friends and family to promote your cooking class. 
You can also post about the class on cooking websites and forums. Besides, you may create a blog post about the course and include the link to the class. Creating a video about the class and posting it on YouTube will also greatly promote your future classes.
You may start charging for culinary lessons once your classes gain some popularity. 
After the class has started, click "Record" on your toolbar to start the recording process. By the end of the course, you'll have a video file ready to view again on upload on socials.  
Tips on Hosting A Zoom Cooking Class
Cooking classes are a great option for learning new recipes and cooking techniques. They may also be a lot of fun. Here are a few tips that may assist you in hosting a successful Zoom cooking class:
Choose recipes that are easy to follow.
Choose recipes that can be cooked in a short time.
Preparation is key. Ensure you have all the ingredients and tools ready before the class starts.
Be prepared to answer questions from participants.
Have fun and enjoy cooking with the class.
Conclusion 
Hosting a Zoom cooking class is a great way to get together with friends and teach new recipes. By following these tips, you may create a fun and informative course that everyone will enjoy.
Be sure to give your meeting a title that will let people know it's a cooking class, such as "Cooking Class with Chef John Smith." 
If you have multiple recipes you'll be teaching during the class, it's helpful to write them down or display them on your screen so your students can follow along. You may also have a different theme for each cooking class to make it more exciting.