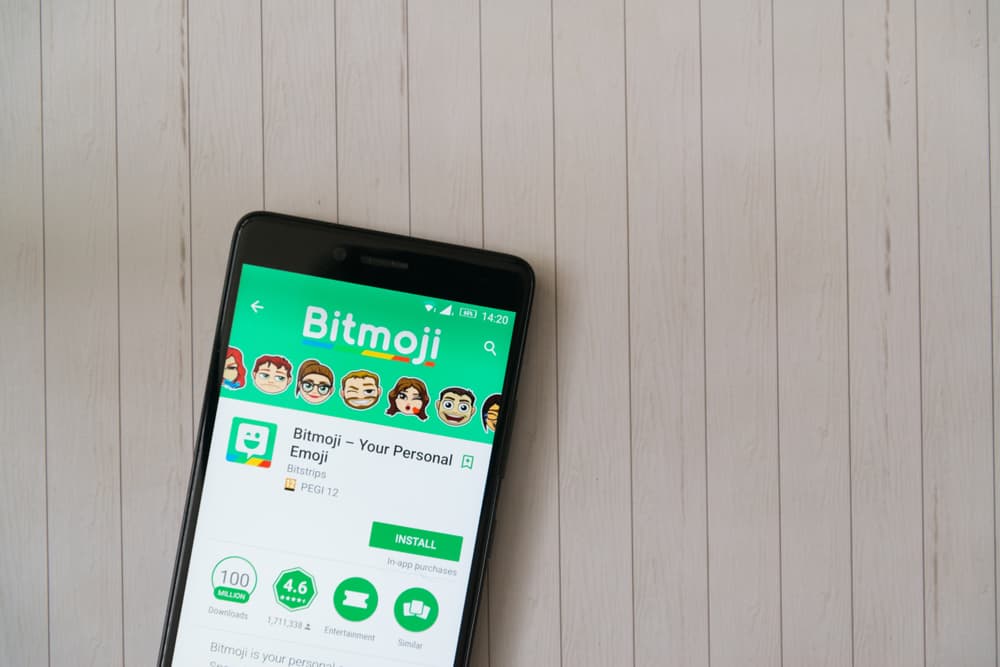 Unlike regular emojis that try to express emotions as anonymously as possible, Bitmojis carry some degree of personalization. The person receiving your snaps feel more connected, and you can make a few unique expressions without designing any new graphics.
Yet, there can come a time when you might need to halt your Bitmoji usage. Maybe you switched to a different app that doesn't need the feature, or you want to modify your avatar.
You can delete the Bitmoji either by unlinking Bitmoji from Snapchat or deleting your account entirely. If you wish, you can edit your avatar without deleting the Bitmoji at all.
Throughout this piece, you'll get to know each of these steps in detail. So, you won't waste the time it takes to set up a new Snapchat account just because you were bored with your old avatar.
Are Bitmoji and Snapchat Two Separate Apps?
Although Snapchat owns the company, Bitmoji is available separately so that you can integrate with other social media platforms. It works for Facebook, iMessage, Gboard, and Slack, among several others.
You can download the Bitmoji app for both Android and iOS. Furthermore, it is also available as an extension for Google Chrome. That way, you can also use Bitmojis for Gmail and other web-based applications.
How To Delete Your Bitmoji on Snapchat
While it is a versatile and highly customizable feature, removing Bitmojis from Snapchat is straightforward. You can do it through any of the below-mentioned methods, depending on whether you want to use them for other apps.
Method #1: Unlink Bitmoji From Snapchat
Unlinking your Bitmoji account enables you to remove it from Snapchat while still allowing you to use it on other apps. Snapchat makes the process rather convenient:
Launch the Snapchat app on your smartphone.
Tap on the profile icon (Bitmoji) on the top left corner of the screen. It will take you to your profile.
Choose the gear icon on the top right corner of the screen.
Browse through the menu and select "Bitmoji."
Tap on the "Unlink My Bitmoji" option at the bottom of the screen.
Confirm your decision.
What Happens to Your Avatar?
If you created your Bitmoji account using a Snapchat login, unlinking will permanently delete your avatar. If you wish to use Bitmoji again, you will be required to build your avatar from the very beginning.
Method #2: Delete Your Bitmoji Account
If you genuinely want to say goodbye to your custom digital emoticons, it is best to delete your Bitmoji account. It will remove all Bitmojis from Snapchat and other apps where you may be using them.
Open the Bitmoji app on your Android or iOS smartphone.
Go to settings via the gear icon on the top-right corner of the screen.
Tap on the "My Data" button.
Select the "Delete Account" option.
Confirm whether you want to follow through with your decision.
Permanently Deleting Bitmoji Account
The above process will permanently delete your Bitmoji account and automatically unlink it from Snapchat. If you ever decide to use Bitmojis again, you must register your account again and re-create your avatar from scratch.
Method #3: Edit Your Bitmoji Avatar
You don't need the trouble of deleting your avatar entirely if you want to upgrade the look of your Bitmojis. Snapchat offers you a convenient way to modify any aspect of your avatar with a few simple steps.
To customize your avatar, you can go to the profile screen to select the outfits, hairstyles, and backgrounds. All changes will instantly reflect in your Bitmojis.
Alternatively, you can use the Bitmoji app. Go to the "Change avatar style" option from the settings menu and choose your desired one.
Bitmoji allows three separate styles for your avatar: Bitstrips, Bitmoji Classic, and Bitmoji Deluxe. Bitmoji Deluxe enables you to generate some depth with your avatar, so all your 3D Bitmojis look more appealing.
Final Thoughts
Snapchat is a great communication tool that provides various visual cues and media options to share with your friends. Bitmojis are a part of that.
Still, if you wish to delete them, the process remains quick and convenient. There are different methods, but you should select the one that doesn't prove inconvenient in the coming days.
FAQs
Can You Hide Bitmojis on Snapchat Notifications?
Yes, you can stop Bitmojis from pestering you as they take up half the screen on notifications. Many people are often annoyed by this feature since it usually doesn't have a relevant message for swift replies.
To hide Bitmojis from your Snapchat notifications:
1. Launch the Snapchat app on your smartphone.
2. Tap on your avatar at the top of the screen to reach the profile menu.
3. Go to the settings section by selecting the gear icon on the top right corner of the screen.
4. Select the "Notifications" option under the "My Account" section.
5. Uncheck the "Bitmojis in Notifications" box.