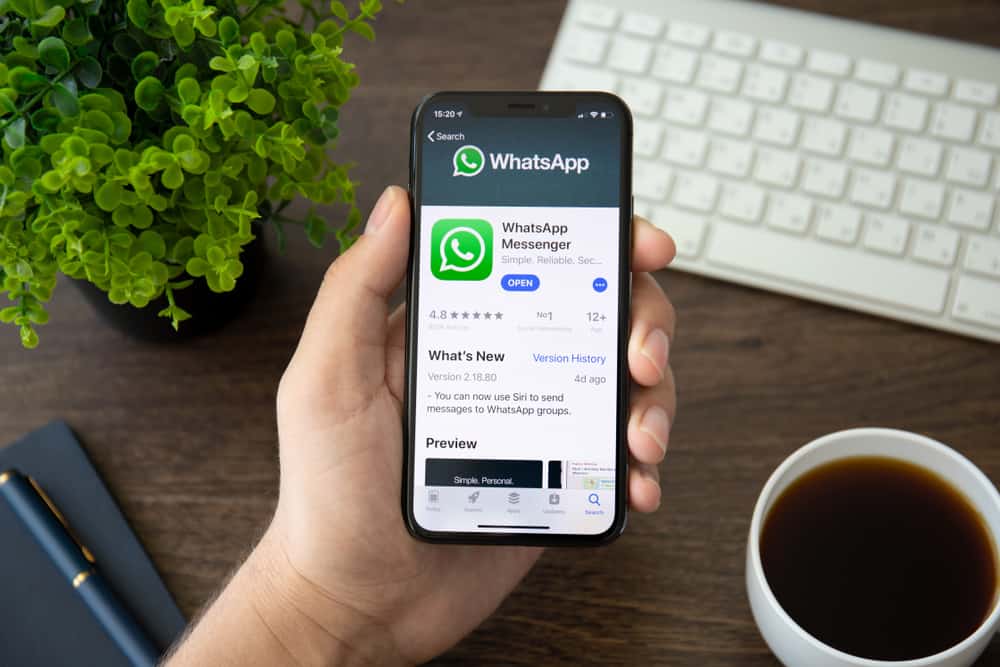 WhatsApp has become popular in recent years for several reasons. For starters, it's straightforward to use and offers an intuitive user experience. This means that users can quickly learn how to send messages, photos, videos, and audio files without studying complicated instructions or watching tutorials.
Additionally, WhatsApp is available across multiple operating systems, so users can easily communicate with each other regardless of their device. So if you feel you are missing out, here's how to create a WhatsApp account.
Creating a WhatsApp account is relatively easy. Download the WhatsApp app on your mobile phone from the App Store or Google Play Store. Open WhatsApp and agree to the terms and conditions. Enter your phone number and verify it via SMS or a call. Create a profile with your name, photo, and status message. Find friends by syncing your contacts or adding them manually. Start chatting! You can send text messages, photos, videos, and more.
With WhatsApp, you can send texts, photos, videos, and even voice and video calls! This blog post will show you how to create a WhatsApp account step-by-step. Let's get started!
Why Do You Need a WhatsApp Account?
Do you want to stay connected with your friends and family without spending much money on data or international calling plans? Then WhatsApp is the perfect solution for you! 
With this fantastic app, you'll be able to stay connected with your friends and family in real-time. Not only can you send fun messages and share photos and videos, but you can also create group conversations.
And if that wasn't enough, WhatsApp also allows you to make free audio and video calls through Wi-Fi or data connection.
Check the subsequent sections below if you're wondering how to create a WhatsApp account. All you need is a smartphone and an internet connection.
Step-by-Step Instruction To Create a WhatsApp Account
Follow the steps below to create a WhatsApp account:
Download WhatsApp Messenger on your mobile phone from the App Store or Google Play Store. 
After installation, open the WhatsApp app.
Choose your preferred language and tap the arrow icon at the bottom left corner.
Click on the "Agree and Continue" option. By doing so, you agree to the privacy policy and terms of service of WhatsApp.
Enter your phone number, then click "Next." If a pop-up appears, click "OK" to confirm your number.
Click "Continue" to verify your account with a call. Alternatively, click on "Verify with SMS" to receive the WhatsApp code via SMS.
Input the 6-digit code you'll receive via SMS. Alternatively, if you don't receive the code via SMS, click on "Didn't receive code?" and choose either "Resend SMS" or "Call Me." WhatsApp will automatically verify the phone number when you input the right code.
On the pop-up that appears, allow WhatsApp to access your contacts and media by clicking "Continue." If you don't want to give the app access, select "Not Now."
Under Profile info, tap the camera plus icon and select a profile photo from either your gallery or camera. Note that it's not compulsory to have a profile picture on WhatsApp.
Type your name, then click "Next." Note that it's compulsory to input a name on WhatsApp.
You have successfully created a WhatsApp account. Find friends by syncing your contacts or adding them manually. Start chatting! You can now send text messages, photos, videos, and more.
What To Do After Creating a WhatsApp Account?
If you're a new user, you might be confused about what to do next after creating a WhatsApp account. Here are a few things you could do.
Write Your Own WhatsApp About
A WhatsApp about is a short summary of who you are, what you are doing, or a way to pass a message to your contacts. If you do not create a custom about the message, the app automatically reads, "Hey there, I am using WhatsApp."
To create a custom WhatsApp about, follow the steps below:
Open WhatsApp on your mobile device.
Tap "Settings."
Tap on your profile picture at the top.
Tap the Pencil icon in the "About" section.
Write the message and Click "Save." Note that the message is limited to 108 characters only. 
Find Friends by Syncing Your Contacts
You can easily search for and find potential friends you already know by syncing your contacts on WhatsApp. It's a great way to reach out and build connections with your contact list.
To sync contacts on WhatsApp, follow the steps below:
Click the New Chat icon at the bottom-right corner of the screen.
A pop-up will appear asking you to allow WhatsApp access to your contacts; tap "Continue."
Wrapping Up 
WhatsApp is among the most popular messaging apps, with over 2 billion users worldwide. If you want to join WhatsApp, you only need a phone number.
Additionally, as outlined in this article, setting up your account and profile on WhatsApp only takes a few minutes.