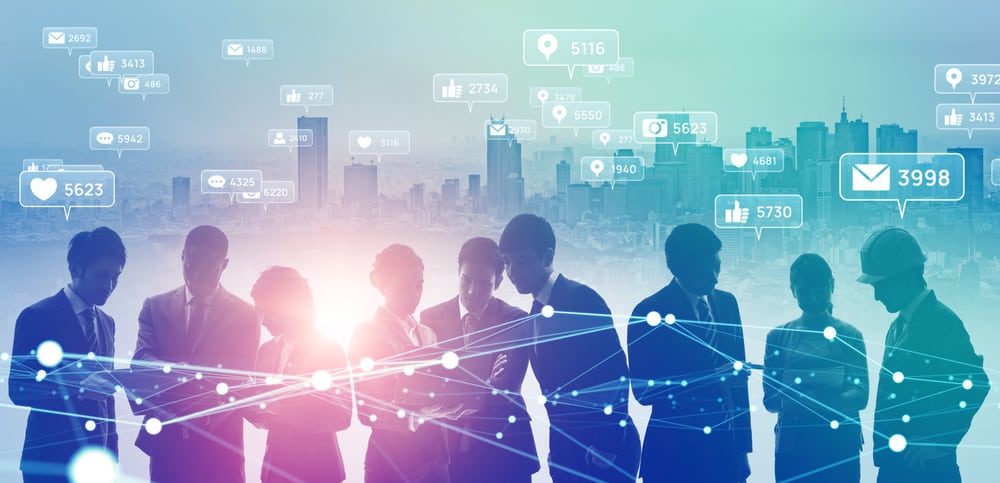 Becoming a LinkedIn influencer will give you many benefits and advantages, especially if you're targeting B2B customers. Once you become a LinkedIn influencer, you will feel like a king (or queen) because you have a massive audience to whom you can promote your products or services or share your words of wisdom.
But reaching the "influencer" level takes time and work. You must have a strong brand identity, make your profile attractive to your target audience, publish content consistently, expand your network, and allow others to expand their network through you.
According to LinkedIn, there are 830 million LinkedIn users from all over the world. LinkedIn is a profession-focused platform, so everyone you meet has goals connected to their careers, businesses, creations, or personal brand.
If you want to become a LinkedIn influencer but don't know where to start, keep reading because we will show you how to reach that level step by step. Ready?
How To Become a LinkedIn Influencer
LinkedIn influencers don't receive money from the platform. What they get is more important and long-lasting than monetary rewards.
They can have a more solid brand identity, more high-quality connections, high chances of closing deals, a reputation for being a thought leader, attention from LinkedIn itself, and the power to influence millions of people.
LinkedIn influencers are the same as other social media influencers because both have followers who listen to and believe what they say.
However, as LinkedIn is a platform for careers, jobs, and businesses, the goal of influencers is usually not connected to products or services but one's mindset, beliefs, and experiences. This is why there are many thought leaders on LinkedIn.
There isn't a minimum number of followers required before you can be qualified for the influencer status because what's important is your influence. However, those with over 1,000 but less than 10,000 followers on LinkedIn are considered nano-influencers, so it may be good to aim for at least a thousand followers.
As you do that, make sure you do these things, too.
Step #1: Define Your Brand Goals
You should know your ultimate goal to determine what you must accomplish to turn that goal into reality. You could say that your goal is simply to be a LinkedIn influencer. But what kind of influencer and in what industry?
Not all influencers on LinkedIn are the same. Do you want to be the go-to person for knowledge? Or is your goal to be the top manufacturer or seller of a specific product?
Who do you want to benefit from your LinkedIn activities? Are you customer-focused or business-focused? Do you want more sales or a more comprehensive network?
It's up to you. But remember that you have to be clear and specific with your goals so that you don't lose focus and get distracted as you achieve them. You will end up not reaching any goal if you set too many.
Step #2: Optimize Your Profile
Now, you have to make sure that your LinkedIn profile speaks for yourself. If other people don't know who you are, what you are trying to achieve, what your purpose on LinkedIn is, and many others, they won't know why they should connect with you.
Find time to share details about yourself, your experience, or anything worth sharing about your professional life on your profile. Share your work history, as well as your certificates, awards, organizations, skills, etc.
Simply put, complete your profile before you do anything else!
Step #3: Post Valuable Original Content Regularly
This is the most time-consuming part.
You have to gain the trust of other LinkedIn users, so you have to provide them with content that is beneficial for them, and you have to do it consistently so that you are always on their feed.
Publishing an article or video that contains super helpful information one time isn't going to help you at all. Many people may find it valuable, but until when? Content comes and goes. That thing you posted earlier will disappear from everyone's feed next month.
You have to stay on your audience's radar! To do that, you must post at least every week if every day isn't possible.
Step #4: Comment on Other People's Content
Don't simply wait for others to come to you. Engage with other people's content, so they become interested in engaging with your content. Their audience will also see your name in the comments section, which can expand your network.
Suppose you comment on other people's posts often. In that case, some people will remember your name, and they might get curious about you and check out your profile, especially if your comments contain valuable information.
Step #5: Expand Your Network
When you think of LinkedIn, you think of network. And not just any network but a network that can take your career to the next level. That said, this must be on your priority list because you won't be influential if there isn't anyone you can influence.
You need people!
But make sure that you connect with people you are professionally connected with in real life, people you want to do business with today or in the future, and people who can benefit from you and you from them.
And if you want to connect with people who don't know you at all, introduce yourself so that they can find a good reason to accept your request.
Step #6: Connect People Together
The good thing about networking is that there are many people involved. If you want your connections to like you more, be their connection to someone. By that, I mean introduce them to those in the same industry or who can help them with something.
This will also help you expand your network because if you give them people, they will give you people. And if you give them more, they will give you more. It's a never-ending cycle that can help you speed up your journey to becoming a LinkedIn influencer!
Conclusion
Knowing how to become a LinkedIn influencer is just the first step. Now, are you ready to be a LinkedIn influencer?
If you are starting from scratch, meaning you just created your account, you must triple your efforts to get there as quickly as possible.
But this isn't a race, so don't put too much pressure on yourself!
However, if you've been working on your LinkedIn profile and network and you just want to take your LinkedIn journey to the next level, then you've built the foundation. You just need to build on that foundation.
Have you optimized your profile? Are your connections "real" connections? How frequently do you post? Do you engage with other people's posts? Those are just a few of the questions you need to ask yourself.