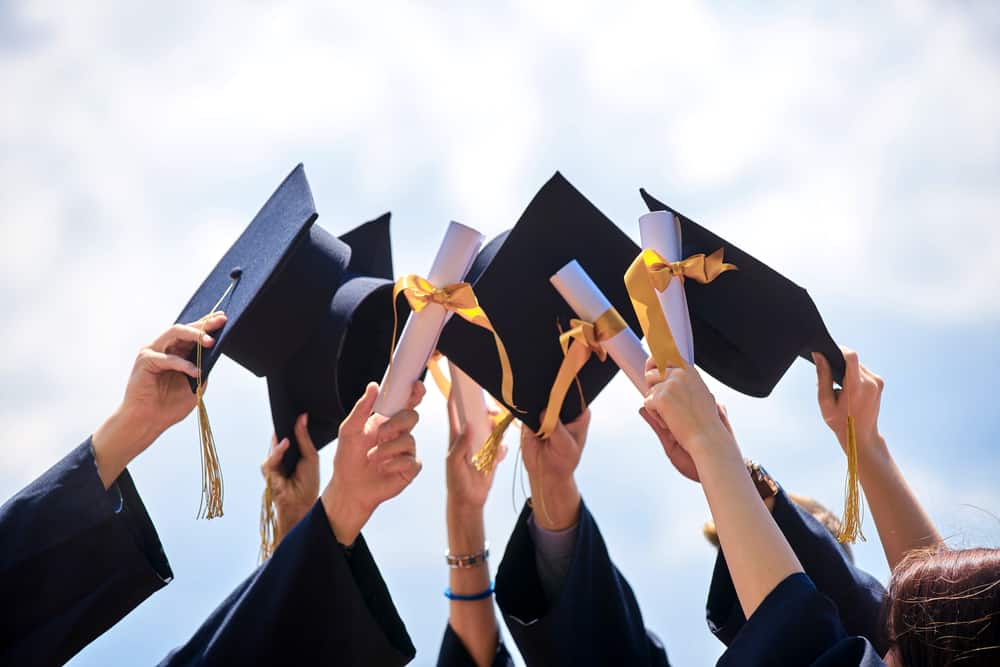 Undoubtedly, LinkedIn is one of the most popular social media platforms for enterprises and those looking for a job. It allows them to freely connect with others for career and network building. Hence, it's significantly vital for you to complete your LinkedIn profile and your level of education is a piece of information that should be updated.
However, making a LinkedIn Graduation announcement may be challenging if you're unfamiliar with this platform. If you're looking for instructions on announcing Graduation on LinkedIn, look no further as you're in the right place.
This article will provide you with a step-by-step LinkedIn tutorial to announce graduation that helps your profile look more impressive. Without further ado, let's get this show on the road!  
Step #1: Log in to LinkedIn
First of all, get access to your existing LinkedIn account. If you're new, create a new one by moving to the LinkedIn homepage and hitting the "Join now" button.
The next step requires you to enter your email address and password you'll use to log in to LinkedIn. Then, you'll need to provide your First name and Last name and some additional information for security verification.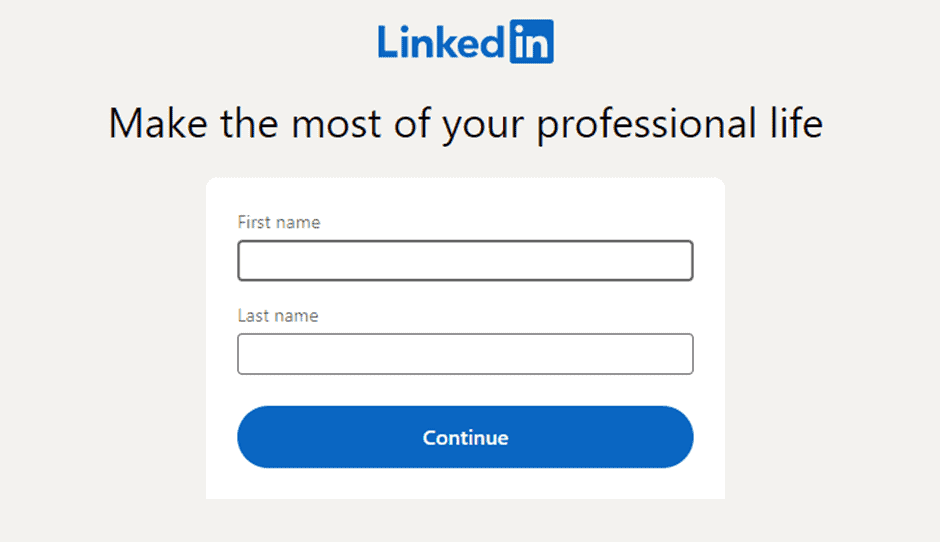 It's a must to type your true name as displayed on your Identity when creating a LinkedIn account. However, LinkedIn allows you to change your Intro name later, so don't worry if you're setting up a company account.
It's easy to create a new LinkedIn account. You may need to spend a few minutes to be a new member of this platform and start connecting with other people, according to LinkedIn's suggestion.
Step #2: Navigate to Your Profile and Hit the "Edit" Button
Moving to the next part, let's navigate to your Profile page. Hover your mouse to your profile picture on the left of your Home screen and click on it. LinkedIn will redirect you to your Profile page, where you'll find all your public information here.
Next, press on the pencil icon right below your background image. You'll see a pop-up window that allows you to edit the Intro information, including:
Intro name: displays your public name that everyone can see when reaching your profile.
Current position: you can add as many current positions as you wish to showcase your working history.
Education: similarly, LinkedIn allows you to make a list of universities or colleges you are attending (or attended).
Location: enter the country/region as well as the city you're living in.
Website: this is an optional section, so you can provide your company website's URL or leave it blank.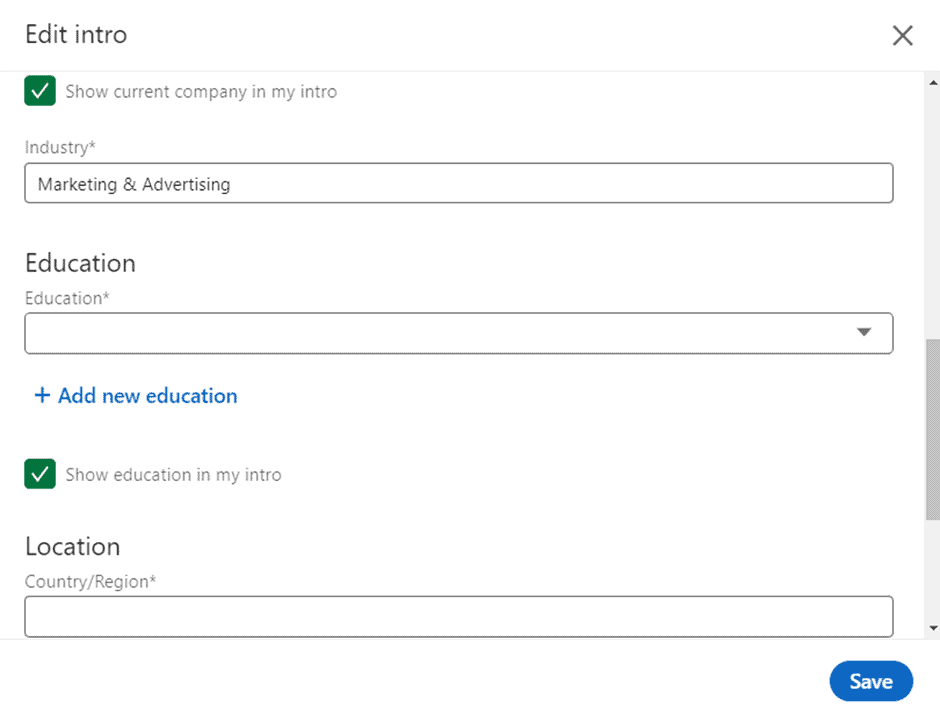 Simply scroll down until you see the Education section and click on "Add new education".
Step #3: Add New Education on LinkedIn
In this step, you'll need to complete information related to your graduation. There are:
School: the name of the school you graduate from.
Degree: the level of education you have accomplished.
Field of study: your major at the university or college.
Start date & End date: the duration it takes you to complete all the courses.
Grade
Activities and societies: the extracurricular events you joined during your study.
Description: a showcase of what you have achieved after graduating from that school.
Except for the "School" section, you can leave other bars blank. However, it's better to complete all the fields so that other people can grasp an overview of your experiences.
In addition, LinkedIn allows you to add or link external media such as documents, photos, and videos that add value to your profile and increase your visibility on this platform.
Adding education is a great feature of LinkedIn that helps you find and connect with other people at the same university or college as you.
After that, click on the "Save" button.
Step #4: Create a Graduation Post
After updating your profile, don't forget to create a post on LinkedIn to announce the graduation to people in your network. It should contain both content and media files such as photo(s) or video(s) to make your post more attractive on the profile.
Take some pictures with a bright smile and a graduation or professional outfit on. Plus, ask your friend to record the moment when you officially receive the Bachelor's or Master's degree from the headmaster. These help you memorize this special event before moving to the next milestone.
Then, try adding some words to make your Graduation announcement perfect. If you have no clue about it, take a look at the order below:
List what you have achieved and what you do to achieve the goals.
Mention some obstacles that hindered your journey and how you overcame them.
Talk about your dream job/industry and future direction.
Express your gratitude towards family, lecturers, and friends for their support.
Hit the "Post" button, and now you're done making a Graduation announcement on LinkedIn.
Conclusion
All in all, this article has guided you through step-by-step instructions on how to announce Graduation on LinkedIn. Adding education information would do wonders to your profile by making it more reliable and professional.
Frequently Asked Questions
What does a graduation announcement say?
To be honest, there is no limitation to what you should mention in your Graduation announcement. However, there are some certain details that should be displayed in any Graduation post, such as Full name, name of School, Degree, Major, Graduation year, Location, etc.
How do graduation announcements work?
Graduation announcements inform people who are concerned about your achievement of a specific goal in studying — for example, a Bachelor's Degree or Master's Degree. However, you need to clarify that Graduation announcements are different from Graduation Invitations.