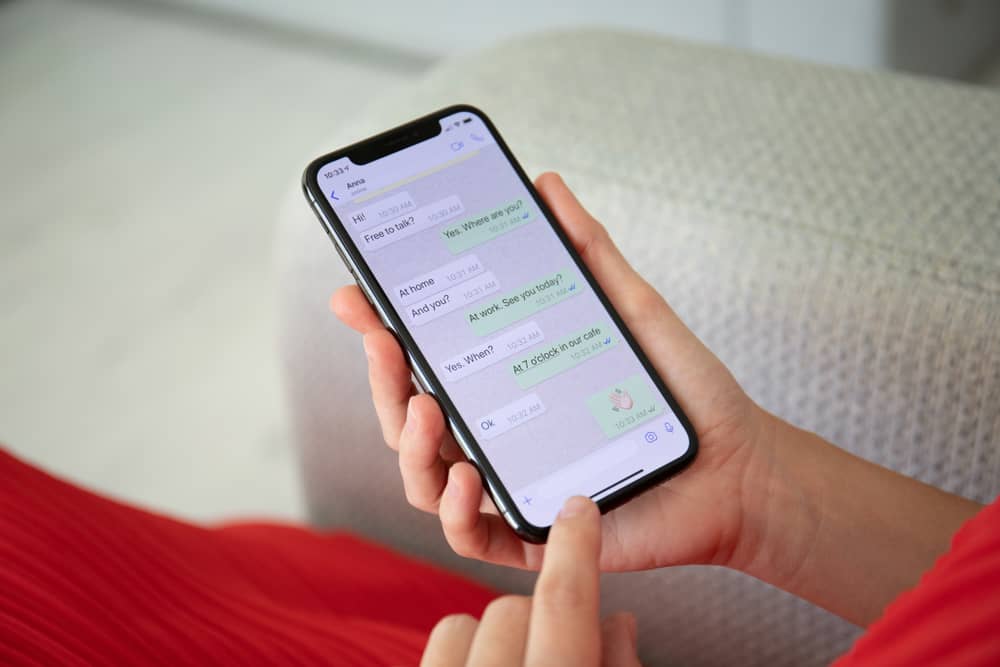 WhatsApp and iMessage are instant messaging platforms used by billions of individuals worldwide.
Meta owns WhatsApp, while iMessage is exclusive to Apple.
Both instant messaging services share almost similar features.
But why should you use WhatsApp instead of iMessage?
You should use WhatsApp instead of iMessage because WhatsApp offers more security and privacy than iMessage, thanks to its end-to-end encryption. WhatsApp also has end-to-end encrypted backup, a feature iMessage still doesn't have to date.
This article will reveal why you should use WhatsApp instead of iMessage despite sharing similar features.
An Overview of WhatsApp
WhatsApp, owned by Meta, is an instant messaging platform that allows you to send voice and text messages. You can also share documents, images, user locations, etc.
This app's client application runs seamlessly on mobile devices and can also be accessed via computers.
WhatsApp started as an excellent alternative to SMS. To use WhatsApp, you will require a phone number to sign up.
It features privacy controls and end-to-end encryption. This implies only the sender and recipient of messages can view their content.
WhatsApp is free, i.e., requires no subscriptions or fees since it uses an internet connection to transmit messages instead of your cellphone's text plan or voice minutes.
No wonder it is used by over 2.24 billion monthly active users with Android, iOS, and other devices.
An Overview of iMessage
iMessage is an Apple-exclusive messaging service for iPadOS and iOS devices, Mac computers, and Apple Watch.
This platform supports text and attachments like photos, links, locations, and contacts, including attachments directly onto a message. A thumbs-up icon is one such attachment.
Since iMessage is only for Apple users, you can't send an iMessage to friends using Android devices. But the benefit is that you do not have to do anything different when sending messages to a friend who doesn't use Apple products.
Sending iMessages from one Apple device to another occurs via Apple's servers instead of regular cell towers. This implies that iMessages are end-to-end encrypted, i.e., Apple can't read your message.
That is why iMessage has about 1.3 billion active users globally.
The Number of iMessages Sent Daily
It is estimated that more than 50 billion iMessages are sent daily between Apple users. This is expected to increase as more and more people purchase and use Apple products.
Why You Should Stick to Using WhatsApp Instead of iMessage
The battle of supremacy between iMessage and WhatsApp has been raging for years. But according to research, users of iMessage are not fully protected.
Therefore, here's why you need to stick to using WhatsApp instead of iMessage.
Reason #1: More Secure and Private
WhatsApp is far more secure and private than iMessage as it uses end-to-end encryption that prevents access by third parties.
This state-of-the-art signal protocol works across Android and iPhones, including group chats. According to Apple, iMessage also uses end-to-end encryption, but it works only between Apple devices.
You can also set all-new chats on WhatsApp to disappear with a simple button. Meta has also introduced end-to-end encrypted backups for WhatsApp users. Even WhatsApp servers can't read your messages.
Reason #2: Group Voice and Video Call
WhatsApp allow you to make voice and video calls, features that are not available in iMessage.
Moreover, a WhatsApp group can hold up to 1,024 participants, whereas an iMessage group cannot cater to more than 32 members.
Reason #3: Web Client
The WhatsApp web app is highly compatible with Mac and Windows devices.
The web client of WhatsApp conveniently mirrors messages and conversations from primary devices, i.e., tablets/smartphones.
You can access WhatsApp's web client via popular browsers like Microsoft Edge, Opera, Google Chrome, and Mozilla Firefox.
However, this web client will only function seamlessly when the primary device is connected to the internet. Its interface is similar to the one available on your mobile device.
But iMessage has no official clients for Windows and supports only Mac devices. Nevertheless, several emulators and simulators are available online that users can employ to access iMessage on Windows.
Reason #4: Interface
The WhatsApp application's interface is easy to use. Messages get delivered faster than iMessages, even with a 2G connection, and within seconds.
If you send a text with a video or photo on WhatsApp, the text gets delivered first, as the app takes time to upload the video or image.
But iMessage will not deliver text messages but waste time until the video or photo is uploaded before sending everything at once. Users find this rather frustrating and time-consuming.
Conclusion
WhatsApp and iMessage are popular instant messaging services. But one service supersedes the other in terms of usage, delivery, end-to-end encryptions, etc.
We hope this article has provided enough reasons to make you stick to using WhatsApp over iMessage, despite having similar features.