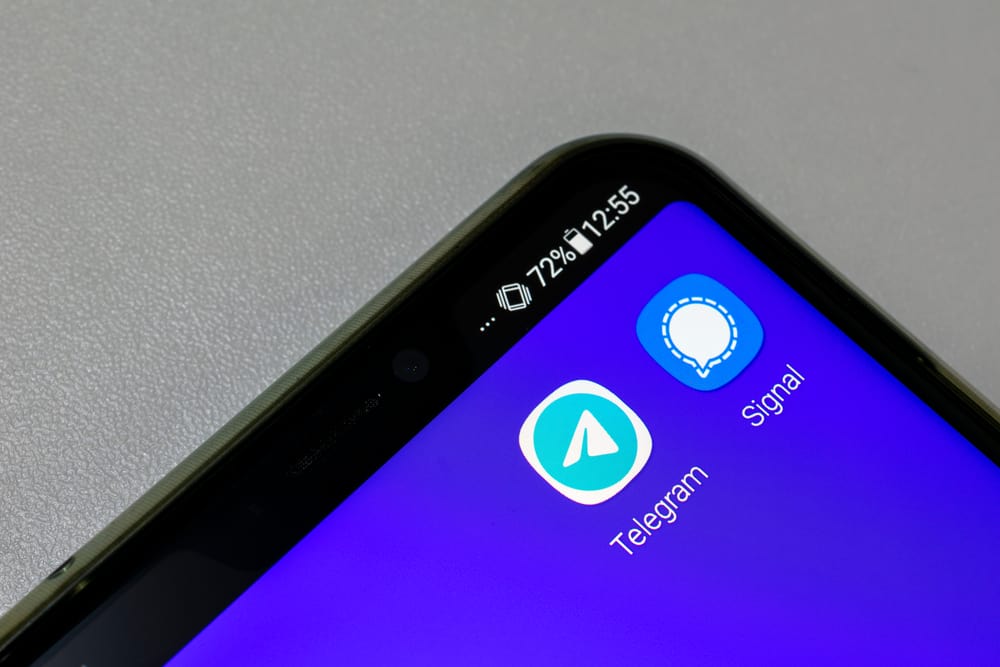 Security is one of the main arguments that attract you to the messaging platform when choosing between them.
With the different messaging platforms in the market, including Telegram and Signal, the debate on which amongst them is the best in terms of security never ends.
Hopefully, we will conclude the debate by the end of today's post. Read on!
By default, Signal uses encryption for all its texts and calls, but on Telegram, you must enable the secret chat feature to enjoy the encryption and the disappearing chats feature. With Signal, even the group chats are encrypted, however, Telegram doesn't have a secret chat feature for group chats. Moreover, Signal only collects your phone number, but Telegram collects your phone number and other data like an IP address. Thus, we conclude that Signal is the more secure option.
We will discuss Signal and Telegram to understand what it takes to use each. Moreover, we will see the differences between Signal and Telegram to help us know which of the two options is more secure than the other.
Understanding Telegram and Signal
The Signal is a private messaging application created by a non-profit organization. The application uses its security protocol, which is open source for anyone to interact with. With Signal, your phone number is required when signing up for an account, but that's the only data the application collects.
No premium offers are offered with Signal, and all its features are freely available, provided you've created your Signal account. You can chat using Signal and even make calls. Moreover, it allows group communication and calls. Still, it has the disappearing messages feature.
Telegram is a messaging platform with numerous security features, such as secret chats, but you must enable them when you want to use them. With Telegram, some features are premium, and you require your phone number when signing up.
You can use Telegram on mobile, desktop, and the browser version. Besides, all its data sync in real-time. Thus, you can access your Telegram chats from any device you are logged in to with no limitation.
Which Is More Secure, Telegram or Signal?
When you mention Telegram and Signal, the two messaging platforms are best recognized for their security features. Although Telegram has existed as the most secure messaging platform, Signal came in and sparked a debate over which of the two options is the best for offering a safe messaging opportunity.
We will use different metrics to help us come up with a verdict on which platform is more secure.
Individual Chats
Individual chats are those you message a particular person. Signal's conversations are end-to-end encrypted by default, and no one can intercept your chats.
However, you must enable the secret chats option on Telegram for your chats to be end-to-end encrypted. Otherwise, you will be insecure when using Telegram, as your conversations won't automatically disappear.
Group Chats
You can engage in a group chat using Signal or Telegram. With Signal, its group chats are encrypted, and all chats will disappear similarly to individual conversations.
Its secret chat feature cuts across all chats. However, Telegram only allows users to activate the secret chat feature for individual chats. You can use it with group chats.
Calls
You can make calls using Telegram and Signal. Your Telegram calls are only encrypted from the client device to the server. Therefore, someone who accesses the Telegram servers can tap in on your conversation.
As for Signal, its encryption is end-to-end secured. Thus, you do not have to worry about someone listening to your calls at any point.
User Data Collected
A secure application collects the least user information. That way, your data won't leak. For Signal, it only collects your phone number, which is required when signing up for your Signal account.
On the contrary, Telegram collects your phone number, your IP address, and your contacts. Thus, Telegram is more likely to leak your information and violate your privacy.
Encryption
Signal has a default end-to-end Signal encryption protocol that it uses to ensure your communication is secure. As for Telegram, it selectively uses an end-to-end MTProto protocol for its encryption.
What's the verdict? Based on the five metrics, it's clear that Signal is the better option for choosing a secure messaging platform. Although it lacks the efficiency you get using Telegram, you are more secure when using Signal than when using Telegram.
Conclusion
Telegram and Signal are good messaging platforms. When searching for the most secure option, Signal takes the lead. We've discussed the two platforms and the metrics that help determine that Signal is the safest option. That's it!