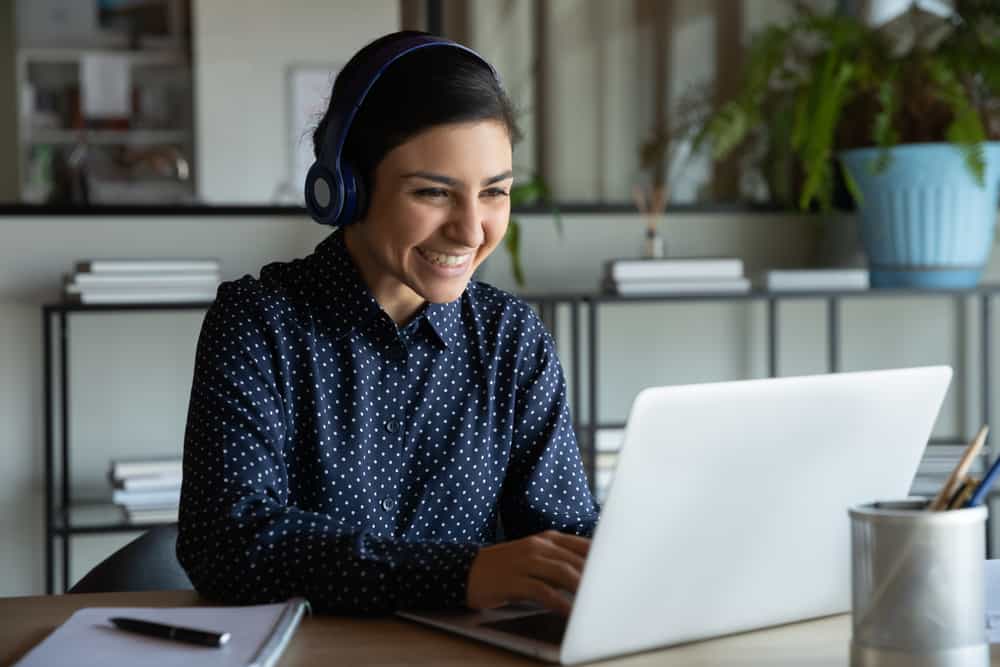 As more and more businesses prioritize Zoom calls, possessing the right equipment to host and attend video meetings is becoming increasingly important.
Given that most Zoom meetings take time, you need a good and comfortable headset to ensure you don't strain to hear what's being said.
So, what are the best headphones for Zoom?
Some of the best headphones for Zoom meetings include the Sony WH-1000XM4, Jabra Elite 45h, Shure AONIC 50, Bose QuietComfort 35 II, Apple AirPods Max, and Plantronics BackBeat GO 810.  
If you are in the market for good headphones for Zoom meetings, this post contains detailed reviews of some of the best.
Best Headphones for Zoom Meetings
Here are some of the best headphones you can use in a Zoom meeting:
Sony WH-1000XM4
If you want a sleek and inexpensive headphones for Zoom meetings, the Sony WH-1000XM4 is a great option.
First, it's noise canceling out of the box, but it also allows you to customize the noise cancellation setting to suit your preference.
Additionally, these headphones can connect to two devices simultaneously via Bluetooth.
Contrary to most headphones with wireless connectivity, this one maintains a stable connection regardless of the distance or surrounding distractions.
According to Sony, these headphones can last up to 30 hours with a single charge. The only notable downside is that some people find them slightly uncomfortable, especially if worn for extended periods.
Jabra Elite 45h
If you are a fan of the first four Jabra Elite earbuds, you will love their headphones. This set has the same amazing features as the earbuds, with the two distinguishing factors being the design and the added base sound.
While the default sound quality is amazing, you can adjust it using the graphic EQ and presets available on the Jabra Sound+ app.
One reason they are perfect for Zoom calls is that you can connect them to two devices simultaneously. This way, you can switch from one device to another, making it easier to chair Zoom conference calls.
If you opt to have the active noise cancellation during your meeting, rest assured you will be unable to hear a single sound from your surroundings; it even cuts outside chatter that isn't from whoever is presenting.
Also, it comes with an in-built microphone. Therefore, you won't have to invest in one.
Shure AONIC 50
Shure has been manufacturing some of the best microphones in the industry for nearly a century.
It's only recently that they released the first AONIC 50 noise-canceling headphones, and it has received glowing reviews since their launch in April 2020.
Arguably, one of its best features is the extensive in-app options. You can easily choose one of three automatic noise cancellation options, change the audio quality, etc.
One of the downsides of this headphone is that it's designed with huge ear cups that aren't aesthetically pleasing. However, the cups ensure that the headphones are sturdy and comfortable even when used extensively. 
The Bose QuietComfort 35 II
If you normally have extensive meetings and thus are looking for highly functional but comfortable headphones, the Bose QuietComfort 35 II is a worthy choice.
It's quite popular with streamers which can be used as an indication that the headset is great for Zoom meetings. Though these are pricier than most other choices in this post, the sound and build quality make it worth your money.
You should find a high-quality detachable mic in the package to help deliver quality audio. Also, it comes with a long charging cord to allow you to recharge the set while in use. However, charging while using it reduces the audio quality.
Considering this headset was designed with gamers in mind, the sound quality is great.
You should be able to hear everything being discussed without strain. Also, you can tweak the sound settings as you please, even in the middle of the meeting.
Apple AirPods Max
The Apple AirPods Max is worth the hype, especially if you attend Zoom meetings on iOS.
These headphones do not have a 3.5mm headphone jack, but that shouldn't deter you much because it supports Bluetooth, which will deliver crisp audio.
These headphones are marketed as a luxury item and thus tend to be more expensive than necessary.
That said, the shiny stainless steel exterior gives it a lush look, and the plush ear padding completes the look while ensuring you stay comfortable for longer.
Like most Apple products, this one has many thoughtful additional features, making it a great accessory for Zoom calls.
One of the said features is the spatial sounds which make the sound quality better than most headphones. Also, it has an isolation setting which is an advanced noise-cancellation feature.
The only notable problem with this set is that it needs an inbuilt microphone or a detachable one. Therefore, you will be forced to invest in one.
Plantronics BackBeat GO 810
Many people don't know about Plantronics, but one thing that the company has perfected is constantly making great headphones packed with new technological features.
As for this set, its most impressive feature is that it can last you up to 22 hours. And it only needs three hours to recharge fully.
While its noise cancellation ability could use some work, it redeems itself with the fact that its sound quality is great even when you are in a noisy place.
Another of its impressive features is its strong Bluetooth connectivity ability. Therefore, if you don't like staying close to your screen during meetings, you won't have to worry about dropouts.
Conclusion
For a seamless Zoom meeting, you need to have quality equipment at your disposal. Especially if the session is long.
One of the pieces of equipment worth splurging on is the headphones. If you purchase a quality one, you can always hear what's being said in the meeting without any struggle.
That said, this post contains some great options to choose from.