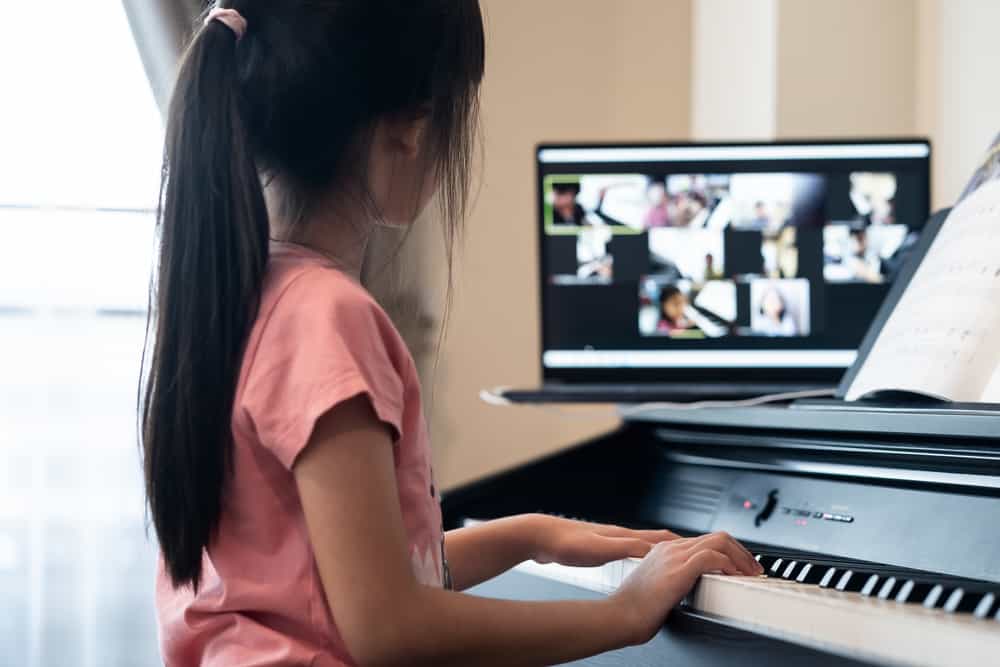 We cannot deny how the COVID-19 pandemic changed the world's dynamic, forcing us to bring significant transformations.
One thing that pandemic penetrated deeply into our lives is virtual meetings and video conferencing platforms like Zoom. Zoom has been around since 2011, but it has become an indispensable part of our lives since the 2020 epidemic.
Zoom provided the required infrastructure for businesses to hold meetings and educational institutions for online classes. Similarly, music teachers and students had to resort to Zoom to keep themselves going.
Still today, people enjoy giving online lessons on Zoom due to its convenience. You can provide piano lessons on Zoom easily with our guidelines.
It would be best if you tried using two devices, one focusing on you while the other on your fingers on piano keys. Your students can try this as well. Both of your devices will appear as separate participants during the meeting. Make sure to use external microphones and headphones for a better experience. Schedule the class and send the invitation to your student. You can also fiddle with Zoom audio settings to get better results for a successful lesson.
If you want to conduct impeccable piano lessons over Zoom for your students, then you can try our tips and tricks to guarantee everything goes as smoothly as butter, with fewer possible hiccups. Keep reading!
Guidelines To Hold Perfect Piano Class on Zoom
Zoom lessons and business meetings became a thing because of the COVID-19 pandemic, but we cannot deny they are still around in our lives after some time of the dreadful epidemic.
It is all because of the easy-to-use interface of Zoom that provides you the perfect opportunity to hold meetings with less waste of time and resources.
Giving music lessons like piano lessons seems far-fetched, as you need to hear the music to learn and emulate it. The pandemic taught us that it is not as impossible as we thought.
The key is to set up your equipment for the class perfectly. With little trial and error, you will eventually be able to hold successful Zoom classes.
Let's learn how you can teach piano over Zoom.
You Need at Least Two Devices
First, if you are a teacher, you need at least two devices. You can use one laptop and another phone or tablet for that.
Secondly, you must use two separate accounts to log in to Zoom on both devices. You can use your Google account to log in on one device and your Facebook account to log in from the other device.
Now, the question is, why do I need two devices?
It is simple; the first device will have you talking and giving a lesson. The other device will focus on your fingers playing the piano keys for your student to focus. Thus, students can listen to you and focus on your finger movement.
You can also try a third overhead camera, which is not compulsory.
One of your devices will host the meeting, while another will join using the Meeting ID. One device should have a microphone turned on, while the other should be mute.
Both devices will make you appear as a separate participant in the meeting as you have logged in from two different accounts.
Your students can also set up two cameras like this if they want. They can also work with one camera focused on their fingers on piano keys only.
Try keeping phones focused on your piano keys, as phones have better cameras to show finger movements.        
Schedule the Class in Advance
It is imperative in any professional environment to schedule the class in advance and send the invitation link with Meeting ID and password to students to offer them to join at the stipulated time.
Other Important Gadgets
Invest in a good external microphone for better sound quality. It will be perfect if your students do that too. When you use computer microphones, they do not offer as good quality of audio as an external microphone can.
Plus, they can also pick up room noises and vibrations affecting the audio.
Always use earphones to hear your student's instrument with more clarity. Similarly, your student can listen to you play more clearly with their headphones on.
Teachers and students cannot play and hear each other together in Zoom classes in real time due to audio lag or latency issues.
Zoom Audio Settings For Better Audio
You have to adjust Zoom audio settings for better sound quality. On your Zoom desktop version, go like this:
Open the Zoom app on your PC.
Tap on the settings icon in the top right corner.
Select "Audio" from the left panel.
You can select your desired microphone and output devices there.
Next, uncheck the option "Automatically adjust microphone volume" to keep your microphone stay at one consistent level throughout your lesson to catch even the lowest volume of your instrument.
Under "Audio Profile," select "Original sound for musicians" to prevent Zoom from automatically equalizing the sound.
Enable the "Echo cancellation" option.
Other Pointers
Always remember these pointers for a perfect piano lesson over Zoom:
Do not forget to click turn on the original sound for a better audio experience during the lesson.
Make sure your internet connection is fast and stable.
You can also share notes, flashcards, and written lessons with your students during the lesson.
If you use the "Basic" plan of Zoom, your class will end after 40 minutes.
Make sure there are no background noises causing disturbances during your lessons.
Where Words Fail, Music Speaks
Music is the food for our souls. It is so indispensable that nothing, not even a pandemic, could stop music lovers from learning.
Thankfully Zoom came to the rescue and enabled music teachers to hold music lessons for their students by sitting at home.
If you want to give online piano lessons, Zoom should be your go-to because of its ease of use. Zoom has upgraded and brought many features to accommodate music lovers by enhancing the audio quality for better sound.
Try our guidelines and start teaching piano to students virtually that cannot reach you physically.