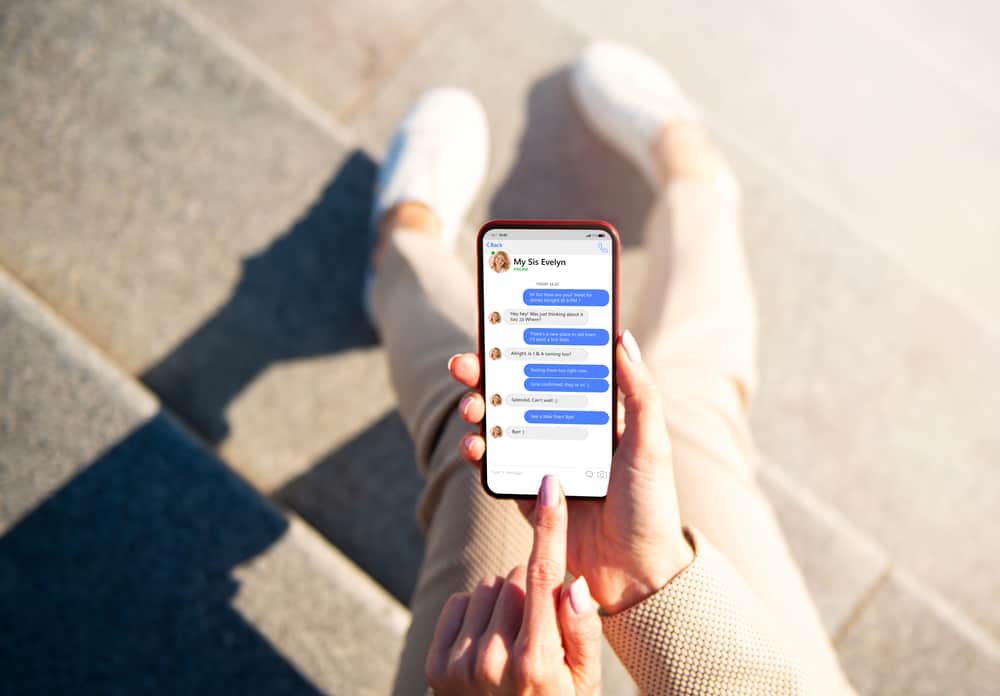 When you install Facebook Messenger, you can send and receive normal SMS texts via the app and Facebook messages. Even though this can work, when you have many multiple messages, things can get messy.
The solution is to remove SMS from Facebook Messenger and use a different default messaging app.
If you are wondering how to disable Facebook Messenger from sending and receiving an SMS, the trick lies in disabling the messaging feature on the app. You need to open Messenger, turn off the SMS feature, and set up a new messaging app for your SMS.
We will cover the steps of removing SMS from Facebook Messenger and how to add a new messaging default app. Additionally, we discuss frequently asked questions regarding issues you may encounter when using Facebook Messenger. Let's get started!
What is Facebook Messenger?
Facebook Messenger is a messaging feature built and supported by Facebook. The app connects to the associated Facebook account's database and allows users to connect and chat, including sending videos and photos.
To use Facebook Messenger, you must have a Facebook account that you are logged into. Next, you can download Facebook Messenger (Android / iOS) and sign in using your account credentials. That's it. You can now use it to connect with Facebook friends.
How To Remove SMS From Facebook Messenger
When Facebook Messenger made an update to allow users to send and receive SMS via the app, the update required users to set Facebook Messenger as the default messaging app. The good news is that all your chat threads display on Facebook Messenger, and you can use it as a messaging app.
The bad news is that the more the chats, the more it gets confusing as conversations get arranged chronologically, implying that it can get messy, and you may fail to view all your messages. If you already have this situation, the steps below will help you disable the SMS feature from Facebook Messenger.
Open the Facebook Messenger app on your phone.
Locate the three-line icon at the top left corner.
Click the SMS icon.
The toggle button for the SMS is probably set to "ON"; click to set it to "OFF".
If prompted to choose another default messaging app, select one from the list, and it's probably the default that came with the phone.
Alternatively, you can set the default SMS app from settings once you've disabled the SMS feature on Facebook Messenger. Follow the steps below:
Open Settings on your Android.
Click "Apps".
Locate and click on "Default Apps".
Select the SMS app and choose your preferred message app.
With the SMS feature disabled and a different application set for SMS, you've successfully removed SMS from Facebook Messenger. Bingo! Now, only the Facebook chats will display in Facebook Messenger. Your SMS will get sent and received on the SMS app only.
Creating this separation between your Facebook notifications and messages ensures you don't miss any messages. The main shortcoming of using Messenger is that all messages show all at once arranged chronologically, so if someone's name is at the bottom, you will miss their notification.
Conclusion
Facebook Messenger is ideal for connecting with your friends, and it has multiple features, including sharing videos, pictures, and other tasks. Even though you can use Facebook Messenger for SMS, the ordering and messy state make it ineffective. This guide covered the steps of removing SMS from Facebook Messenger.
Frequently Asked Questions
How do I turn off Facebook SMS?
Open your Messenger and navigate to your profile icon. Next, click on the SMS and switch it off. Once you turn off this feature, only the Facebook notifications from your Facebook friends will display.
What happens after removing SMS from Facebook Messenger?
Once you turn off the SMS feature, you won't receive any SMS notifications on Facebook Messenger. Instead, the notifications will be sent and received on your default SMS app.
Is it possible to receive an SMS on Facebook Messenger?
Yes, it is possible. Once you install Facebook Messenger, you can set it as your default SMS app, and all your notifications for Facebook and SMS can be sent and received via Messenger.