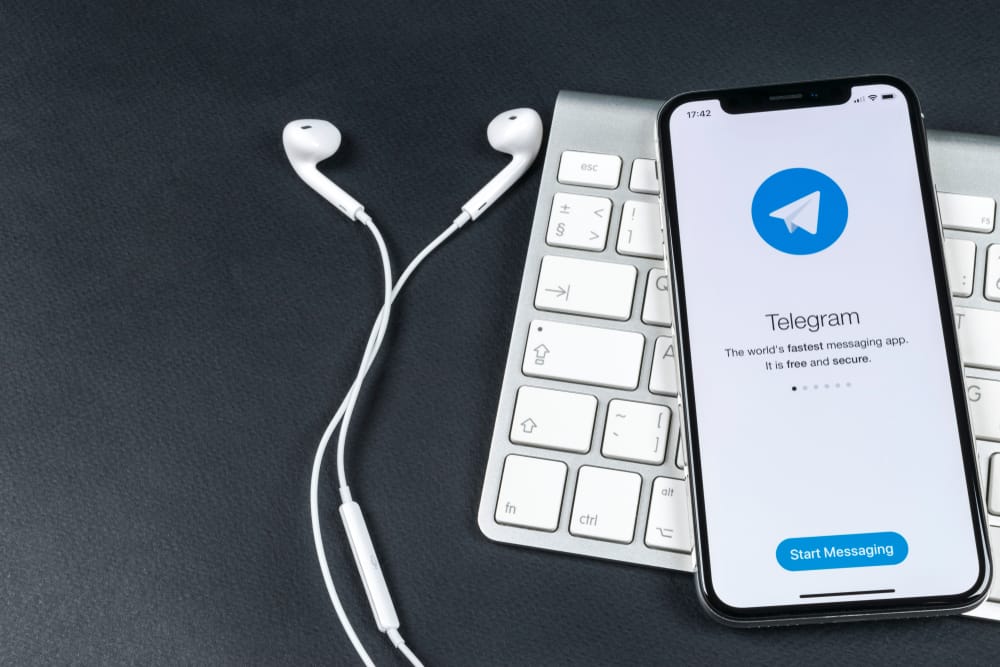 Using a secure application to communicate is something most users long for. With a platform like Telegram, you can use different privacy and security measures to enhance your security when using the platform.
However, if you don't know how to secure Telegram, you remain vulnerable to attacks and phishing scams.
If you are looking for easy ways to secure your Telegram, you are in the right place.
The first thing is to enable two-step authentication to prevent authorized access to your account. Also, enable the "Secret chat" feature for messages. Other ways include adding a passcode for your Telegram app, disabling active sessions, ignoring fake messages, and using self-destructing media files. Once you have these features enabled, your Telegram account is secure.
We will discuss whether Telegram is secure. Afterward, we will present the different ways you can use to secure your Telegram account. Let's dig in!
Is Telegram Secure?
Telegram is an instant messaging cloud-based platform. You can access Telegram across different devices, and your data will sync in real-time.
Telegram is considered among the most secure messaging platforms, and you may get curious about why this is the case.
Telegram employs end-to-end encryption for its secret chats, making it a reliable and secure messaging platform. Besides, Telegram has plenty of features that you can utilize to enhance your security than other messaging platforms.
An example of the security features available on Telegram is the disappearing media, where you can define when you want the shared media file to disappear from the conversation automatically.
Besides, Telegram is an instant messaging platform, meaning you can delete chats in real-time.
Understanding the different security features and levels available on Telegram lets you choose which security features to use for your case.
How To Secure Telegram
Telegram is a secure messaging platform. Nonetheless, it gives different features you can tweak to enhance security.
We will cover each of these features and give the steps to follow to help you secure your account quickly.
Tip #1: Enable Two-Step Authentication
If you've not enabled two-factor authentication for your Telegram account, you must enable it to prevent unauthorized access to your account.
With the two-step factor enabled, any new login will require your involvement to authenticate the login by sending an OTP via SMS.
Open your Telegram application.
Click the menu icon at the top.
Click on "Settings" from the displayed menu options.
Click on the "Privacy and Security" option.
Tap on the "Two-Step verification" option.
Enter your password and follow the prompts to complete enabling the two-factor authentication.
The next time you want to log in to another device, you must be authenticated using an SMS code.
Tip #2: Set a Passcode
You are still vulnerable when you have all the security features enabled, but your Telegram application lacks a passcode.
So, ensure you create a passcode that you must enter before accessing your Telegram.
Tip #3: Disable Active Sessions
Active sessions can quickly be exploited to gain access to your Telegram account.
So, it's advisable to close all your active sessions except for the device you currently use.
You can check and close all the active sessions with the steps below.
Open your Telegram
Click the menu at the top.
Tap the option for "Settings".
Click on "Privacy and Security".
Click the "Active Sessions" option under "Security".
Tap on "Terminate All Sessions" to close all your active Telegram sessions on other devices.
If someone monitored your Telegram, closing all the active sessions will log them out.
Tip #4: Use Secret Chats
When using Telegram to chat with friends, regular chatting doesn't offer an extra security layer for your communication. However, Telegram has a secret chats feature, which you should use when sharing a secure message.
With the secret chats feature, you will enjoy end-to-end encryption for all messages you send in the given conversation. Follow the steps below.
Open your Telegram application.
On the main window, click the pencil icon to create a conversation.
Tap on the "New Secret Chat" option.
Select the person you want to engage in secure communication with.
The best part with secret chats is that the messages and media files you share in the secret chat will automatically self-destruct after the receiver opens them.
That way, someone can't keep a copy of the message. Again, you can't forward messages in a secret chat. Moreover, the secret chats are not synced or stored in the cloud.
Tip #5: Send Auto-Destructing Media
When sending media on Telegram, you can set them as self-destructing. That way, the media will disappear from the chat after a given time. Using this feature is handy when sending private media files.
Here's how to set self-destructing media.
Open Telegram.
Tap on your target chat and click the attach icon to select the media file you want to send.
Select the media file.
Click the stopwatch at the bottom before you send the message.
Choose the time you want your media to self-destruct.
Lastly, click the "Send" button.
Tip #6: Watch Out for Phishing Links
When using Telegram and someone sends you a message containing a link, DON'T CLICK ON IT.
Mostly, such a link is aimed at installing malicious files or stealing your credentials.
Stay alert and avoid any malicious links shared on Telegram.
Conclusion
Securing your Telegram requires you to activate different security features.
We've seen the six features to utilize on Telegram to secure your account. That's it!