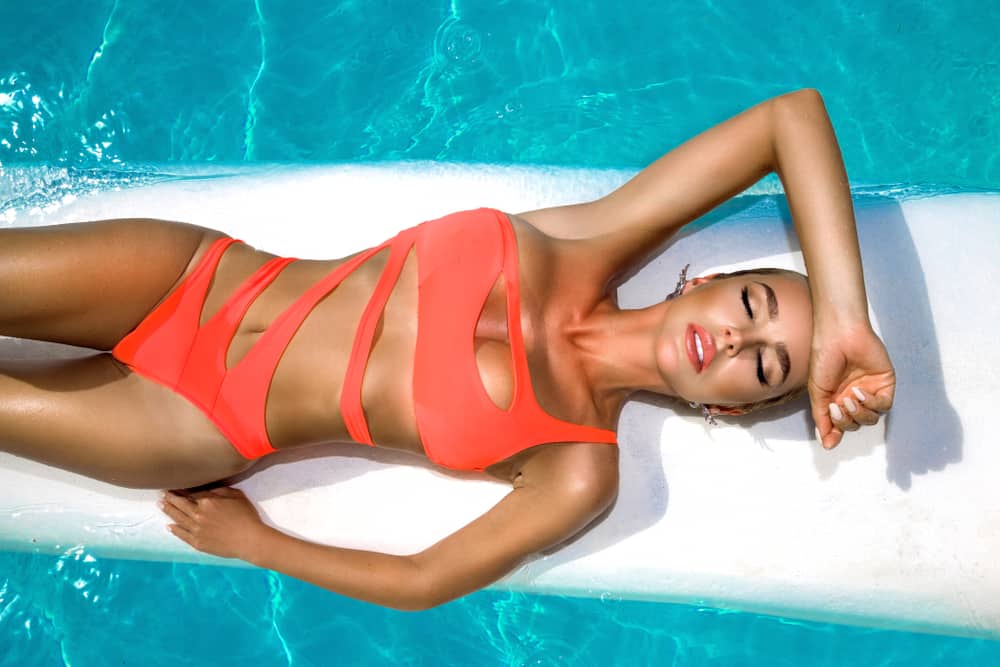 The summer season is upon us. I am sure you cannot wait to put on your swimsuit, lather sunscreens all over your body, and head to the beach.
Summer brightens up our Instagram with stunning pictures of celebrities, friends, and colleagues in their hot bikinis. I am sure these pictures also urge your inner JLo to head to the beach and create some hot looks for your Insta.,
It's natural if you have insecurities about your body (everyone got them, just don't let them get in your head). An ideal bikini shot is not about the perfect body. It is more about making the right pose and playing around the right way. So, if you want to make your bikini pictures more Instagrammable, fret not! We have got your back, girl!
If you nail any of these poses, you too will have more supermodels/Kardashians/Jenner kind bikini shots:
1. Popping hip.
2. Stretched up hands for the elongated body.
3. Kneel on the beach.
4. Lying back with a back arch for curves.
5. Sultry sitting poses with strategic placement of legs and arms. 
So, grab your favorite snacks and keep reading for more on these sultry poses for your next bikini shoot for the Gram.
The Perfect Way To Pose in a Bikini for Your Next Instagram Post
First thing first, you need to do this positive affirmation that you are a confident and beautiful woman, do not let anyone tell you otherwise. No matter what, you need to be confident in your skin then only you exude positivity and radiance. The thing you need to work on is just how to make flattering poses to jazz up your beachy snaps. 
Making a good bikini pose is a skill that supermodels and celebrities own, and here I am trying to teach my homegirl that skill. There are so many possible ways you can pose to amp up your bikini photographs for the Gram. Besides poses, the camera angles, background, and the kind of swimsuit and accessories you are going for also matter.
Hip out Bikini Pose
This is a classic, and may I add a hot bikini pose. It is a simple standing pose with a slight hip out for the oomph and sensual element. It requires standing with little space between the legs (to flaunt their shape) and popping your one hip out. Similarly, if you are leaning, pop both hips out.
You can look up and away from the camera to appear fully enthralled by the environment. Your hand playing with hair will add drama to the look (beachy waves will look so damn hot here!).
The pose creates a chic curve along your body. Create this pose with confidence. Your picture will sure become the talk of the town, trust me on that!
Arms up Bikini Pose
Now, this pose exudes power and pizzazz. It works for even awkward and body-conscious gals out there. If you attempt this, it will add a certain character to your picture. All you need to do is stretch your arms up to the goddesses in the heavens and also your stomach (squeeze it in if you have to) to give an illusion of a perfect body.
This pose will elongate your torso, create more curves, and make your waist look narrow.
Ask your photographer to click your picture from the lower angle. It will make you look even taller and make your waist appear narrower. Keep your tan on while attempting this pose, as the tanned body is photographed well. 
Kneeling Bikini Pose
This pose is great for any body type. Kneeling on the beach pose can be as simple as a Bambi, or you can add more definition by playing around with your hair or arms placement. 
The first step is fairly simple; all you need is to kneel on the beach with your legs slightly apart to show their shape. Then, stretch the arms up to extend your stomach area or maybe place one hand in your hair (remember, girl, hair is your best accessory, play with it!).
Instead of resting your body on your butts, keep your body a little high up the ground. It will stretch your thigh and give them more silhouette.
This pose is excellent for flaunting your curves, hips, and abs.
Lying Back Bikini Pose
Now, this is not as simple as it looks. It requires a little bit of your work, but once you nail it, your Instagram will be flooded with the DMs of your admirers, believe me! 
Here, lie down on the ground while arching your back ever so slightly off the ground (to create curves even if they don't exist). You can extend your arms towards your head and stretch your neck, to add more dimension to your body curves and elongate your body. 
You can play around with this pose in other ways too. For instance, you can extend one leg while slightly bending to one knee to show off your curves in better ways. 
If you are self-conscious about your abdomen, try lying with your stomach on the ground pose. Here, make sure to keep your head (use your hands to lift your head) and chin up — this will give an arch to your back and make your chest and hips more prominent. 
Sitting Bikini Poses
Now there are so many ways you can nail sitting bikini poses. 
Sit and turn your body 45 degrees away from the camera, straighten the leg facing the camera while bending the other, and lean back. This pose elongates your body and gives you an Insta-perfect shot.
Looking away from the camera will add more power to your pose, so try it, and you'll love it. 
If you want to try some natural and effortless, try this one. All you need to do is, sit, tuck your legs underneath your body and slightly incline forward. Now, use your arms for body support and keep your torso away from the ground to stretch your body.
You can put one hand on your stomach if you are conscious about your abdomen. 
Lastly, if you want something classic, sit with your knees bent, and lean back with one hand supporting the body while the other in the hair. This pose is effortless and looks gorgeous if attempted on some exotic background.
The Wrap-Up
To get the Insta-worthy bikini shots, you need to be creative with your poses. The perfect bikini shot is all about playing the right way and being confident with your body.
So, try any of the poses, from simple kneeling on the beach to effortless sitting bikini poses our way, and let your inner super-model burn all those who ever looked down on you.
FAQs
Is there any way you can look slim in a swimsuit?
Choose your swimsuit that accentuates your best body feature. Go for dark colors if you want to look slimmer. You can go for some trendy wraps and cover-ups to cover the body parts that you are conscious of.
How to take a good selfie in a bikini?
To make your thighs and hips look thinner, take a selfie while holding the camera above your head. Keep your shoulders, and back straight, and give your neck a slight tilt downwards to get a more flattering selfie. You can always go for mirror selfies, but be sure to make flattering poses while even taking selfies.