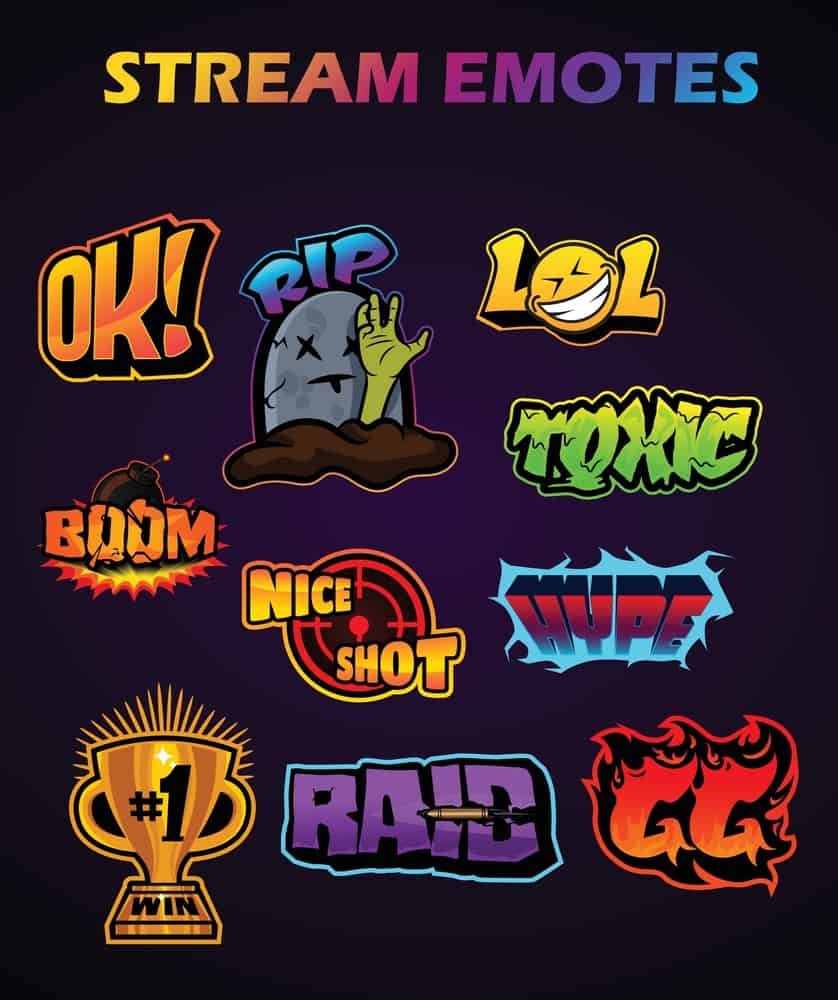 Chats are one way of engaging with people on Twitch. When you have a Twitch channel, having a way to spice the chat helps in keeping your followers and subscribers engaged on your Twitch channel.
When chatting, sharing emotes is handy, and although Twitch has global emotes, creating yours and sharing it with your Twitch family is possible and helps grow your channel.
Before you can make Twitch emotes, first understand the requirements. For instance, the required dimensions, the type of file your emote should be, and other aspects. Once you do, find a reliable emote maker tool, select from its templates, or create your emote from scratch. Once you create the emote, upload it to your Twitch channel.
Twitch emotes are fun. This post explains what Twitch emotes are, what criteria you should meet when creating them, how to make them, what tools to use, and the steps to upload the created emotes. Ready? Let's get started!
Understanding Twitch Emotes
When you sign up for Twitch, you can be a Twitch creator or viewer. As a viewer, you will follow different Twitch channels, and when engaging with others in the chat section, you can use emotes to spice the conversion.
For instance, you must have seen popular global emotes such as LUL: (laughter), :HeyGuys, etc.
Any Twitch channel enjoys global emotes. Nonetheless, there is room to create custom emotes. Twitch emotes are symbols that a streamer or viewer can use in place of an emotion.
Instead of sending a text to express your emotions, you can use an emote to symbolize the emotion. Anyone who sees the shared emote will understand the message.
How To Make Twitch Emotes
Twitch allows streamers to create custom emotes. Maybe you feel the global emotes don't drive the desired message to your followers as you would wish. Such a case requires you to create custom emotes that bring you closer to your followers.
To enjoy this privilege of creating custom emotes, you must have attained the Twitch Affiliate or Partner program. Your channel must be well-established to enjoy these privileges to attain this threshold.
Again, Twitch has different requirements to meet when creating your emote. First, the emote can only be a PNG file. Secondly, the emote must be less than 25kb in size.
Moreover, you must upload three sizes for the emotes: 28px x 28px, 56px x 56px, and 112px x 112px. Still, the emote must have a transparent background and be easily readable. Lastly, the mote must be clear and sharp.
You must adhere to the set requirements and follow the terms of service to utilize Twitch and its emotes.
Therefore, your emotes shouldn't violate the community guidelines. For instance, you can't create an emote advocating suicide or dangerous acts.
There are different steps you should follow when you want to make a Twitch emote.
Think About Your Twitch Community
Creating the Twitch emote is to engage better with your Twitch community. Therefore, start by thinking about the community to understand what emotes will sit well with them.
The idea is to help you develop a goal that the emote you will create should satisfy. For instance, if your goal is to give the community an easy way of expressing happiness, your emote will focus on happiness.
Check the Community Guidelines
Twitch has various terms of service and community guidelines that you must adhere to when creating the emote.
So, familiarize yourself with them to avoid violating them when creating the emote. Moreover, check the requirements that your emote must meet to be approved.
Create the Emote
Decide on which tool/software to use to create the emote. There are numerous options you can select from. Find a reliable one, select a template, or create the emote from scratch.
Upload It
Once you create and download your emote, upload it with the steps below.
Access your Twitch account and navigate to the "Emotes" section in the "Creator Dashboard."
Click the "Upload Emote" option.
Choose your emote and name it.
Lastly, click the "Upload" button.
That's it. You have created and uploaded your emote. Go ahead and start using it.
Conclusion
Creating a Twitch emote is easy. The steps to follow are detailed in this post. Follow along and create your Twitch emote.