Every few years or so, Microsoft has been releasing new versions of Windows servers. With every release, the set of editions will vary. With the release of Server 2012, once again, Microsoft has changed the mix.
However, with this release, it appears that things are a lot simpler. There are four new editions for Server 2012. Most Enterprise customers will be deploying one or two editions on their networks. The four Server 2012 editions are as follows: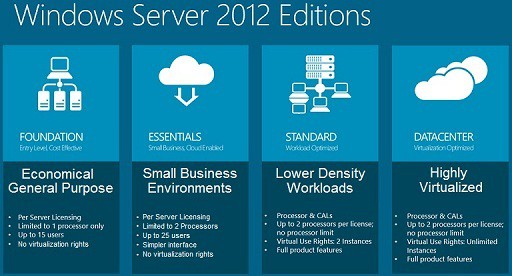 Each edition has its purpose. The biggest advantage is that it is going to be easier than ever for organizations to pick the best edition to suit their needs. Here is a closer look at the four editions:
| Edition | Purpose | Features | Licensing | List Price |
| --- | --- | --- | --- | --- |
| Datacenter | High Virtualization, Cloud | Unlimited Virtual instances | Processor x2, CALs | $4,809 |
| Standard | Non-virtualized, lower density | Same features as Datacenter, limited virtualization | Processor x2, CALs | $882 |
| Essentials | Small business | Simple administration, no virtualization | Server, 25 accounts | $501 |
| Foundation | Entry, Economic | General purpose, no virtualization | Server, 15 accounts | OEM only |
You should note that for Standard and Datacenter editions, the pricing is based per two processors, not per single processor. Many servers today have dual processors, so this licensing model works well.
However, if you install Standard or Datacenter on single-processor servers, you cannot split the license across two servers. In addition, if you purchase a server with twelve processors, you will need six licenses to cover all of the processors.
Standard vs. Datacenter
In previous versions of Windows Server, the editions such as Standard, Enterprise, and Datacenter all had different features and different limits with regard to access to hardware resources. You should also take note that there are no more hardware limitation differences between Standard and Datacenter.
Standard is no longer limited to 32 GB of RAM, nor is it limited to 4 CPUs. Both Standard and Enterprise are limited to 4TB of physical memory. With regard to CPUs, Windows Server 2012 Standard and Datacenter editions support up to 64 sockets and 320 logical processors if the version is Hyper-V enabled, or 640 logical processors if Hyper-V is disabled.
Keep in mind that if you do decide to go beyond 2 CPUs, you will need to buy additional processor licenses as described above.
What about roles and features between Standard and Datacenter? Fortunately, Microsoft has simplified that as well. All of the roles and features are the same for both Standard and Datacenter edition. In the past, if you were deploying certain roles or features, you had to choose among the different editions.
With Server 2012, you don't have to do that any longer. The focus of choosing the 2012 edition decision is now based upon workloads. If you plan on running heavy workloads in a virtualized environment, just after hosting a few virtual guests, the Datacenter edition will become more cost-effective with regard to licensing.