An Ethernet crossover cable is a type of cable used to connect network devices together directly where they would normally be connected via a network switch or router, such as directly connecting two computers via their network interface adapters.
The 10BASE-T and 100BASE-TX Ethernet standards use one wire pair for transmission in each direction. This requires that the transmit pair of each device be connected to the receive pair of the device on the other end. When a device is connected to a switch, the crossover is done internally in the switch. Because of this internal "crossover" mechanism inside the switch, a standard straight cable is used when connecting network devices to the switch.
One device may be connected directly to another without the use of a switch. In this case, the crossover cable must be generally used. Since 10BASE-T and 100BASE-TX use pairs 2 and 3, these two pairs must be swapped in the cable.
Switching these pairs creates a "crossover" cable. In the case of Gigabit Ethernet (1000BASE-T), the use of a "crossover" cable may not be required. Gigabit Ethernet can leverage what's called Auto-MDIX. Auto-MDIX is specified as an optional feature in the 1000BASE-T standard.
However, in practice, it may not be implemented on all 1000BASE-TX interfaces. In the case where two computers have Gigabit Ethernet Interfaces, you'll need to refer to the NIC's documentation to see if it supports Auto-MDIX. If the adapter(s) support it, you can use a straight cable. Many modern switches also support this feature which can be leveraged when linking switches together without the use of a crossover cable.
Crossover Cable Pinouts
10BASE-T or 100BASE-TX Crossover
(2 pairs: 1 <–> 2, 3 <–> 6)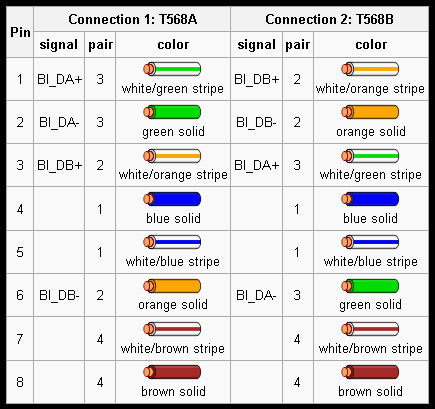 10BASE-T, 100BASE-TX, 100BASE-T4 or 1000BASE-T Crossover
(4 pairs:1 <–> 3, 2 <–> 6, 4 <–> 7,  5 <–> 8)